There are many footballers who win on the field, but few who are also accomplished in their intimate life. Today, we bring you the spiciest wives and girlfriends of famous footballers like Lorenzo Insigne, Xabi Alonso, Kai Havertz, and many more. The hotness keeps increasing as you scroll down!
10. Nagore Aranburu
Nagore Aranburu and her husband, Xabi Alonso, started their romance during their teens. Alonso and Aranburu met during their early life and started dating. At first, though, there wasn't anything serious about their relationship. But with time, Nagore and Xabi started to fall deeply in love with each other. The footballer and his wife appeared to share a love-at-first-sight vibe. Nagore and her famous husband dated for several years before taking things to the next level.
Nagore Aranburu and her husband, Xabi Alonso, took a picture together.
SOURCE: Instagram@ nagore.aranburu
And by July 2009, Aranburu and Xabi became husband and wife. Although the famed footballer remains unaffected by the spotlight, his partner wasn't as thrilled by it. As such, Nagore and Xabi exchange their sacred vows in a private setting. And over the years, the happily married duo welcomed three children. Alonso's eldest child Jontxu Aramburu Alonso was born in 2008. Similarly, two years later, Ane Aramburu Alonso came into Nagore and her husband's life. Finally, in 2013, Xabi and his squeeze gave birth to Emma Alonso, their youngest child.
9. Rafaella Szabo Witsel
A photographer with a body like that of a model, Rafaella Szabo Witsel, came to fame as the wife of the Belgian footballer Axel Witsel. Aside from her stardom as a celebrity wife, Rafaella holds massive followers on social media sites. Similarly, Rafaella runs a studio called Galerie Opéra in Liège, Belgium. Speaking of fame, she and her husband Axel tied the knot in 2015.
Rafaella Szabo Witsel and her family were on vacation in Niyama Private Islands Maldives.
SOURCE: Instagram@r_babyberry
More on their wedding, the soccer star and his wife exchanged their vows out of the spotlight. As such, Rafaella and Alex held an intimate wedding among their loved ones. And over the years, the blissfully married Witsels welcomed three children. Axel and his wife named their kids Mai-Li Witsel and Evy Witsel. But the name of their third child stays hidden from the world.
8. Sandra Jerze
Sandra Jerze found massive success as a model, but her relationship with a soccer star put her in the forefront of the spotlight. However, things for Jerze and her boyfriend turned ugly, and soon after, the duo ended their relationship. And who might Sandra's ex-boyfriend be? Well, the German football Serge Gnabry! Gnabry and his ex-girlfriend Jerze started dating in 2020. But a year after, their relationship would deteriorate and end by the end of 2021.
Sandra Jerze took a picture on a balcony.
SOURCE: Instagram@jerze
According to various online sources, Jerze claimed she carried Serge's child. However, the German footballer didn't know if Sandra was telling the truth. And so, things got ugly for the former lovers very quickly. Gnabry even had to call the police to remove his once partner from his house. And in 2022, the duo kept their distance, and the news about the baby stayed between Sandra and her ex-boyfriend.
7. Larissa Saad
Starting as just friends, Larissa Saad knew her husband for years before finally starting a relationship. Saad and Lucas Moura knew one another for four years, and they started dating in early 2015. Knowing the soccer star for almost half a decade, Larissa knew they could make things work as partners. The Brazilian hottie and Moura dated for a year and took the next step in 2016.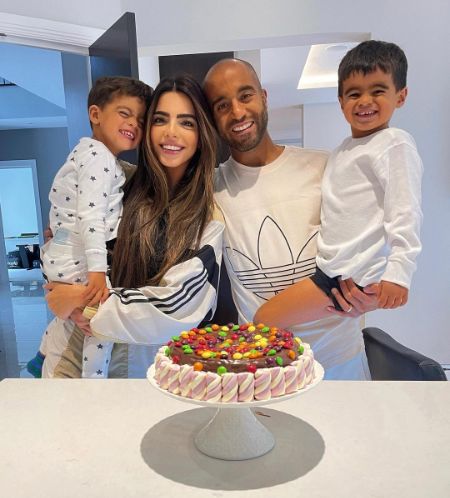 Larissa Saad and her hubby Lucas Moura were celebrating the birthday of their son.
SOURCE: Instagram@lariisaad
On December 23rd, 2016, Larissa and Lucas became husband and wife. On the same note, Saad and her husband, Moura, held a ceremony in Brazil. However, the married duo kept their holy union a private affair. And over the years, Moura and his loving spouse welcomed two children, Miguel and Pedro Moura.
6. Genoveffa Darone
Genoveffa Darone met her husband, Lorenzo Insigne, in 2011. Likewise, Insigne and Darone met when the footballer played as a loan player for Pescara. And the duo hit things off rather well, as they say, when you know, you know, so after dating for less than a year, Lorenzo decided to ask Genoveffa to marry him.
Genoveffa Darone and her husband, Lorenzo Insigne, took a picture together.
SOURCE: Inistagram@lorinsigneofficial
On December 31st, 2012, Genoveffa and Lorenzo tied the knot. Unlike most women on this list, Darone lived away from the spotlight before marriage. And as such, she and her husband, Insigne, decided to hold a private ceremony away from the public. The Italian footballer and his wife gave birth to two kids, Carmine and Christian Insigne. And the couple, Lorenzo and Genoveffa, are nearing their ten years mark this December!
5. Sofia Weber
Despite not wanting it, Sofia Weber holds a big spotlight thanks to her relationship with Kai Havertz. What's more, Weber and her boyfriend share a live-in relationship! The couple, Havertz and Weber, lives together in their home in London. Aside from her fame as a WAG, Sofia is also a model. And over on Instagram, Sofia managed to gain over 100k followers.
Sofia Weber posted a picture of her and Kai Havertz holding hands on his birthday.
SOURCE: Instagram@sophiaaemelia
Weber and Kai knew one another for a very long time. And the duo started as just friends before Sofia and Havertz began dating. Similarly, the German footballer kept his past relationships out of the public eye. And like her partner, Sofia's previous love connections stay hidden from the world.
4. Nathalia Felix
Nathalia Felix managed to captivate thousands with her looks alone. But the Brazilian footballer Douglas Costa managed to steal Felix's heart. Nathalia and Douglas started their relationship in 2019. Likewise, the lovers, Felix and Costa, keep the start of their love story hidden from the world. As such, many fans of both Nathalia and the footballer remain in the dark about the beginning.
Nathalia Felix and Douglas Costa on their wedding day.
SOURCE: Instagram@nathaliafelix
And after dating for around two years, Nathalia and Douglas decided to get hitched. And in August 2021, Costa and Felix became husband and wife. However, Douglas was married once before; he was married to Louise Ramos. And with Louise, the Brazilian footballer welcomed a daughter.
3. Leonita Lekaj
Although Leonita Lekaj holds a massive following for her works as a model, her marriage made Lekaj's name known to a greater audience. And whom did Leonita marry? Well, the Swiss professional footballer Granit Xhaka! The midfielder and his squeeze tied the knot in July 2017. And over the years, Xhaka and his wife, Leonita, gave birth to two daughters. Similarly, Granit and his spouse named their kids Ayana Xhaka and Laneya Xhaka.
Leonita Lekaj and her husband, Granit Xhaka, held hands as they took the picture.
SOURCE: [email protected]
Leonita and her husband met years ago and started their relationship soon after they met. Although Granit and Leonita are both public figures, the duo kept the start of their blossoming relationship low-key. And so, the exact date when Lekaj and Xhaka started their romance stays hidden. But, the fans know that Leonita and her love dated for a very long time.
2. Sara Arfaoui
On a more recent note, Sara Arfaoui came to the spotlight after she started dating a German footballer. Fun fact, Arfaoui gained a massive boost to her already growing fame when she and Ilkay Gundogan began their relationship! And currently, Ilkay and Sara have already tied the knot.
Sara Arfaoui and Ilkay Gundogan on their wedding day.
SOURCE: Instagram@sarabenamira
Sara and her husband Ilkay traveled to Spain for their wedding. Likewise, liking life away from the spotlight, Arfaoui and Gundogan wedded in an intimate setting. And since they shared their vows, Arfoui changed their name to that of her husband!
Related: Who is Oriana Sabatini? Oriana Tested Positive for Coronavirus with her Boyfriend Paulo Dybala
1. Hot Princess, Oriana Sabatini
Oriana Sabatini is in a committed relationship with Paulo Dybala which might turn into a husband-wife relationship soon. The couple will be sharing their 5th anniversary this year and seemed like they are satisfied with each other. According to Wikipedia, the Argentine model is bisexual.
Oriana Sabatini is in a relationship with Paulo Dybala.
SOURCE: Instagram- @orianasabatini
The Argentine model has been in two relationships till now, her ex-boyfriend's name is Julián Serrano, and he is also an actor, Youtuber, and television presenter based in Argentina. She met her ex-boyfriend in 2014 and the relationship after three years of affair in 2017.
Oriana's boyfriend Paulo's past relationship is kept away from the spotlight but is expected to be involved in some affairs before being in a relationship with Sabatini. The love birds post photos on Instagram and seem like they are blissfully enjoying each other's company.