D'Angelo Russell is an American NBA player who currently represents the Los Angeles Lakers. In 2014, Russell gained recognition as a McDonald's All-American and later played college basketball for the Ohio State Buckeyes. The Lakers selected him as the second overall pick in the 2015 NBA draft.
Russell now shares a life with his partner, Laura Ivaniukas, and they recently welcomed their first child, Riley Jonas Russell together. D'Angelo's successful career and various endeavors have led to an estimated net worth of approximately $70 Million.
Russell's Luscious Wife Laura Ivaniukas
Laura Ivaniukas is a Canadian fashion model who was born on May 9, 1999, in Ontario, Canada and belongs to Lithuanian heritage. Laura's prominence in the fashion industry stems from her impressive work with numerous renowned brands.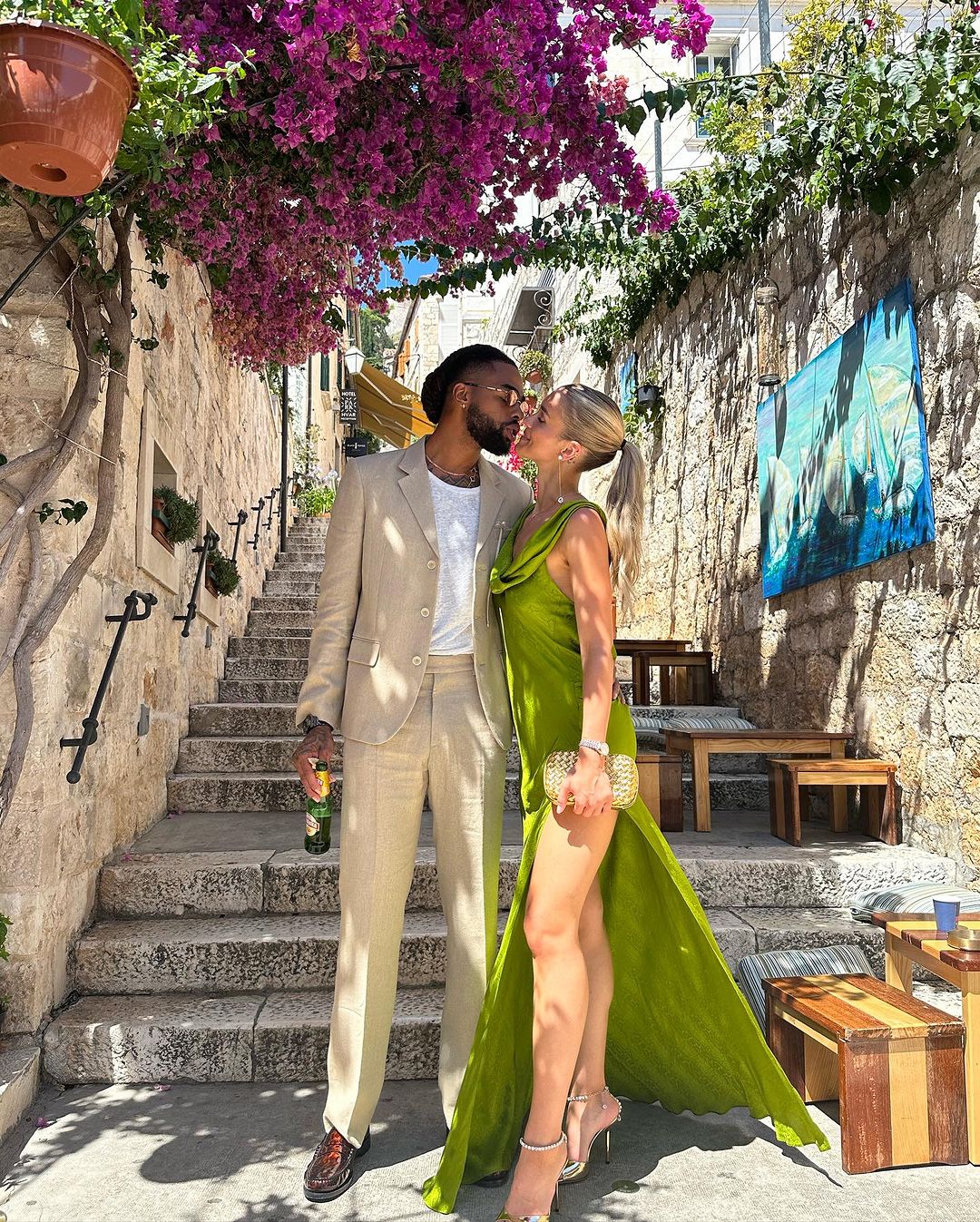 D'Angelo Russell with his Partner.
SOURCE: Instagram- @dloading
Laura's modeling career has garnered her a substantial social media following, boasting over 55,000 Instagram followers. Alongside her professional success, she has been romantically involved with NBA player D'Angelo Russell since 2020.
As of 2023, various sources estimate Laura Ivaniukas' net worth to be within the range of $150,000 to $200,000. This wealth has been amassed through her flourishing modeling career and collaborations with different brands.
D'Angelo's Son 2023: Laura Gave Birth to Russel's Son
D'Angelo Russell and his girlfriend, Laura Ivaniukas, have embraced the joy of parenthood as they welcomed their son, Riley Jonas Russell, into the world in 2023. With their little bundle of happiness in their arms, they now reside in a happy and fulfilled life as a family.
Russell with his son.
SOURCE: Instagram- @dloading
D'Angelo and Laura envision a bright future for their family. They might be open to the idea of adding another family member, spreading even more love and laughter in their household. Their strong bond and shared commitment to each other and their son serve as a solid foundation for whatever adventures the future may hold.
Russell's Past Relationship History
Before starting a family with his current girlfriend and child, D'Angelo Russell had a history of romantic relationships with various women. he was in a relationship with Sasha Mandros during his university days but their love didn't endure long after Russell's NBA draft.
D'Angelo Russell enjoying his Pasta.
SOURCE: Instagram- @dloading
Following that, he became involved with Niki Withers, a former USC Volleyball star hailing from the University of Southern California. Their relationship had its ups and downs in 2016, but eventually, they went their separate ways, and they are no longer together.
In 2017, a notable event occurred when D'Angelo Russell was traded to the Brooklyn Nets, and Niki Withers took to Twitter to throw some shade at him, expressing her feelings in a public forum. Following this period, D'Angelo briefly entered a relationship with internet celebrity Gabby Engersgaard before getting associated with Kelsey Plum who is an accomplished WNBA star.
D'Angelo Net Worth and Salary: How much is He Worth?
D'Angelo Russell currently possesses an estimated net worth of $70 Million, with a basic salary of $17,307,693. As his career progresses, his net worth is anticipated to grow even further, with an expected increase in his basic salary to $18,692,307.
D'Angelo Russell and Laura on Vacatinon.
SOURCE: Instagram- @dloading
When looking at the top 5 wealthiest basketball players, Michael Jordan holds an impressive net worth ranging from $1.5 billion to $2 billion. Following closely is LeBron James, whose net worth falls within the range of $1.2 billion to $1.5 billion.
Magic Johnson with a net worth of $300 million to $620 million, has made a significant impact on and off the basketball court through his business ventures. Shaquille O'Neal's net worth is estimated to be between $400 million to $450 million. Lastly, the late Kobe Bryant, with a net worth of $600 million, left behind a remarkable legacy as one of the most beloved and skilled players in NBA history.
Reated: How Many Kids Does Lionel Messi Have? Get To Know About His Children Birth Details
Russell's Contracts in Most Detailed Manner
D'Angelo Russell secured a lucrative 2-year contract with the Los Angeles Lakers worth $36,000,000, guaranteeing him the full amount. The deal brought his annual average salary to $18,000,000. In the 2023-24 season, he is set to earn a base salary of $17,307,693, while his cap hit and dead cap value will also be at $17,307,693.
D'Angelo Russell plays for Los Angeles Lakers
SOURCE: Instagram- @dloading
This came after his trade from the Minnesota Timberwolves to the Lakers in February 2023, as part of a three-team trade arrangement. Prior to this, Russell had inked a substantial four-year, $117,325,500 contract with the Lakers in 2019, which utilized the maximum free agent provision and included a guaranteed signing bonus of $117,325,500.
D'Angelo Russell's latest contract with the Lakers demonstrates his market value and the trust the team places in his abilities. His previous contract in 2019 showcased his worth as a top-tier free agent, leading to a significant and well-deserved deal.
Related: In Details About Stephen Curry's Father Dell Curry. His Married Life, Kids, and Net Worth
D'Angelo's Basketball Stats and Playing Style
In his debut season with the Lakers, D'Angelo Russell showcased his versatile skills, averaging 13.2 points, 3.4 rebounds, and 3.3 assists per game. Over time, he solidified his reputation as a prolific scorer, impressively averaging 21.8 points per game during the 2019-2020 season.
Russell's adeptness as a playmaker became evident, with an average of 6.2 assists per game during the same season. His remarkable player efficiency rating (PER) of 27.4 and true shooting percentage (TS%) of 58.6% further underline his exceptional talent on the court, making him a highly effective and efficient player.
D'Angelo's remarkable skills and dedication to the game earned him a place on the NBA All-Star team in 2019, marking a significant achievement in his burgeoning career. Additionally, during the 2018-2019 season, he was ranked 10th in assists per game, averaging an impressive 7.0 assists per contest