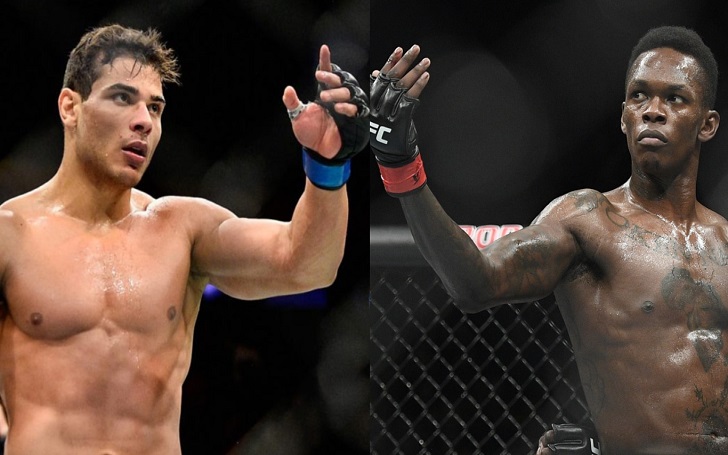 Paulo Costa, the undefeated UFC middleweight title contender recently warned the reigning champion Israel Adesanya and insisted that the Last Stylebender is not a real champion. The Brazilian also claimed to be the "toughest guy on the planet" and said that the 185-pound champion is not ready to handle him.
Costa recently appeared in an interview at Sportscenter and said:
"I have just one question, Adesanya, why were you frozen when you faced Romero? You are not a real champion, man, you don't deserve it. I will kill you."
Costa also talked to the Submission Radio and said:
"I like to think of myself like a real tough guy, maybe the toughest guy on the planet. Because I train very hard, with two, three guys at the same session training, with very hard hits, very hard punches, very hard kicks for real. 100 percent, I mean. Not just fake, just shadowboxing. No. So, this makes me very prepared to fight in real fights with real opponents like Romero. I am not afraid to get hit, because I did this already in my fight camp for two or three months. So, I'm properly prepared to make it a real fight."
Costa and Adesanya are scheduled to fight each other at UFC 253 on September 26. The venue hasn't be fixed yet but is expected to be held in Abu Dhabi.
"So, that's the difference I think I have between me and Adesanya. He's fragile. He knows that. He knows he's fragile. He knows he cannot get two or three very hard hits on his face, on his body. He will be broken. He knows that already because he knocked out two times, with big gloves in kickboxing to a guy named Alex Pereira with big gloves, 14 or 16 oz gloves. Imagine what I can do with him, with his skinny, fragile body with 4oz on my hands."
Costa continued
Costa took 125 significant strikes while he fought Yoel Romero at UFC 241 last summer, while more than half landed to the head. There is no denying "The Eraser" can take a punch, and he believes his toughness will make a difference in his five-round showdown next month in Abu Dhabi.
AD Here (After Content)