With an impressive 31 victories of 36 bouts, Demetrious Johnson became one of the best in MMA. And with his upcoming match against Adriano Moraes III, Johnson is a hot topic to touch. And like his professional life, his love life is also on the fans' minds. Well, Demetrious is a married man; he tied the knot with Destiny Bartels.
Johnson lives out his life in the spotlight and mostly keeps his personal life away from the media. However, the Flyweight champion, Demetrious, shares his life at home on rare occasions. And through this, many of his fans know about his relationship with his wife and more! Here are a few things you might not know about the current Flyweight champ.
Demetrious Johnson is a dedicated husband to Destiny Bartels!
Demetrious Johnson's early life wasn't what many would picture, easy. Growing up with a deaf mother and abusive stepdad, Johnson's childhood was dark. But every dark cloud has a silver lining, a glimmer of hope, if you will, and Demetrious found his hope in Destiny Bartels.
Demetrious Johnson married the love of his life, Destiny Bartels, in Hawaii.
SOURCE: Instagram@mighty
Johnson was destined to meet Bartels and claimed she was the best thing to happen for the MMA champion. And on a particular day, May 11, 2012, Demetrious married the lovely Destiny. The wedding was extra special as they held their ceremony in Hawaii.
Despite how open the MMA fighter is about his married life, Johnson keeps some parts hidden. And one of the things kept away from the fans is how and when he started dating Bartels.
Welcoming kids with Destiny!
And after Demetrious Johnson and Destiny Bartels tied the knot, they welcomed three kids. Johnson and Bartels gave birth to their first child in 2013. Additionally, the lovebirds named their eldest baby Tyron Johnson.
Demetrious Johnson and his wife, Destiny Bartels, welcomed three children in their married life.
SOURCE: Instagram@mighty
On April 15, 2015, Destiny gave birth to their second child, Maverick Johnson. And after three years, the Flyweight champion and his wife welcomed a daughter in August 2018. But unlike his first two kids, Johnson's youngest stays out of public view.
Johnson lives his life devoted to his craft and his wife!
Aside from his devotion to MMA, Demetrious Johnson is a devoted husband to his bride. Likewise, he keeps himself far away from any scandals. Again, Johnson and Bartels lead a happy married life with no sign of divorce.
Like his passion for MMA, his love for his family is present in the few posts about them. Although Johnson loves to share his career on his social media, Demetrious rarely shares about his spouse and kids. And similarly, the former UFC champ kept his past relationships hidden. As such, the names connected to Johnson on a romantic view stay out of his fans' reach.
With Eleven Successful Championship Defenses and Demetrious Johnson Walked out of UFC.
Demetrious Johnson is what one would call the face of the Flyweight Division in UFC. And over the years, Johnson kept a dominant rein in the flyweight. However, after Dana White wanted to drop the Flyweight, Demetrious walked out of the company.
Demetrious Johnson joined the ONE Championship promotion after leaving UFC.
SOURCE: Instagram@mighty
After Johnson left UFC, White decided to keep the flyweight division. No doubt that Demetrious is one of the greatest champions, and now, his fight against Adriano Moraes III has gained a massive buzz on the internet.
Despite how things ended with UFC, Demetrious claimed that he and the said promotion left on good terms. But Johnson also said he wouldn't return to the UFC promotion soon. And after he departed from it, the former UFC champion joined ONE Championship, a Singaporean combat sports promotion.
Johnson holds One Loss and One Win with Adriano Moraes!
With the buzz of Demetrious Johnson vs. Adriano Moraes all over the MMA new sites, let's see the last two bouts. Moraes and Johnson first faced one another on the ONE Championship promotion. And on April 7, 2021, Adriano bagged the first blood with a KO by a knee strike.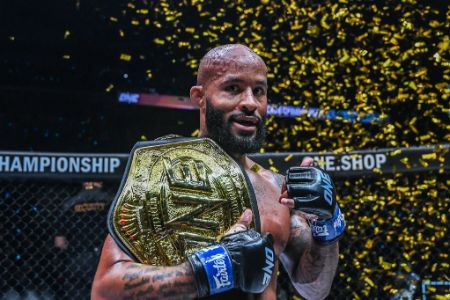 Demetrious Johnson is the current ONE Championship Flyweight champion.
SOURCE: Instagram@mighty
After more than a year, Johnson and Moraes would come face to face once more. And it would be Demetrious that took the victory. To add insult to injury, the former UFC champion knocked out Moraes with a flying knee.
And both fighters, Johnson and Moraes, hold impressive records. With wins far outweighing the losses, Demetrious currently owns a record of 31 wins, one draw, and four losses. On a similar note, Adriano calls a record of 20 wins and four losses his.