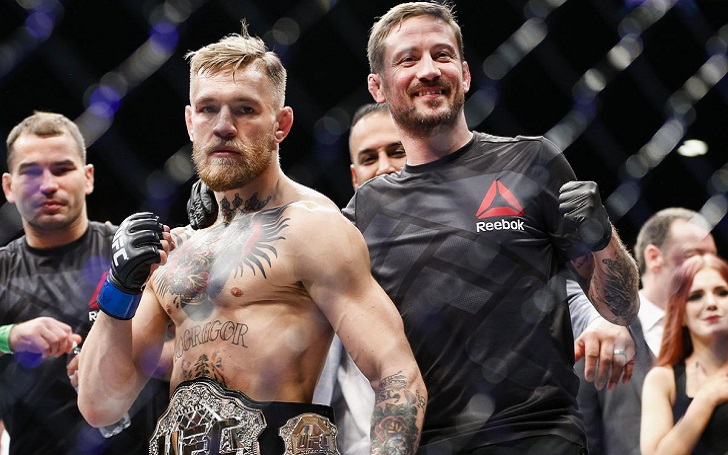 Conor McGregor's striking coach and SBG trainer Owen Roddy recently revealed the gameplan of Irishman and said he is more interested in a welterweight bout against Jorge Masvidal.
The former lightweight champion will fight Donald Cerrone on January 18 at UFC 246 and Roddy believes Conor doesn't want a quick rematch against Khabib Nurmagomedov but wants the BMF champion.
"That's the plan. That's what he wants to do and there's one thing I always say: when Conor says he wants to do something if anyone is going to do it, he can. But, let's not look past Cerrone. He's a tricky opponent and he's a veteran with tricks up his sleeve. But Conor going in there the way he looks now, he should do well."
Roddy told MMA Fighting's Eurobash podcast.
"Looking at the second fight with Nate Diaz fight, that's what you're going to see."

"It's that Conor. He's been at this weight for a while. He's used to training at this weight; grappling and sparring, running and doing the miles. His body knows how to move that weight around now and he knows how to move it around quickly. There's no killing himself to make weight and there's no limit calories in the last three weeks of camp trying to get down to weight…that's gone. Now, he's just focusing on his training, doing what he's doing, looking at his opponent and breaking him down and dismantling him in the fight."
Roddy added.
While the Notorious is looking for a Masvidal fight, the UFC president Dana White thinks this is not a good idea as Gamebred is too big for Conor. White also recently revealed that Conor might get a Khabib rematch if he passes Cowboy.
Who do you want the Notorious to fight if he defeats Cowboy at UFC 246?
AD Here (After Content)