Coco Gauff is a skilled American tennis player who has captured attention with her remarkable court performances. She embarked on her tennis journey at six, later training at the Mouratoglou Academy in France from age ten. Notably, at merely 15 years and 7 months old, she secured her first WTA Tour singles title at the 2019 Linz Open, marking her as the youngest singles title holder since 2004.
Gauff has made an impact through activism and advocacy, notably for racial justice and gender equality. Her social media presence is strong, boasting over 900,000 followers on Instagram. Coco leads her life in a disciplined manner and enjoys her luxurious life with her family.
Coco Gauff Net Worth 2023 & Prize Money
Gauff boasts an approximate net worth of $10 million. Her partnerships with notable brands like New Balance, Head, Barilla, and Microsoft have contributed significantly to her earnings, alongside her winnings and sponsorships. Coco Gauff has earned a remarkable $8,057,463 in prize money throughout her career, according to the Women's Tennis Association (WTA) website.
Coco Roaming around New York City.
SOURCE: Instagram- @cocogauff
Just this year, she's garnered $2 million in prize money alone. Her income comes from a mix of prize money, sponsorships, and her popularity on social media. Emma Raducanu stands at the forefront of tennis with an impressive income of $18.7 million, closely followed by Iga Swiatek, who has garnered $14.9 million. Tennis legend Venus Williams has secured $12.1 million. Shifting to the realm of gymnastics, the renowned Simone Biles has excelled with earnings totaling $10 million.
Coco Gauff Endorsement Deals & Sponsorships Details
Coco Gauff is a young and emerging tennis sensation who has entered into several endorsement agreements and sponsorships that highlight her increasing fame. These partnerships have greatly contributed to her earnings, positioning her as one of the most sought-after athletes globally. It's highly likely that more endorsement deals are on the horizon for her. Some of her notable partners include:
Coco wearing her cool outfit.
SOURCE: Instagram- @cocogauff
New Balance: Gauff secured a multi-year deal with New Balance in 2018, donning their shoes and clothing for her matches and training.

Barilla

: In 2019, she became a brand ambassador for Barilla, representing their pasta and other products.
Microsoft: Gauff joined forces with Microsoft in 2020, using their products and services for her training and educational needs.

Head:

She utilizes Head's rackets and strings while also featuring in their promotional materials.

Evian:

As a brand ambassador for Evian Water, she's featured in their ads and on social media.
Beyond endorsements, Gauff has her own clothing line with EleVen by Venus Williams and is associated with the youth-focused social impact group We Are You. Gauff serves as an exemplary role model for girls and women worldwide, proving to be an inspiration with a promising future ahead in her career.
Coco Gauff Boyfriend: Gauff's Relationship Scoop
As of now, Coco Gauff is not in a relationship. She hasn't made any public announcements about dating anyone. During a 2020 interview with CBS Mornings, she mentioned that she's currently not dating and is putting all her attention on her tennis journey.
Coco is a young star in tennis who has enormous potent
SOURCE: Instagram- @cocogauff
Though there have been speculations about her being romantically linked with a few individuals before, there's no confirmed serious relationship. Back in 2019, there were times she was spotted with Jaden Smith, Will Smith's son. However, it's uncertain if they were simply friends or if there was more to it.
Gauff values her privacy and hasn't talked much about her personal life. While there's a chance she might be seeing someone discreetly, there's no solid evidence supporting such claims. For now, she's wholeheartedly committed to her tennis career, and her remarkable potential ensures she'll continue achieving remarkable feats in the years ahead.
Coco Gauff is Unstoppable in the 2023 US Open
In a remarkable display of resilience, Coco Gauff rallied from a slow start to defeat Laura Siegemund in a thrilling three-set match at the US Open. Gauff's comeback resulted in a 3-6, 6-2, 6-4 victory, extending her impressive winning streak to 12 consecutive matches. Overcoming an initial setback, Gauff's performance surged as she secured 10 of the last 12 games, showcasing her determination.
Gauff's unwavering resolve was evident in a 26-minute opening game of the second set, and she maintained her focus despite a penalty in the third set. Her precision and agility were highlighted by 34 winners, including 7 aces.
This victory solidifies Gauff's contender status for the US Open title, and she faces a new challenge in the next round against Mirra Andreeva. With a bolstered approach and the guidance of her coaches, Gauff's evolving game continues to shine, marking her as a rising force in tennis.
Coco Gauff Gets Support from Great Coaches: Know About Her Mentors
Coco Gauff has had the privilege of having some remarkable coaches by her side on her journey. A few of these mentors include:
Patrick Mouratoglou: Known for guiding big tennis stars like Serena Williams and Stefanos Tsitsipas, Mouratoglou began coaching Gauff in 2018. He played a pivotal role in her journey, helping her reach the quarterfinals of the French Open in 2019.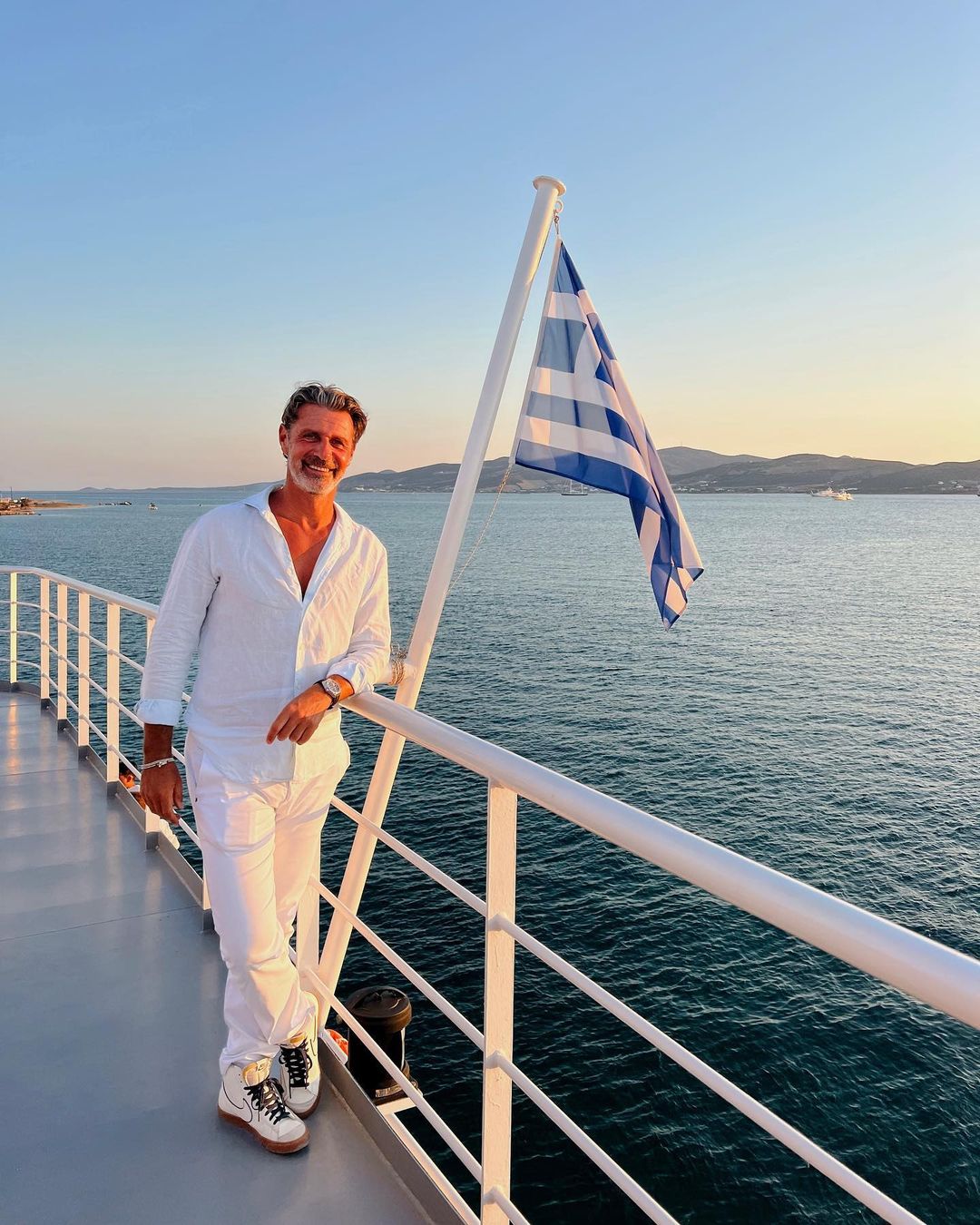 Patrick Mouratoglou coached Coco
SOURCE: Instagram- @patrickmouratoglou
Wade Childs: A former tennis pro turned coach, Childs has been working with Gauff since 2011. Through his coaching, she developed her skills and mental strength.
Corey Gauff: Gauff's own father is also her coach. Since she first started playing tennis, he has been there to nurture her passion for the sport.
Torben Beltz: A German tennis coach with experience coaching top players like Angelique Kerber and Alexander Zverev, Beltz joined Gauff's team in 2022. His coaching has contributed to her improving her serve and footwork.
Coco also trained under Torben Beltz.
SOURCE: Instagram- @torbenbeltz
Gauff highly values the guidance of her coaches and mentors, acknowledging that they've not only taught her about tennis but also about life. She eagerly anticipates further collaboration with them, looking forward to achieving remarkable feats in the future.
Coco Gauff Parents Support Resulted Success At Young
Coco Gauff's parents, Corey and Candi Gauff have been incredibly supportive of her tennis journey right from the start. They've made many sacrifices to help her chase her dreams and are her biggest supporters. Corey Gauff, a former college basketball player, began coaching Coco when she was only six years old.
Coco's mom and dad enjoying their time.
SOURCE: Instagram- @cocogauff
Gauff's been her main coach since then and has played a vital role in shaping her into one of the most promising young players globally. Candi Gauff, a teacher, has consistently motivated Coco to pursue her dreams. She's been there all along, offering emotional backing and guidance that have greatly contributed to Coco's success.
Coco has a younger brother named Codey Gauff, who's also talented in tennis and following in his sister's footsteps. He's currently the top-ranked player in the USTA 12s boys' rankings. Born and raised in Delray Beach, Florida, Coco embarked on her tennis journey at just six years old, demonstrating an innate talent. She clinched her first national title at 11 and turned pro in 2018.
Coco has already achieved significant success. She's secured 10 singles titles on the ITF Women's Circuit and made it to the quarterfinals at both the French Open and Wimbledon. Currently, she holds the No. 15 spot in the global rankings. Coco is a role model inspiring young girls and women worldwide, and her journey is sure to keep unfolding with remarkable achievements.
Coco Gauff Tennis Stats and Rankings
In singles, she boasts a career record of 162 wins and 79 losses, making up a 67.2% winning rate. She's secured five career titles and reached an impressive highest ranking of No. 4 on October 24, 2022. In doubles, her career record stands at 26 victories and 20 losses, with a 58.6% success rate.
She's clinched three career titles and even held the top spot in doubles rankings, reaching No. 1 on August 15, 2022. Known for her robust baseline play, Gauff possesses a formidable serve and an all-around game. Her mental strength and fearless approach to taking shots have set her apart as a competitor. Acknowledged as one of the most promising young talents worldwide, her future holds the promise of even greater accomplishments in her tennis journey.