Trey Lance is a young quarterback in American football who currently playing for the San Francisco 49ers in the NFL. He played college football at North Dakota State University where he had a remarkable start by winning the 2020 NCAA Division I Football Championship Game.
Lance began his NFL journey as the third overall choice in the 2021 NFL Draft by the San Francisco 49ers. He is still under contract with the San Francisco 49ers, but his net worth is already estimated to be in the millions. Trey's contract is worth $67 million over four years, with a signing bonus of $34.9 million.
Trey Lance Net Worth Revealed, Know About Salary that the 49ers Provide
Trey Lance is set to earn a base salary of $940,000 for the year 2023 as his salary fluctuates he has earned $660,000 and $2,219,240 in the years 2021 & 2022 respectively. Currently, Lance enjoys a net worth of $10 Million as reported by many well-known sites. However, Trey has kept the details of his personal finances, loans, personal property, savings accounts & credit card debt private which is common.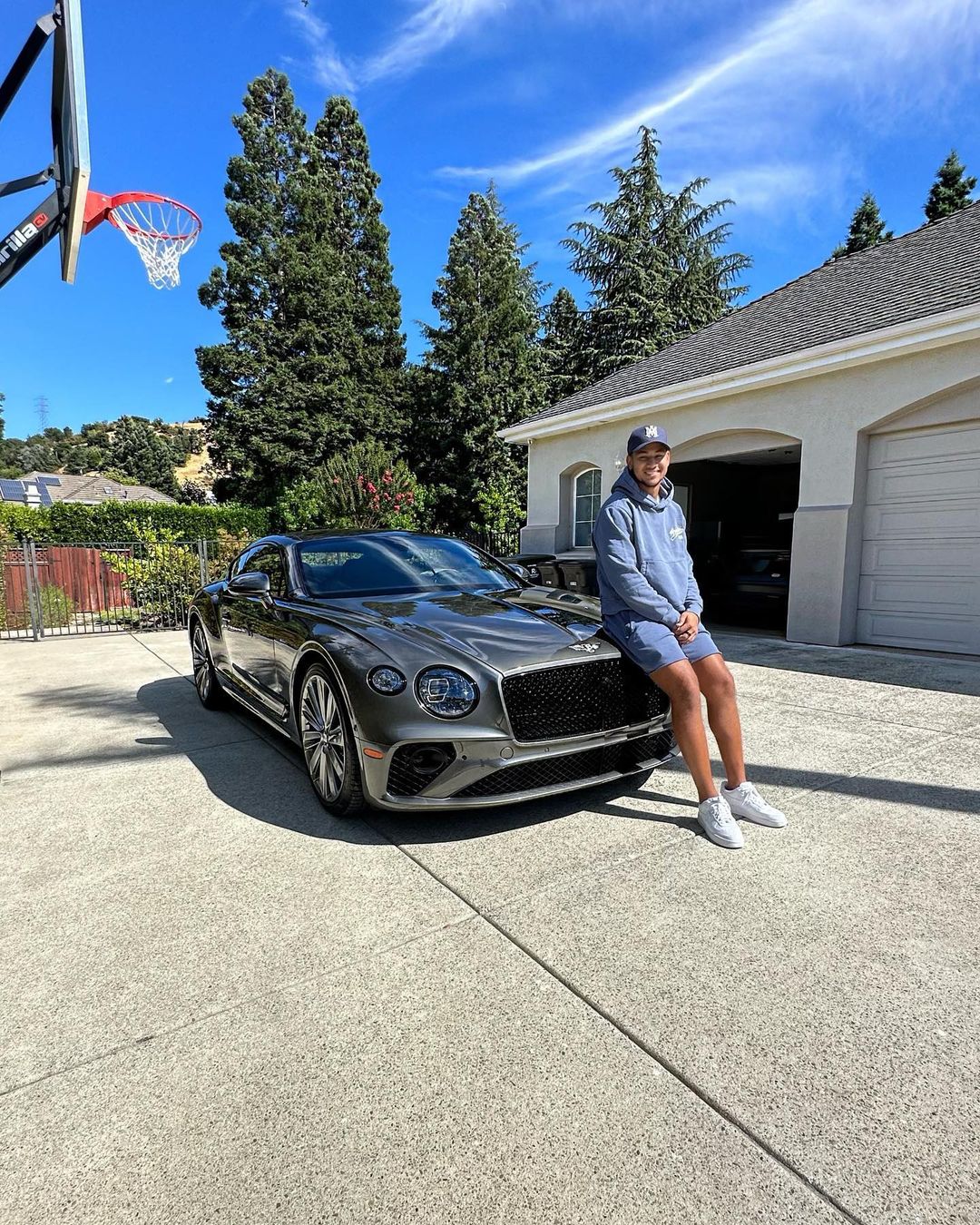 Relaxing by His Luxe Black Car at Home.
SOURCE: Instagram- @trey.lance
Aside from Lance in the NFL realm, there are several other successful and currently active athletes who are noteworthy in terms of their wealth. Joe Flacco boasts a substantial fortune of $85 million, while Ndamukong Suh holds a significant net worth of $80 million. In contrast, Matt Ryan possesses assets valued at a total of $70 million, and Deshaun Watson completes the roster with a net worth of $50 million.
Trey Lance San Francisco 49ers Contract Breakdown
| | | | | |
| --- | --- | --- | --- | --- |
| Year | AGE of Trey Lance | Base Salary | Signing | Cap Hit |
| 2021 | 21 | $660,000 | $5,540,959 | $6,200,959 |
| 2022 | 22 | $2,210,240 | $5,540,959 | $7,751,199 |
| 2023 | 23 | $940,000 | $5,540,959 | $9,301,439 |
| 2024 | 24 | $1,055,000 | $5,540,959 | $10,851,673 |
Trey Lance signed a contract with the San Francisco 49ers which is for 4 years and gives him $34,105,275. He got a big bonus when he signed, and the team promised to pay him the whole amount. Every year, he'll get about $8,526,319.
Trey says hello from his white Audi.
SOURCE: Instagram- @trey.lance
In 2023, he'll get $940,000 as his main pay and a bonus of $2,820,480. This year, the team will spend around $9,301,439 on him. If things don't work out, the most they'd have to pay him is $20,153,117.
Lance's Endorsement Deals with Nike, Panini, Fanatics, Body Armor
Trey Lance joined Nike in 2021 which is a famous sportswear brand. They're not just making clothes and shoes with his name, but they're also doing ads together. He's also buddies with Panini, a company that makes sports cards and stuff. He has his own special cards and is in their things.
Trey promoting the mattress brand.
SOURCE: Instagram- @trey.lance
Lance is working with BodyArmor and a sports drink company, too. He's in their commercials and even has his own flavor of the drink. And he's even partnering with DirecTV for his home security system. These cool deals show that Lance is not just good at football but also popular with big companies.
Trey Lance NFL Earnings: Football Mostly Contributed His Net Worth
| | | |
| --- | --- | --- |
| YEAR | TEAM | EARNINGS |
| 2021 | San Francisco 49ers | $22,823,836 |
| 2022 | San Francisco 49ers | $2,210,240 |
| TOTAL EARNINGS | | $25,034,076 |
Trey Lance has earned a lot of money from playing football. He got chosen by the San Francisco 49ers as the third pick in the 2021 NFL Draft. Trey even got a huge bonus of $34.9 million which is the biggest ever for a new NFL quarterback. He also makes money from doing ads for different companies.
Lance's football story began in Marshall, Minnesota where he played in high school. He was really good and even got a scholarship to play college football at North Dakota State. There, he played for two years and helped his team win a national championship in 2019.
Then, the 49ers chose Lance in the first round of the 2021 NFL Draft. At first, he mostly watched and learned from another quarterback, Jimmy Garoppolo. But in 2022, he became the main quarterback. Even though he's still new in the NFL, people see he has a lot of talent and think he'll be a big part of the 49ers' success for a long time. Lance's football journey is just starting, but he's already doing really well and is expected to have a great future in the sport.
Related- Corey Davis Net Worth 2023, Salary, Jets Contract Breakdown, NFL Earnings, Intention to Retire & NFL Stats
Trey Lance is Humble Man: Involved in Charity & Believes in Doing Good Karma
Trey Lance is making a difference through his charitable efforts. He started the Trey Lance Foundation in 2021 to help kids in his hometown of Marshall, Minnesota. The foundation gives money to local schools, hosts events, and does fundraisers to help kids in need.
Trey carries a luxurious bag on his flight.
SOURCE: Instagram- @trey.lance
Lance is also part of the NFL Foundation's Youth Football Leadership Council. This group is all about making football safe and fun for young players. He's taken part in their events and gave money to help youth football programs. Lance is also a big supporter of the Boys & Girls Clubs of America.
He's their national ambassador, spreading the word about their programs that help kids grow up in a positive way. Lance visited their clubs and donated money to help them too. Besides all this, Lance also helps with disaster relief, spends time at homeless shelters, and works with groups that want to make the world more fair and equal.
Trey Lance NFL Stats in Details
Trey Lance played 5 games and started 2 in 2021, throwing for 864 yards, 5 touchdowns, and running for 143 yards with 2 touchdowns. In the following year, he played 15 games, starting 10, throwing for 3,839 yards, 27 touchdowns, and running for 363 yards with 5 touchdowns. His record as a starter is 7 wins and 5 losses.
One of his best games was in 2022 against the Minnesota Vikings. Trey threw for 375 yards and 4 touchdowns and also ran for 44 yards with a touchdown in a big win. Lance is still learning, but he's already shown he's good at passing and running. People believe he'll keep leading the San Francisco 49ers as their quarterback for a long time.