Lionel Messi is an Argentine professional football player who plays as a forward, midfielder, and winger for one of the world's most designated clubs FC Barcelona. He is the first player to win the FIFA Ballon d'Or five times besides Ronaldo.
A professional Argentine footballer is a wealthy man with an estimated net worth of over $182 million. Playing with PSG, Messi makes a massive amount of money.
Net Worth and Endorsements of Messi
Lionel Messi stands high with an estimated net worth of over $500 million, including all his properties. He has an annual salary of £34,840,000. Messi is signed with PSG, and he earns £670,000 in a week. His weekly pay in 2021 was £1,000,000, and his yearly wage was £52,000,000.
He has also played for other clubs, including Barcelona. While playing for Barcelona in 2020, Messi earned £1,000,000 a week and £52,000,000 a year. Furthermore, his current market value is €50 million, while his highest market value was €180 million, recorded on January 1, 2018.
Lionel Messi in a paid partnership with Louis Vuitton
SOURCE: Instagram @leomessi
Besides his earnings from football, he too earns massive amounts through his endorsement deals; he is linked with various worldwide brands such as Pepsi, Gillette, Turkish Airlines, and Adidas.
Likewise, he has a collection of several luxurious cars. Some of his best include Ferrari, Audi Maserati, Mercedes, Bentley, and Chrysler. We can explore his lavish lifestyle by following him on Instagram as @leomessi.
Read More: Who is Emiliano Martinez Married To? Know About His Married Life, Children and His Journey To 2022 FIFA World Cup Winning Team
Love Life: Details On His Wife and Children
Most of all know that Lionel Messi is a married man. He had been living a happy life with his wife, Antonella Roccuzzo, a fellow neighbour of his hometown. The couple has been living together since 2008, and they have three children: Thiago Messi, born in 2012, and Mateo Messi, born in 2015. Ciro Messi was born on March 10, 2018.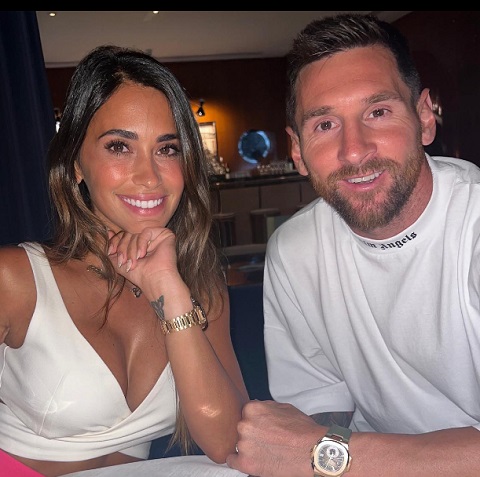 Lionel Messi shares a photo with his wife
SOURCE: Instagram @leomessi
Later, the couple finally tied the knot on June 30, 2017. The ceremony occurred at a casino and hotel in Rosario, Argentina, where several Barcelona and Argentine players attended.
Besides this, he is a philanthropist; he has been helping the needy, involving himself in organisations like UNICEF, La Masia Foundation, the Leo Messi Foundation, etc.
Lionel Messi's Club Career
Messi's parents sought to arrange a trial with Barcelona in September 2000; after his trial, First team director Charly Rexach immediately wanted to sign him but couldn't due to the club's regulations as Messi was too young then. On December 14, a request was issued for Barcelona to prove their commitment, and the club signed him offering a contract on a paper napkin.
Lionel Messi made his professional debut at age 17 in October 2004, representing Barcelona and scoring his first-ever competitive goal from an assist from Ronaldinho. He had himself in the record books of football on May 1, 2005, as the youngest player to ever score a goal for the franchise.
Also Read.Statistics show Cristiano Ronaldo twice as good as Lionel Messi on International Stage
Lionel Messi celebrating after scoring a goal for PSG
SOURCE: Instagram @leomessi
He was soon called a wonder boy because of his magic inside the field. Certainly, everybody loved to see him playing, and he has been known all over the world since 2009. At 22 years old, Messi won the Ballon d'Or and the FIFA World Player of the Year award in 2009, both by the most significant voting margin in each trophy's history.
He slowly developed himself as one of the world's best players and won the FIFA Ballon d'Or in 2009, 2010, 2011, 2012, and 2015, and has set numbers of world records in football. He was named the captain of the team along with Andres Iniesta in 2015. He is the crucial player for his team and has won several titles with the club.
Messi is an essential player in Barcelona and has won nine La Liga titles with the club. He is also the player to be credited most that won the last three Champions League. Besides, Messi has won uncountable individual titles and honours. He is also famous for his rivalry with his most formidable opponent Ronaldo.
International Career Of Messi
Initially born in Argentina, Messi was offered to play for the Spanish national side, but he denied the offer and chose to play for his national side. He made his junior team debut for his country against Paraguay, scoring a goal and providing two assists in their 8–0 victory on June 29, 2004.
Read more.FIFA World Cup 2022 Final: Argentina vs France Match Preview, Head To Head, Possible Lineups, Key Players, Tickets, Kickoff Time, Stadium, Prediction,
Lionel Messi in the 2022 FIFA World Cup
SOURCE: Instagram @leomessi
Aged 18, Messi made his senior debut for Argentina on August 17, 2005. He has won over 143 caps for his national side scoring 74 goals, he won the Golden Ball in the 2014 World Cup, and Brazil lost to Germany in the Finale. His current national squad teammates are Sergio Aguero, Angel Di Maria, Gonzalo Higuain, etc.
Besides, Messi also plays in the FIFA World Cup 2022, representing the Argentine team. He said this was his last world cup.
Early Life of Lionel Messi
Lionel Andres Messi was born on June 24, 1987, in Rosario, Argentina, and his parents are Jorge Messi and Celia Cuccittini. He has three siblings, Maria Sol Messi, Rodrigo Messi, and Matias Messi. His cousins, Maximiliano and Emanuel Biancucchi, are both professional players.
At the age of four, he joined the local club Grandoli, where he was coached by his father, though his influence as a player came from his maternal grandmother, Celia. He celebrates his goals by looking up and pointing to the sky in tribute to his grandmother, who is no longer alive.
Do Follow.What is Kylian Mbappé's Present Net Worth? His Career Income, Endorsement and Properties and France Vs Argentina: Kylian Mbappe shows why he is worth $200 million