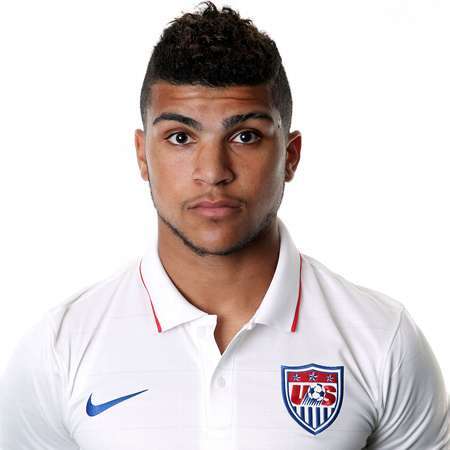 Facts
Father

Larry Rivers Jr.

Mother

Rebecca Yedlin

Birth Name

DeAndre Roselle Yedlin

Net Worth

N/A

Currently Married

N/A

Birth Country

Seattle, Washington

Famous Name

DeAndre Yedlin

Divorce

N/A

Nationality

American

Affair with

Mackenzie Schoener

Ethnicity

Mix

Girlfriend

Mackenzie Schoener
DeAndre Yedlin is an Amercian soccer player who currently plays for Premier League club Newcastle FC. He was previously signed to Tottenham Hotspur and also played on a loan for Sunderland. He began his professional career with Seattle Sounders FC in 2012.
Yedlin is currently dating his girlfriend Tristin Mays. He earns around £1,560,000 as annual salary and has an estimated net worth of about $5 million.
DeAndre Yedlin Bio and Early Life
DeAndre Yedlin was born on July 9, 1993, in Seattle, Washington, United States. He was born to mother Rebecca Yedlin and father Larry Rivers Jr. He is American by nationality and his ethnicity is white.
Yedlin also has a younger sister named Jenea who is three years younger than him.
His father is currently serving life imprisonment punishment for his involvement in robbery, kidnapping and assault convictions. His mother was a teenager when she gave birth to him and he was later raised by his grandparents.
DeAndre has never met his dad, as he later revealed in an interview.
"I couldn't really tell if it was a different childhood because I was used to it, it was kind of normal to me. The only time I remember it felt a bit odd was when I went to other people's houses and they were calling people 'dad'. I wouldn't get that.
Yedlin said.
His uncle was a father figure to him.
DeAndre Yedlin Professional Career
DeAndre Yedlin was the product of O'Dea High School in Seattle; he was also the member of Washington Youth Soccer's State Olympic Development Program (ODP) from 2006 to 2009. Prior joining Seattle Sounders FC youth academy for the 2010-11 season, he played youth soccer for Emerald City FC, Northwest Nationals and Crossfire Premier.
Yedlin joined the University of Akron and he managed to score his first goal on September 28, 2011, in a 3-1 victory over Ohio State. He played professionally and finished his years with six assists.
On January 11, 2013, he signed a contract with Seattle Sounders FC as the club's first homegrown player. He also played for Tottenham Hotspur. He was sent on a loan from Tottenham Hotspur to Sunderland for the rest of the season in 2015.
After a season with Tottenham, he was transferred to Newcastle in 2016. He has so far scored 2 goals in 76 matches with the club. Some of his teammates in the club are Yoshinori Muto, Salomon Rondon etc.
DeAndre Yedlin also played in Intl. matches and made his U-20 debut a 3-1 week victory over Portugal. He was also the member of the team atWorld WOrld Cup 2014. He made his debut against Portugal and assisted for the goal scored by Clint Dempsey.
He was also included in the team for the 2016 Copa America Centenario.
DeAndre Yedlin Personal Life
DeAndre Yedlin is not a married man but is in an affair with his girlfriend Tristin Mays who is an American model and girlfriend. The couple has been dating each other since 2016.
CAPTION: Tristin Mays with her boyfriend DeAndre Yedlin
SOURCE: Hollywood Mask
Tristin has starred in movies like Wedding Ringer and The SyFy Channel's movie, Night of The Wild.
Back in September 2014, he was reported to be dating his girlfriend Mackenzie Schoener, who is an Alabama native. The couple both attended the University of Akron, first met each other in 2013 and soon started their relationship.
They together were spotted at different public events.
DeAndre and Mackenzie ended their relationship after about year without revealing any reason.
Yedlin stands at the height of 1.73 (5'8") m and his weight is 73 kg (150 lb).
DeAndre Yedlin Salary and Net worth
DeAndre Yedlin earns the annual salary of £1,560,000 with the weekly wage of about £30,000. He was transferred to Newcastle from Tottenham Hotspur with the transfer fee reported to be $6.6 million.
His salary in Tottenham was assumed to be about $1 million.
With the earnings through his football career and endorsement deals, he is estimated to have the net worth of about $5 million. He can also be seen riding different cars.
Undoubtedly, he has a huge amount of fans and followers on social networking sites. He is actively growing on Facebook, Twitter, and Instagram. One can find his information on Wiki and others.