The National Football League's (NFL) new league for the year 2023 began on March 15, 2023. Football fans are extremely curious about their favorite player's next club, the exciting football event has begun, and on which teams the players like Lamar Jackson, Odell Beckham Junior, Jadeveon Clowney, etc will end up? Even the teams that have high-end players will participate in bidding wars cause of the first-class players available this season.
The top 10 free agents of the NFL are the beasts that the teams will pour their money to welcome in their team for the firey performance. The rankings of the top 10 free agents were selected from the PFF's free agency rankings of 25 free agents.
1. Lamar Jackson (Quarter Back)
Lamar Jackson is the beast when it comes to football, Jackson had a great time with the Baltimore Ravens and had earned $32.7 Million while playing with them since 2018. Baltimore placed the non-exclusive franchise tag on Jackson, the athlete was thinking of signing a long-term contract with the Ravens, but the negotiation with the club's front office didn't meet his per his plan, so the player decided to ditch The Baltimore Ravens.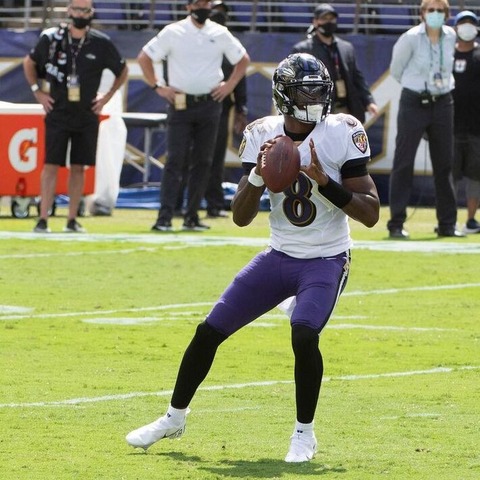 Lamar Jackson has an estimated net worth of $14 Million
SOURCE: [email protected]_era8
The teams who lack skillful quarterbacks will surely chase for this player, and the Ravens will match the offers from other teams, but during this process, Ravens can decline the offer from another team for 5 days and in turn, they will receive two first-round picks in return.
2. Jadeveon Clowney (Defensive End)
Clowney's first season with Cleveland Browns was uplifting and productive for the player, but then he went on to extend his contract worth $11 Million with the Browns for a year in 2022. This season was the complete opposite, as he made critical comments about the club so, the player was sent home by the Cleveland Browns.
Jadeveon Clowney was released by the Browns on March 1
SOURCE: [email protected]_90
On March 15, 2023, Jadeveon was let off by the Cleveland Browns, the player isn't franchise tagged and is free to join the club that offers him his contract's criteria. Clowney earned $7,470,588 in his first season and in his second season, he earned $9,779,404. Fans are excited about where the athlete will join as his defensive skills are remarkable.
3. Odell Beckham Jr. (Wide Receiver)
Odell went without signing in the 2022 NFL season, but his fans are optimistic that he might show his masterful skills on the field in 2023. Beckham suffered from a ligament injury and spent his time off-season and didn't bother to resign from the Los Angeles, but the eccentric player went on to participate in the Rams' championship banner ceremony.
Odell Beckham Jr. is a free agent
SOURCE: [email protected]
Despite his involvement with the team, Odell Beckham Jr. didn't resign and ultimately stayed off-season during the 2022 NFL season. Junior is a free agent now and can join the team that offers him his desired criteria. Beckham had earned $4.25 Million while he played Los Angeles Rams for a year.
4. Leonardo Floyd (Outside Linebacker)
Leonardo played on the same team, Los Angeles Rams as Odell Beckham. Floyd had signed a four-year contract extension with the Rams valued at $64 Million, but the player was released by the Los Angeles Rams on March 10, 2023. Floyd's fans are expecting him to play this season, but will the player play in the 2023 NFL season?
Leonardo Floyd was released by the Rams on March 10, 2023
SOURCE: Youtube
The player was first selected by the Chicago Bears where he played for 3 years and drifted to Los Angeles Rams for 2 years, where he assisted the club to achieve the Super Bowl champion (LVI). Floyd's fans are excited to see him play once again in the NFL and the player might also aid the team in winning another Super Ball, so most of the clubs will be desiring this player, but he hasn't officially announced whether he has dropped his career or will play in the future.
5. Donovan Smith (Offensive Tackle)
Donovan was first selected by the Tampa Bay Buccaneers in 2015 and after spending 8 seasons with that club, he was released by the Buccaneers on March 7, 2023. Smith's contract ended in 2023, the player had signed a two years contract worth $31.8 million. Donovan Smith's estimated net worth is around $30 Million and bagged a humongous amount of $15,750,000 in 2022.
Donovan Smith with his wife and daughter.
SOURCE: Instagram-dsmith_76
Donovan is inactive on Instagram since he hasn't posted since December 25, 2022. It seems as if the player is enjoying his family life and sweeping football out of his sight for refreshment. Donovan Smith might come back to play cause the player is just 29 years old and he still has some valor left in him.
6. Frank Clark (Defensive End)
Frank who is also known as "The Shark" played for Kansas City under jersey number 55 before he became a free agent on March 7, 2023. The Shark is two times Super Bowl Champion and 3 times Pro Bowl Champion. Frank Clark's statistics are great as a defensive end and he doesn't need to demonstrate his nickname says it all. Clark has kept the decision regarding football to himself, but he might play cause of his young age and the time that he invested in football.
Frank Clark is a 2-time super bowl champion.
SOURCE: [email protected]
Frank Clark earned a total of $81,327,184 and holds an estimated net worth of $40 Million. Clark was dropped by Kansas City when the contract between the player and team was unable to negotiate to their satisfaction. The shark aided his team, Kansas City Chiefs in winning the 2022 super bowl. The robust player is perfect for teams that are lacking in the skillful defensive end, but Clark mightn't be satisfied during the negotiation.
7. Josh Jacobs (Running Back)
This young blood was selected in the 2019 NFL Draft and was part of the team that won the Pro Bowls 2020 and 2022. Josh was selected by the then-team Oakland Riders, who are now named Las Vegas Raiders cause this club is currently based in Las Vegas. Jacobs played 4 seasons with the raiders amassing approximately $12,081,775, Josh Jacob earns handsomely and in 2019 his yearly earnings which included salary, bonuses, and others were above $1 Million.
Josh Jacobs played 4 seasons with the Las Vegas Raiders
SOURCE: [email protected]_joshjacobs
Josh Jacobs has been placed with the franchise tag meaning his team, Las Vegas Raiders will have the power to choose or ignore the offers that are presented to Josh by other teams. And if the Raiders didn't decide in 5 days then the club will receive two first-round picks in return. Jacob has a high probability of playing in the 2023 NFL and his fans are curious about which team will he end up in.
8. Rock Ya-Sin (Corner Back)
Josh Jacobs and Ya-Sin would have played on the same team if the raiders hadn't dropped them both; Rock was traded to the Las Vegas Raiders on March 16, 2022, in exchange for another player named Yannick Ngakoue, he is listed as a free agent cause of the trade between two clubs. The player has earned a total of $9,083,433 and Rock Ya-Sin has an estimated net worth of $4.5 Million.
Rock Ya-Sin could join either the Raiders or the Ravens.
SOURCE: Reddit
Rock Ya-Sin is wanted by many clubs, he is listed as a free agent for the Las Vegas Raiders and is also listed as a free agent for the Baltimore Ravens. Ya-Sin is regarded as one of the top players of the 2023 NFL draft and will surely play either with the Baltimore Ravens or with the Las Vegas Raiders.
9. Saquon Barkley (Running Back)
Barkley played with the New York Giants since 2018, but on March 7, 2023, he was placed under the non-exclusive franchise tag by the Giants. Saquon had signed a 4 years entry-level contract with a signing bonus of $20, 767,092 which he received a 7.7 Million average salary till 2022, then the player was placed on a franchise tag when the club couldn't fulfill his desired value.
Saquon Barkley played 5 seasons with the Giants
SOURCE: [email protected]
Saquon Barkley has an estimated net worth of $19 Million and had amassed his career earning of $38,601,750 playing with the New York Giants. Barkley is 26 years old and still has a lot of his professional years left, he can contribute to the team that can fulfill his desired value for the contract. The deal between the team and the player should benefit both parties.
10. Yannick Ngakoue (Defensive End)
The 28-year-old football veteran has already played with several teams like Jacksonville Jaguars, Minnesota Vikings, Baltimore Ravens, Las Vegas Raiders, and Indianapolis Colts. The player has wondered here and there for a long period and might be looking for a long-term contract with clubs. Ngakoue is one of the best Defensive End free agents, as he was traded to the Indianapolis Colts in exchange for cornerback Rock Ya-Sin.
Yannick Ngakoue was traded to Indianapolis Colts
SOURCE: [email protected]
Yannick was left by the Indianapolis Colts in 2022 and is now a free agent so the clubs can offer him the deals that he will choose as per his necessity. Ngakoue spent most of his time with Jacksonville Jaguars i.e, 4 seasons earning $4.6 Million. Yannick Ngakoue's estimated net worth is around $20 Million and might earn more if he signs with another team as a free agent.
AD Here (After Content)