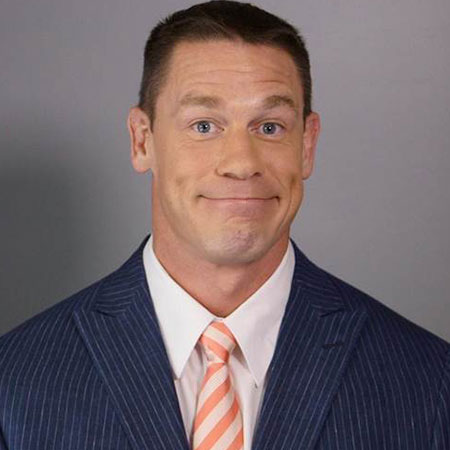 Personal Info
Date of Birth

Age

45 Years Old

Famous Name

John Cena

Country United States US
Facts
Father

John Cena Senior

Mother

Carol Cena

Birth Name

John Felix Anthony Cena

Net Worth

$55 million

Currently Married

N/A

Salary

$ 8 millon he earns as annula salart from WWE

Married to

Elizabeth Huberdeau

Birth Country

West Newbury, Massachusetts, U.S.

Famous Name

John Cena

Divorce

YES ( Elizabeth Huberdeau)

Nationality

American

Affair with

Mickie James ( past)

Girlfriend

N/A

Boyfriend

No

Currently Club

WWE

Tatto(s)

Unknown
John Felix Anthony Cena or simply known as John Cena, is a famous American WWE wrestler, rapper, and actor. He is currently working for WWE as a free agent for both Raw and Smackdown Brand. In WWE, he has won world heavyweight champion 16 times, five times United States Champion, a multiple times World Tag team along with wrestler turned movie actor Batista. He won the Money in the bank in 2012 as well as is a Royal Rumble winner in 2008 and 2013 events.
Active in the entertainment industry since 1999, John Cena's net worth is approximately $55 million. Most recently, he and fiance Nikki Bella called off their engagement.
John Cena's Net worth and Salary
As of 2019, John Cena has an estimated net worth over $55 million. According to sources, his annual salary is more than $ 8 million with Cena getting almost $500,000 for appearing in the main event of WWE PPVs like Wrestlemania, Summerslam, Royal Rumble, Survivor Series.
His source of earnings includes endorsement deals with brands like Gillette alongside fellow WWE stars like Chris Jericho and Cody Rhodes, Fruity Pebbles and featuring in several commercial like Gold Gym, Subway, etc as well as his acting endeavors, his television appearances and being a host.
CAPTION: John Cena with his car
SOURCE: MensXP.com
He is a fan of muscle cars and owns several fleets of cars like Range Rover, Bentley, Rolls Royce etc which are estimated to worth over hundreds of thousands of dollars to indicate his expensive and luxurious lifestyle.
Cars list:
1966 Dodge Hemi Charger
1969 AMC AMX, 1969
COPO Chevrolet Camaro
1969 Dodge Dayton
1970 AMC Rebel Machin
1970 Buick GSX
1970 Mercury Cougar Eliminato
1970 Oldsmobile Cutlass Rallye 35
1970 Plymouth Superbir
1970 Pontiac GT Judge
1971 Plymouth Road Runne
2006 Dodge Vipe
2006 Ford GT
2007 Dodge Charger SRT-
2007 Ford Mustang Saleen Parnelli Jones Limited Edition
2009 Chevrolet Corvette ZR
Incenarator
He owns a multi-million dollar lavish mansion in Land O' Lakes, Florida (FL), US.
Read More: How Much Is Nikki Bella's Net Worth Including Properties Won By Her Husband, John Cena
John Cena's Dating, Girlfriend, and Personal Life
He is currently living in Tampa Florida. He was married to his former spouse, Elizabeth Huberdeau on July 11, 2009.
Cena divorced her on May 2012 and was official on July 18, 2012. There were also rumors that the WWE superstar has been in the relationship with Mickie James.
Furthermore, he was engaged to fellow WWE wrestler, model, Nikki Bella, to whom he made the proposal in front of thousands of audience at Wrestle Mania 33.
CAPTION: John Cena proposes to Nikkie Bella at Wrestlemania 33
SOURCE: Pro Wrestling Sheet
Both of the wrestlers started dating from November 2012. What's more, Cena gifted his fiance, a house on her birthday and lived together. However, their six-years-long relationship ended in April 2018. The duo was scheduled to marry on May 5, 2018.
After the tragic separation, Bella left the house and moved on.
John Cena is a noted fan of Japanese animation and cites Fist of North Star as his best movie.
He also supports sports clubs like Tottenham Hotspur FC, New England Patriots, Boston Reds, Boston Celtics are some of the teams he loves.
Cena is also has been a brand ambassador for WWE in China.
Even a global superstar like him has also been subjected to converter like his legal trouble with Ford Motor Company in December 2017. He was sued for violating the agreement with relating to purchase of Car.
Read More.How Much Is Nikki Bella's Net Worth Including Properties Won By Her Husband, John Cena?
John Cena's Bio, Family, and Early Career
John Cena was born to mother, Carol Cena, and John Cena Senior on 23 Aprill 1977 at West Newbury, Massachusetts.
He has four sibling brother beside him, Dan, Matt, Steve, and Sean Cena. Cena played American football at the college and graduated in exercise physiology and body movement from Springfield College.
Cena started his professional wrestling career by joining the Ultimate Pro Wrestling in 1999 and won the UPW Heavyweight Championship in April 2000.
Before his time with WWE, he signed with developmental wrestling territory, Ohio Valley Wrestling in 2001.
John Cena with WWE
He made his WWE debut on debut by accepting an open challenge from WWE Hall of Famer, Kurt Angle on June 27, 2002.
After an impressive debut, he quickly becomes a fan favorite and won his first major title, the United States from Big Show at Wrestle Mania 20.
He won his first WWE Championship by defeating John Bradshaw Layfield at Wrestlemania 21. Evers since his championship victory at Wrestle mania 21 he went to win dozen more world titles and headline several Wrestle Mania.
John Cena over his illustrious career has feuded with likes of Shawn Michaels, Triple H, CM Punk, AJ Styles, Randy Orton and several more WWE Superstars.
He recently is trying to challenge The Undertaker at Wrestle Mania 34.
John Cena's Acting Career
He was the leading in WWE studio movie, The Marine in 2006 and made over $ 25 million at the nations box office.
John Cena has acted in movies like 12 Rounds, Legendary, Blockers, Bumblee and has recently been confirmed for Duke Nukem Film.
He has also lent his voice in Disney animated movie, Ferdinand in 2017.
Cena also is a TV celebrity and has made guest appearances in Jimmy Live as well as hosted Nickelodeon Kids Choice Awards.
John Cena's Philanthropy
John Cena through WWE has granted over 500 wishes for Make a Wish Foundation for children with the terminal illness like cancer and for this gesture he won the Chris Greicius Celebrity Award.
He has supported social causes like Anti Bullying Campaign and Breast Cancer.