Isaiah Simmons is an American football player who serves as an inside linebacker for the Arizona Cardinals in the NFL. He joined Clemson University in February 2016, where he played college football. At Clemson, Simmons gained recognition for his versatility, as he played multiple roles such as linebacker, defensive end, cornerback, and safety.
Isaiah played a transforming role in the Tigers' 2018 national championship defense and played an even more crucial part in their subsequent College Football Playoff run. In the 2020 NFL Draft, Simmons was chosen as the eighth overall pick by the Arizona Cardinals.
Isaiah Simmons Net Worth 2023 & Base Salary Revealed
Isaiah has spent 3 seasons in the NFL and has earned a total of $17,305,568 from his NFL career. Isaiah Simmons is set to earn a base salary of $1,010,000 and enjoys an estimated net worth of $8.5 Million. Simmons ranks in the 46th position in the linebacker category in terms of financial rankings of Spotrac and ranks 1364th in the NFL.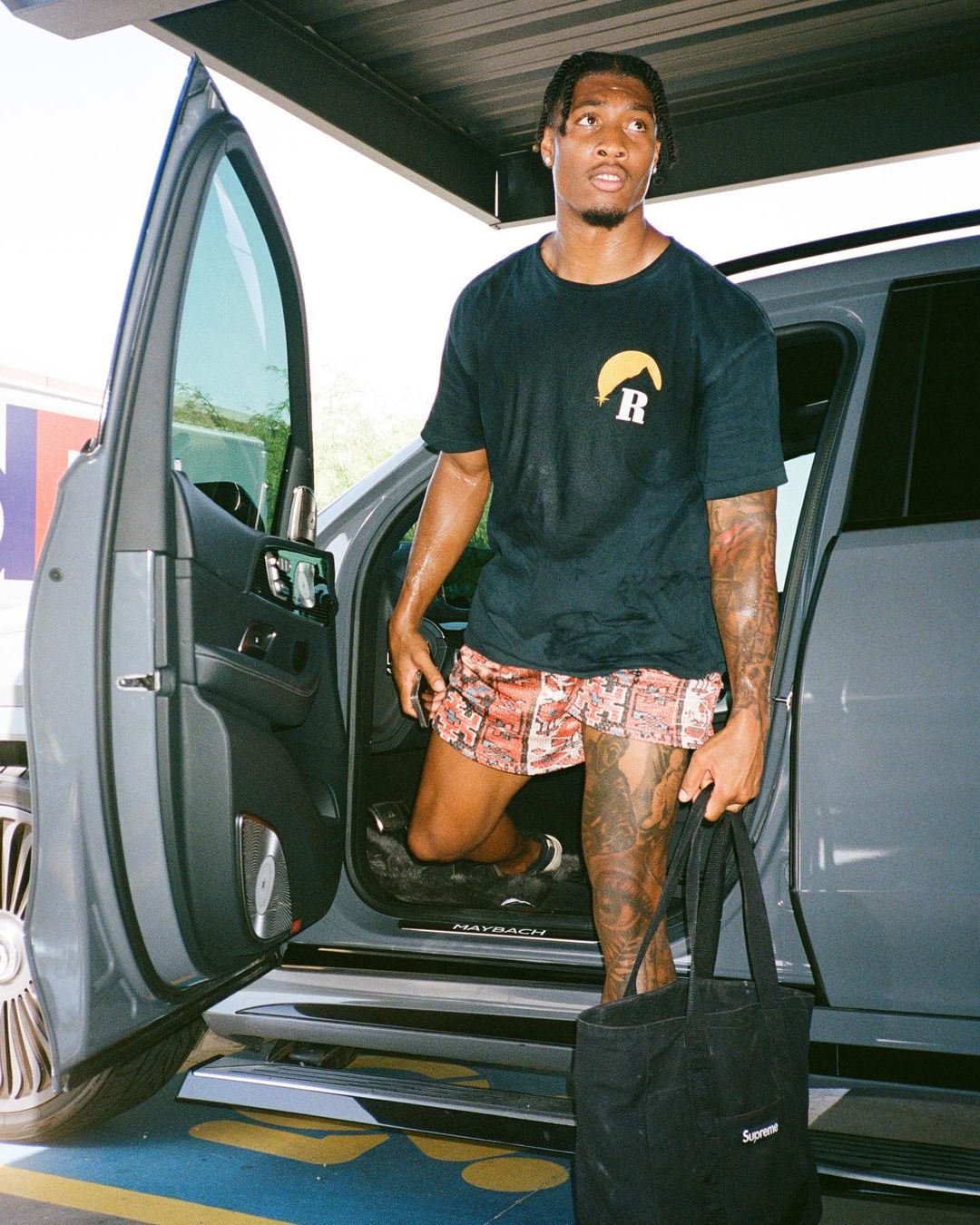 Isaiah getting out of his dashing car.
SOURCE: Instagram- @isaiahsimmons
Apart from Isaiah some of the financially accomplished athletes are: Joe Flacco boasts a substantial fortune of $85 million, while Ndamukong Suh holds a significant net worth of $80 million. In contrast, Matt Ryan possesses assets valued at a total of $70 million, and Deshaun Watson completes the roster with a net worth of $50 million.
Isaiah Simmons Contract Breakdowns
| | | | |
| --- | --- | --- | --- |
| Year | Age | Base Salary | Signing |
| 2020 | 22 | $610,000 | $3,147,101 |
| 2021 | 23 | $780,000 | $3,147,101 |
| 2022 | 24 | $895,000 | $3,147,101 |
| 2023 | 25 | $1,010,000 | - |
Isaiah Simmons inked a deal with the Arizona Cardinals for four years, amounting to $20,664,055. This includes a lucrative signing bonus of $12,588,404 and a guaranteed sum of the same amount. His yearly average earnings from this contract are about $5,166,014.
Isaiah hangs out with his friend in the car.
SOURCE: Instagram- @isaiahsimmons
For the year, 2023, Simmons will receive a base salary of $1,010,000. This translates to a cap hit, as well as a dead cap value of $1,010,000 for the team. Isaiah Simmons holds the potential to shine brightly in the NFL. His versatility across various defensive positions is a standout feature, underpinned by his remarkable athleticism and playmaking skills across the entire field.
Looking ahead, there are several potential paths for his future success. He might continue to excel as a dominant linebacker, earning accolades like Pro Bowl appearances and All-Pro selections. Alternatively, he could transition to positions like safety or nickel corner and establish himself as a standout star in those roles.
Isaiah Simmons NFL Earnings
| | | |
| --- | --- | --- |
| Year | Team | Earnings |
| 2020 | Arizona Cardinals | $13,267,743 |
| 2021 | Arizona Cardinals | $1,549,275 |
| 2022 | Arizona Cardinals | $2,488,550 |
| Total Cash | | $17,305,568 |
Isaiah Simmons started his football journey in high school at Olathe North High School in Kansas where he played both defense and offense. He then decided to play college football at Clemson University where he became famous for his ability to play different positions like linebacker, defensive end, cornerback, and safety. Simmons was a key player when Clemson won the national championship in 2018 and did even better in the next season's College Football Playoff.
Isaiah wearing jeans jacket and pants.
SOURCE: Instagram- @isaiahsimmons
After finishing his studies in sports communication in 2019, Simmons chose to enter the 2020 NFL Draft instead of staying for his senior year. He was chosen as the eighth overall pick by the Arizona Cardinals. Known for his versatility, Simmons can play various roles on the field and is especially skilled at making tackles and causing turnovers. In his first year with the Cardinals, he participated in all 50 regular-season games and even started 32 of them.
Related- Corey Davis Net Worth 2023, Salary, Jets Contract Breakdown, NFL Earnings, Intention to Retire & NFL Stats
Isaiah Simmons Endorsements Deals and Sponsorships
Isaiah Simmons is a young NFL star on the rise and companies are eager to work with him. Simmon is teamed up with big names like Nike, showing off their cool clothes and shoes in ads. You might have seen him talking about stylish Pandora jewelry or rocking outfits from Under Armour in their commercials. He's also partnered with BodyArmor, a sports drink company, and even designed clothes for Stussy, a popular brand. These partnerships are a win-win: Simmons earns money and helps these companies get noticed.
Isaiah training on the track.
SOURCE: Instagram- @isaiahsimmons
But he's not just about big brands. Back in his hometown of Omaha, Nebraska, Isaiah supports local businesses too. Simmons loves Grindstone Coffee, and he's been in their ads, talking about their coffee. He's also a fan of The Bottleneck, a record store, and he's helped promote them too. Simmons even cares about his community's economy and supports The Greater Omaha Chamber of Commerce, joining their events to help make Omaha's economy stronger. So, while he's scoring big deals with big companies, he's also keeping it real by supporting local spots.
Related- Trey Lance Net Worth: Lance's Salary Revealed with the 49ers? Contract Breakdown & NFL Earnings
Isaiah Simmons NFL Stats and Performace
In his career so far, Isaiah Simmons has participated in 32 games, starting in 21 of them. He has shown his skills by making a total of 117 tackles, out of which 63 were solo tackles, and he assisted in 54. His performance also includes 4.5 sacks, 2 interceptions, 1 forced fumble, 1 fumble recovery, and 6 pass deflections. Notably, in the 2022 season, he played in all 17 games, starting every one of them. During this period, he achieved 104 tackles, with 53 being solo tackles, and contributed 51 assists. He secured 1 sack, and while he didn't manage interceptions, forced fumbles, or fumble recoveries, he did accumulate 3 pass deflections.
Simmons is a versatile athlete, proficiently handling various positions on defense, such as linebacker, safety, and nickel corner, adding a dynamic edge to his team's strategy. Praised for his exceptional athleticism and capability to influence plays across the entire field, Simmons remains a work in progress, still honing his skills and strategies. As a young player with significant potential, he stands on the cusp of becoming a prominent figure in the NFL, capturing attention as one of the league's most promising talents.