The Titans outside linebacker Bud went to play college football at the University of Kentucky and also captained the team in his senior season. There he played as a defensive end and recorded 74 tackles and eight sacks. For his outstanding play in his senior year, he was included in the First team All-SEC in 2014. And NFL analysts projected him as a first-round pick and he made it so.
Alvin "Bud" Dupree Jr., famously known by the name, Bud Dupree was born on February 12, 1993, in Macon, Georgia, United States. According to astrologers, his star sign is Aquarius.
His father's name is Alvin Dupree Sr. while his mother's name is Sophia Stephens. As per the source, his godmother was the one who gave him the nickname Bud which he uses in his profession.
CAPTION: Bud Dupree with his young brother Jarius
SOURCE: instagram@bud_dupree
He is very closed to his mother and often shares photos with her on his social media. But he has never shared any detail about his father anywhere.
He grew up along with his small brother Jarius in Toomsboro where he used to play football at the local level.
Read:- Kenneth's Personal Information, Family of Footballers and his Education
Education and Early Career
In his early career, he used to play in both the tight end and defensive end position. He went to Wilkinson High School of Irwinton were played both basketball and football.
He recorded 1000+ receiving yards and 10 touchdowns in his senior year of high school. Rivals.com ranked him as a three-star recruit and Georgia Sports Weiter Association also noted him in the First team all-state.
CAPTION: Young Bud Dupree
SOURCE: instagram@bud_dupree
He attended the University of Kentucky for his college education where he graduated from community and leadership development. In his sophomore season at Kentucky, he had 91 tackles and 6.5 sacks.
Bud's Physical measurements: Height and Weight
As of 2022, Bud Dupree is just 28 years old and possesses a height of 6 feet 4 inches. He has a heavyweight of 122 kg and 269 pounds.
He likes to flex his muscular body on his Insta He has black eyes and long curly black hair.
Read:- Boyd's Physical measurements: Height and Weight
How Much Is Dupree's Net Worth In 2021 || Contract and Salary
According to our reports, Tennessee linebacker Bud Depree has an estimated net worth of $22 million approximately. He accumulated most of his income from playing for the different NFL teams.
CAPTION: Bud Dupree in front of an aeroplane
SOURCE: instagram@bud_dupree
In addition, he has also a lot of sponsors that boost his monetary value.
Contract with Titans
According to sportrac, Bud signed a contract worth $82.5 million with the Tennessee Titans in 2021. It guarantees him the mouth-watering sum of $35 million along with the signing bonus of $16 million.
In 2021, he will be earning about $18 million including all the sums. Similarly, he will earn $16 million in 2022, $17 million in 2023, 16 million in 2-024 and $15.5 million in 2025.
His contract with the Titans will end at the end of the 2025 season.
With Pittsburgh Steelers, he earned a sum of $15 million in his last season. Before, he signed a 4-year contract with them that was worth $9 million.
Read: Parham's Net worth and Salary (His Cars and Houses)
Sponsors
The NFL player has many sponsors that pay him well for his face value.
Atari VCS
His one partnership is with Atari VCS which is a provider of the modern videogame computer system. The player confirmed the partnership by promoting them on his Ig. He said,
"Looking for a great holiday gift this year? Bring back the nostalgia with the all-new Atari VCS! There are thousands of free games included with Atari Vault + Antstream. @atari @the_atarivcs #AtariVCS #partner"
Strive and Advil
Strive Health is also one of the sponsors Bud. There is no confirmation of the monetary value agreed between the two parties.
CAPTION: Bud Dupree promoting his sponsor Advil
SOURCE: instagram@bud_dupree
His other health product sponsor is Advil Relief which manufactures relieving products for athletes.
IONutrition
IONutrition and Bud are also partnered for a long time. It was in 2017 when they were highly involved. But it is not sure whether their partnership still stands or not.
Charities and Donations
He only not earns money but also donates for the people in need In July of 2017, he posted a photo of his gaming donations to the Children's Hospital and Family in need. He wrote,
"#first48charityweekend charity weekend! I promise we will triple this amount next year! $5,400 for the children's hospital and $2,700 for a family in need!! What A Blessing to give back!! "
Who is Bud's secret girlfriend? Is he married?
Bud Dupree is a very closed person who prefers to keep his private life out of media reach, including the matters like love life. He barely appears with any girl that can be seen as his partner.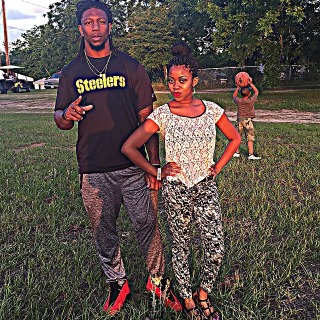 CAPTION: Bud Dupree with his friend
SOURCE: instagram@bud_dupree
We extracted all his Instagram posts to find out about his relationship status but couldn't find a single piece of information. Till today's date, he has not mentioned himself with any other partners. Also, there are no official sources, claiming his secret dating life.
So, as of 2022, he is believed to be single and not dating anyone. It is also not confirmed whether he is previously married or not. But it is sure that he has had at least one relationship in the past.
Read: The relationship status of Damien
Dupree: Father of a children
Bud Dupree is a proud father of 3 children: all sons.
His one son, named Breitlen Jett Dupree was born on August 10, 2018. On his birth, he was seen carrying him in both his hands. And he wrote,
"24 hours later!
Welcome. Breitlen Jett Dupree!!"
The details about his second son are still not revealed. But he has shared photos of all his sons on his Instagram.
CAPTION: Bud Dupree's children
SOURCE: instagram@bud_dupree
His third son's name is Bryston Ace Dupree who was born on January 5, 2020. So, as of now, he is already 1 year old.
Who is the mother of Bud Dupree's daughter?
Being a father of three children, the main question to Bud's fans is Who is their mother? Who are the parents of Bud's children, Jett, Ace and others?
The player has never talked about his girlfriend or wife. It is not even sure, whether their mother is the same. As we couldn't verify any sources that can claim the mother of his child.
His children are seen to be born in different timelines. And never shared about his wife on his Instagram. So, fans have to wait a little longer to find about his wife.
Read:- Who is the mother of Andre's daughter?
Why does Bud Dubree wear a mask?
Bud is seen wearing a black mask that covers all his face. So, it is not sure what is the meaning behind it.
CAPTION: Bud Dupree mask
SOURCE: instagram@bud_dupree
The player himself has never revealed why he wears a mask, but it might be that he is trying to look badass.
Bud Dupree assault
On January 4, 2022, Bud Dupree was charged with an assault. According to Sports Illustrated, He was charged with misdemeanor assault after a fight. The fight occurred against an employee of the Walgreens store in Nashville.
As a result, the male employee was injured on his forehead and Dupree suffered no injury. When the police arrived, Dupree was already out of the store.
According to a spokesperson of the Tennesse Titans,
"They are aware and gathering more information regarding the situation"
A dog lover
One thing Bud Dupree loves behind the playing, his family and friends are his dogs. He is a massive dog lover and has been keeping them for years.
CAPTION: Bud Dupree holding his dogs
SOURCE: instagram@bud_dupree
He frequently posts his lovely dogs on his social media and shares them with his fans. He has three dogs of the Pittbull breed which are more than 3 years in 2022.
Big Bud is also active in social media like Instagram and Twitter.
He is active on Instagram with the username @bud_dupree which currently has more than 293,000 followers. On his Insta, he frequently shares his time with the family and friends and about his training and games.
He is also active on Twitter and has more than 110,000 followers. His Twitter id is @Bud_Dupree.