Anthony Black is an American basketball talent who is an active member of the Orlando Magic in the NBA. He previously showed his skills at the collegiate level with the Arkansas Razorbacks standing out as a top-tier player in the 2022 class which earned him reputation as a consensus five-star recruit.
Anthony expertise reaches international level as he contributed to the victory of the USA Basketball Men's U18 National Team clinching the gold medal during the 2022 FIBA Americas U18 Championship. Black decided to enter the highly anticipated 2023 NBA Draft and got into Orlando Magic.
Anthony Black Net Worth 2023 & Base Salary
Anthony Black has an estimated net worth of $5 Million which was mostly earned from his NIL deal and the sponsors he got through it. Anthony earned a lot from name, image, and likeness through marketing and promotional endeavors. This policy change has allowed Black to make endorsement deals with high-profile brands and can receive cash for doing the promotional video of the brand on their social media.
Anthony Black promoting perfume brand on Instagram
SOURCE: Instagram- @anthonyblack
Anthony is set to make a base salary of $7,245,480, this year, and his salary will hit its peak in the year 2026 when he will receive more than $10 Million. In the world of basketball, LeBron James leads the pack with a staggering $1.2 billion to his name, while Kevin Durant follows with $200 million. Kyrie Irving and Damian Lillard share a net worth of $100 million each, alongside Chris Paul with a slightly lower net worth of $90 million. Stephen Curry is also among the high earners, boasting a net worth of $130 million.
Anthony Black Contract Breakdown
| | | | |
| --- | --- | --- | --- |
| YEAR | TEAM | Base Salary | Cap Hit |
| 2023-24 | Orlando Magic | $7,245,480 | $7,245,480 |
| 2024-25 | Orlando Magic | $7,607,760 | $7,607,760 |
| 2025-26 | Orlando Magic | $7,970,280 | $7,970,280 |
| 2026-27 | Orlando Magic | $10,106,316 | $10,106,316 |
Anthony Black has officially inked a substantial 4-year deal with the Orlando Magic, valued at $32,929,836, with the entire sum guaranteed. The contract encompasses an annual average salary of $8,232,459, reflecting a carefully negotiated agreement likely the discussions between Black's representative and the management of the Orlando Magic.
Anthony Black during the practice.
SOURCE: Instagram- @anthonyblack
The terms of the contract, consisting salary details and assurances were mutually established by both parties involved in the deal. The announcement of Black's affiliation with the Orlando Magic is expected to generate a surge of excitement among the local fan base given his prominent standing as one of the most promising prospects from the 2023 NBA draft.
The anticipation and eagerness of the fans are likely to be considerable welcomed by high hopes that Black's potential impact will extend across both offensive and defensive aspects of the game. Fans are likely to be eager for his contributions to propel the team toward success.
Anthony Black Career Earnings & Endorsements
Black has just entered the professional realm of basketball, but the signing bonus wasn't included in the contract. So currently the player hasn't earned anything from NBA but will soon, as he is expected to make around $7,252,480 this year and his salary will only go on increasing from next year
Anthony Black during the day before his draft contemplates his thoughts.
SOURCE: Instagram- @anthonyblack
Anthony Black's marketability has led to partnerships with three distinct companies, namely NextGenCamps, Bad Boy Mowers, and Conagra Brands. Moreover, he has successfully negotiated a NIL (name, image, and likeness) arrangement, presently valued at $306,000.
Anthony Black NBA Draft 2023 & Performance
Anthony Black chosen as the No. 6 overall pick by the Orlando Magic in the 2023 NBA Draft has garnered attention as a highly regarded basketball prospect. Anthony during his college tenure with the Arkansas Razorbacks showed consistent performance by starting all 36 games and achieving an average of 12.8 points and 5.1 rebounds per game.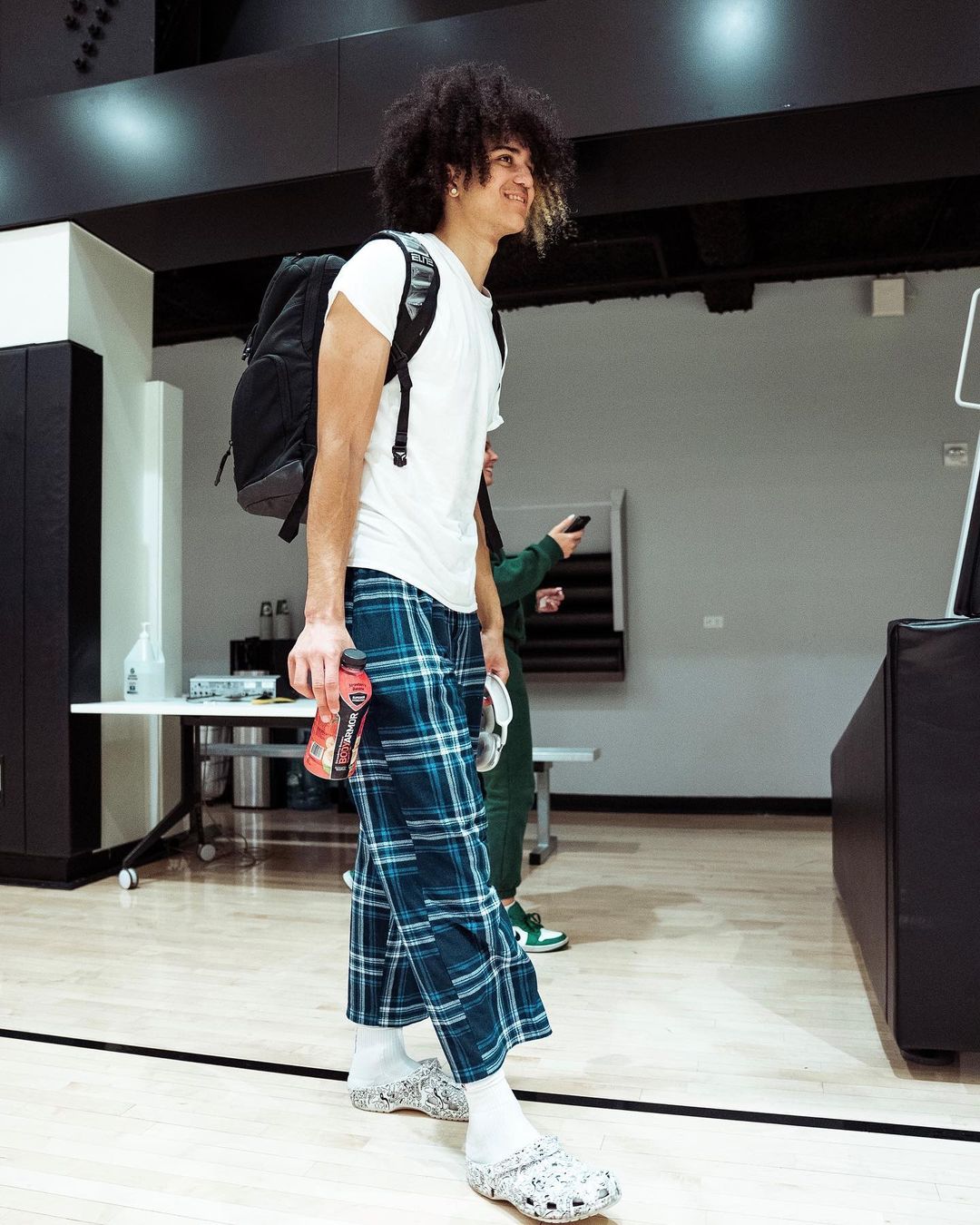 Anthony goes to the gym in comfy trousers and pants.
SOURCE: Instagram- @anthonyblack
Black adeptly occupies both point guard and shooting guard positions. His reputation as an adept passer within his teammates is attributed to his basketball IQ, and remarkable court vision, qualities that set him apart. Despite these strengths, Black acknowledges the need for improvement in his jump shot having recorded a 30.1% success rate in 3-pointers during the previous season.
Showing his potential on the professional stage he made his debut in the Las Vegas Summer League as part of the Orlando Magic achieving an impressive performance of 17 points while successfully sinking 7 of his 10 field goal attempts.
Related- Anthony Edwards Net Worth: Also Know about His Girlfriend, Height & Stats
Anthony Black Arkansas Razorbacks Stats
In his freshman college year spanning 2022-2023, Anthony Black established an impactful presence on the court begin all 36 games for the Arkansas Razorbacks. Anthony showcased an average of 12.8 points, 5.1 rebounds, 3.9 assists, and 2.1 steals per game. His shooting accuracy consist of a 45.3% success rate in field goals, while his 3-point proficiency stood at 30.1%, accompanied by a free throw completion rate of 70.5%.
Earning a place on the SEC All-Freshman team and emerging as a finalist for the prestigious Kyle Macy National Freshman of the Year accolade. Transitioning into his sophomore year during 2023-2024, Black-faced challenges tied to eligibility matters, limiting his participation to just 15 games. Anthony continued to display his skills on the court with an average of 13.5 points, 5.8 rebounds, 4 assists, and 2.2 steals per game.
His shooting accuracy has a solid standard with a 46.5% success rate in field goals, a 29.1% completion rate in 3-pointers, and a commendable 75.2% efficacy in free throws. Although his junior and senior year statistics remain hidden.
Related- Victor Wembanyama Net Worth 2023 UPDATE - Contract, Salary, Career Earnings and Sponsorships
FAQS: People May Ask
1. What are Anthony Black's stats this season?
Anthony Black's 2023-2024 NBA season stats are unavailable. Other remarkable stats are his Las Vegas Summer League performance with 17 points, 5 rebounds, 5 assists, and 3 steals in 28 minutes. In college, his freshman year averaged 12.8 points, 5.1 rebounds, 3.9 assists, 2.1 steals; sophomore year: 13.5 points, 5.8 rebounds, 4 assists, 2.2 steals per game.
2. How many threes has Anthony Black made?
27 three-point shots during his initial year at the University of Arkansas.
3. What is Anthony Black's favorite Hog game?
In an article by Sports Illustrated, Anthony Black was queried about his preferred Hog game. Regrettably, the piece does not furnish details regarding his answer or specify the game he holds in high regard.
4. What is Anthony Black's net worth?
Anthony Black has an estimated net worth of $5 Million as of 2023.