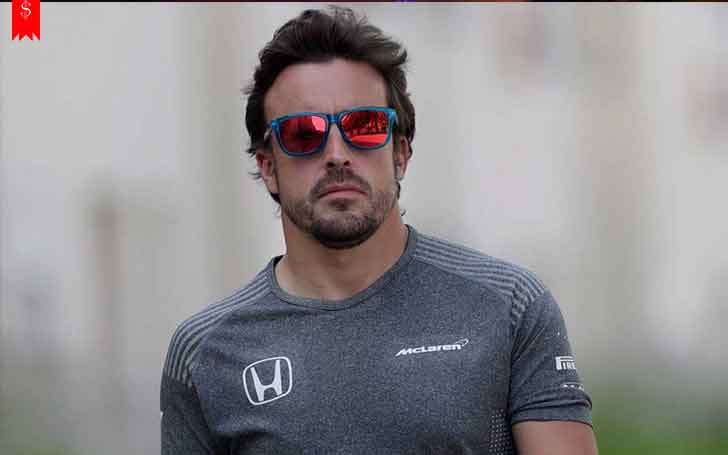 Fernando Alonso Diaz, also known as Fernando Alonso, is a Spanish Formula One racing driver and a double World Champion who currently races for McLaren F1 Team. He has appeared in many events, and many consider him one of the greatest racers in Formula One racing. He has taken part in 2017 Indianapolis 500 and 2018 24 hours in Daytona.
It is without a doubt that Alonso has made a mark in the racing world through his effort and is worthy of the wealth he has amassed.
Fernando Alonso's Net Worth and Source of Earnings
When you are an F1 star, people already know that you pack some serious cash and own a lot of properties. Fernando is no different. He owns a medieval-style mansion in Switzerland and has a VW people carrier which he uses to cruise the mountains there.
In addition to that, Alonso has a massive car collection that consists of a Maserati and a Ferrari. He is also said to own an apartment in La Reve which is a 52-story complex in Dubai. Fernando previously lived in Oxford before moving to his Swiss mansion.
CAPTION: Fernando and his Sweet Ride
SOURCE: The Sun
Alonso roughly earns $30 million per annum on track and cashed $300,000 from his trip to Brickyard. In addition to his regular salary, he also earns bonuses from his wins. He scored $29 million in 2014 from his salary plus winning bonuses.
What a lucky chap!
CAPTION: Fernando Alonso in Style
SOURCE: Daily Express
Fernando has been sponsored by the banking company Citigroup and the multinational company called Pirelli. In 2015, he earned $1.5 million from numerous endorsements. His contract with McLaren-Honda the same year got him a grand $36 million. Forbes estimated his 10-year earning amounted to a massive $289 million. He sits on #20 in the Forbes list of Highest Paid Athletes.
| | | |
| --- | --- | --- |
| Year | Earnings (Salary+Endorsements) | Net worth |
| 2012 | $32 million | NA |
| 2013 | $30 million | NA |
| 2014 | $31 Million | NA |
| 2015 | $35.5 million | NA |
| 2016 | $36.5 million | $220 million |
| 2017 | $36-million | $220 million |
| 2018 | $40 million | £225 Million |
The racing legend has a net worth of $220 million and deserves no less than that. We hope Alonso keeps breaking records while his net worth blows through the roof.
Fernando Alonso's Professional Career
After winning Euro-Open Movistar Series, in December 1999, Alonso had his first Formula One test in Jerez with Minardi, the team which gave him his Grand Pix debut. He became a test driver at Benetton in 2000.
He was the third youngest driver to start a Formula One race when he debuted at the Australian Grand Pix with Minardi.
CAPTION: Fernando Alonso as a test driver
SOURCE: motorsport.com
After Minardi, Fernando worked as a test driver for Renault. Later, they put him in the second seat alongside Jarno Trulli. He became the youngest driver to get a pole position at the Malaysian Grand Pix and the youngest driver to win the Hungarian Grand Pix.
In 2015, he won two races in Malaysia and Bahrain. A year prior to his win in Malaysia and Bahrain, Scuderia Ferrari announced the 2014 season would be his last with McLaren, with Sebastian Vettel replacing Alonso at Ferrari.
He joined McLaren, where he partnered with Lewis Hamilton, in 2007, Alonso secured his first win for McLaren, which became the teams first win since 2005. After a few complications, McLaren and Fernando both agreed to terminate his contract.
He also raced in the Canadian Grand Pix and Monaco Grand Pix. He raced on behalf of Ferrari for four years. He returned to McLaren in 2015.
AD Here (After Content)