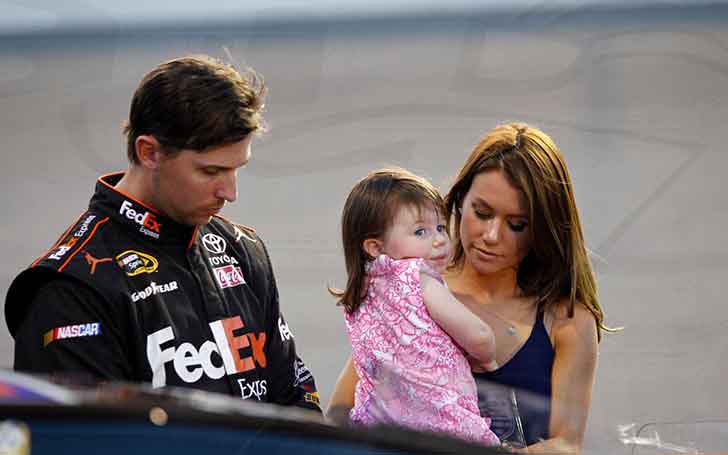 James Dannis Alan Hamlin, a.k.a. Denny Hamlin, is a professional stock car racing driver based in the United States. He is a married man, and his wife is non-other than the former Charlotte Bobcats Dancer, Jordan Fisher. It has been quite some time now since they started dating and they also are parents of two children.
Moving along, Hamlin as a professional racer currently competing in the Monster Energy NASCAR Cup Series and to date has won more than 30 NASCAR Cup series races.
Here we are going to share some information about Hamlin's relationship with wife Jordan Fisher, and their children.
Denny Hamlin's Marital life with wife Jordan Fisher
Denny Hamlin is currently married to his wife Jordan Fisher who is the former Charlotte Bobcats Dancer and danced for the team for two seasons.
CAPTION: Denny Hamlin with wife Jordan Fisher
SOURCE: Pinterest
They met back in 2009 when they met during a Lady Cats performance. As they made their first eye contact, they exchanged numbers and started talking over the phone.
Soon enough, their relationship became romantic, and they decided to get engaged to each other.
Even though they were engaged a long time ago, the couple stayed that way for a long time before they finally decided to tie the knot recently in 2017.
CAPTION: Denny Hamlin and wife Jordan Fisher
SOURCE: China Daily
The news of their wedding took the internet by storm as they already have a child before they got married and them tying the knot made things official.
As of now, it has not been long since they got married, but it is almost a decade since they first started dating in 2009.
The couple is very supportive of each other and has openly spoken about their relationship and how things have changed between them after the birth of their first child.
Denny Hamlin and Jordan Fisher's Children
Hamlin and Fisher have two children together and both of them are daughters. Their first child, Taylor James Hamlin who is widely known on media was born on 20th Jan 2013. She is currently 5-years-old and was born way before her parents tied the knot.
Their youngest daughter Molly Gold Hamlin was born right after they got married in 2017, on 15th August. She is not even a year old as of now, but we assume that she is the reason behind the pair tying the knot.
At this pace, fans can expect to see more mini versions of Hamlin in the near future.
AD Here (After Content)