Rob Gronkowski created a massive buzz with his tweet in December 2022. And many fans thought the tweet was about his return to the NFL. But, unlike the other NFL legend(Tom Brady), Gronk decided to keep his family at the top of his priority. While Rob isn't married, the retired American football star is in a relationship of almost a decade.
Gronkowski's girlfriend appeared in many movies and TV shows over the years. If you haven't been living under a rock, chances are you have seen Rob's beautiful girlfriend in one form of media. She started appearing in the American game show Wipeout as an on-field host in 2021. The NFL star met the lovely lady at a charity event almost a decade ago. Besides, in their long relationship, Rob and his girlfriend, Camille Kostek, have been called the sweetest couple in sports.
Rob Gronkowski and Camille Kostek met in 2013 at a Charity Event!
Rob Gronkowski and Camille Kostek worked with the New England Patriots in the early 2010s. It almost sounds like a cheesy movie if you think about it, Rob, the handsome football player and Camille, the beautiful cheerleader. However, after years of working with the Patriots, the duo crossed paths.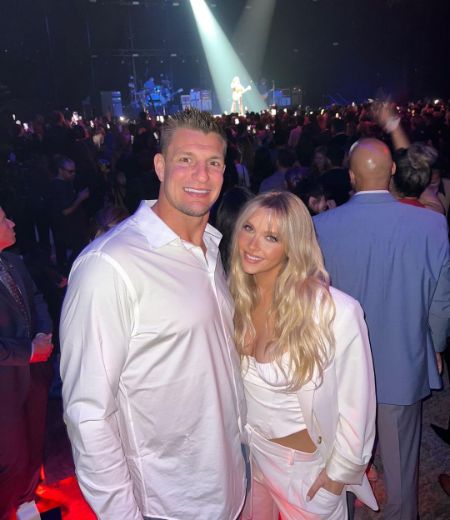 Rob Gronkowski and his girlfriend, Camille Kostek, of almost a decade, went to Edition to party.
SOURCE: [email protected]
During a charity event in 2013, Rob first laid eyes upon Kostek. And apparently, Gronkowski was smitten by her charm. The tight end then gave the cheerleader his number. Camille further revealed that, at first, she was very hesitant about taking his number. But, in the end, the cheerleader took his digits.
Camille face-timed the NFL star, and as things turned out, they became close quickly. However, exactly when they became a couple stays hidden. In 2015, Rob and Kostek made their love connection public. And for more than half a decade, Gronk has been in a committed relationship with his girlfriend.
Rob Gronkowski stays unmarried even with over seven years of relationship.
Rob Gronkowski and Camille Kostek share a strong relationship. However, it seems that the duo kept the next level for a distant future. As neither one of the two wants their relationship to change. Currently, the pair live under the same roof in Foxborough, Massachusetts and Tampa, Florida.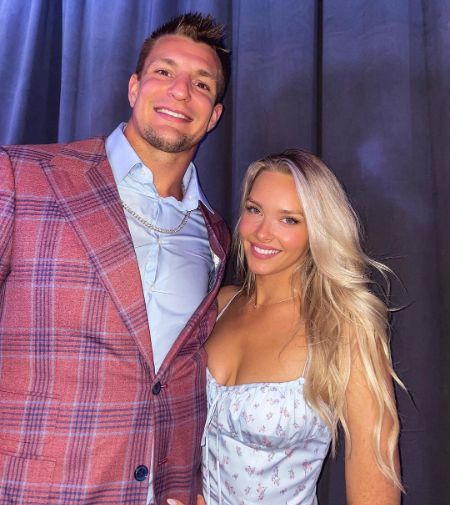 Rob Gronkowski and his partner, Camille Kostek, took a picture as they celebrated Camille's birthday.
SOURCE: [email protected]
Rob gained massive success in his sport, winning the super bowl four times. Similarly, his girlfriend, Camille, went on the bloom as a model and actress. The NFL star's partner found herself campaigning for many top-level brands. Likewise, the beautiful model also became an ambassador for many cosmetic and clothing brands over the year.
Gronkowski retired for the second time in early 2022. After leaving the field, the NFL star found much-needed free time. Finally, will the football star propose to his long-time girlfriend? That remains to be seen, but for now, both Camille and Rob stay in a blissful relationship.
Kostek and Gronk haven't decided when they will exchange their vows. Similarly, raring a child is a big responsibility, so the couple appears to be taking their time to tackle such steps. However, as seen on his many Instagram post, Rob is very good with children.
Kostek shares about the kind of engagement ring she wants!
It was inevitable that the long-time couple would talk about marriage. Camille Kostek stated she knows what kind of ring she wants. During an interview in 2021, the model said when the time comes, she hopes Rob Gronkowski, her boyfriend, will consult her friends and sister about the engagement ring she wants.
Camille Kostek found massive fame by herself!
Many football wives and girlfriends come to fame through their partners, not Camille Kostek. She first came into the spotlight as a cheerleader for New England Patriots. And after she retired from cheerleading, Kostek started modelling. As mentioned, Rob Gronkowski's girlfriend broke her plateau as a model and started acting.
Rob Gronkowski and his girlfriend, Camille Kostek, celebrated Camille being featured in Retreat magazine in September 2022.
SOURCE: [email protected]
Kostek has been featured on many magazine covers over the years. Likewise, Camille also worked with many top brace brands like Victoria's Secret, L'Oreal, and Clarins. At one point, she was even the face of these brands and worked as an ambassador. And by 2018, she broke out as an actress in I Feel Pretty. But, it was only a small role with very little screen time.
In 2018, Camille won the reality TV show Sports Illustrated Swim Search and went on to make multiple TV appearances. And on 2021, she landed a job as an on-field host of Wipeout. Finally, in 2022, Rob's partner worked in the reality show Is It Cake and Dancing with Myself while still working at the American game show.
AD Here (After Content)