Charlie McAvoy has been engaged to Kiley Sullivan, the daughter of Mike Sullivan who happens to be the head coach of the Pittsburgh Penguins of the National Hockey League (NHL). McAvoy is an American professional ice hockey player, while Sullivan is a college graduate who works in the field of social media marketing.
The two first met in 2018 when McAvoy was playing for the Boston Bruins. Sullivan was also a Boston University student who attended a game, and they were introduced through mutual friends.
Charlie's Dating and Engagement Story with Kiley
After meeting, Charlie and Kiley started dating, and they kept their relationship mostly private. However, they occasionally shared pictures of each other on their respective social media accounts, which fueled rumors of their relationship. Sullivan has shared several photos with McAvoy on her Instagram account, where they can be seen enjoying their time together.
The couple's relationship became more public when they attended the wedding of McAvoy's teammate, Brandon Carlo, in 2021. They looked happy and in love, and fans of the couple were excited to see them together. The couple continued to keep their relationship private and away from the media, but fans were always curious about their relationship status.
Charlie McAvoy with his fiancé, Kiley Sullivan, July 2022
SOURCE: instagram.com
Finally, in July 2022, McAvoy surprised Sullivan with a proposal while they were on a trip to Greece. The couple had been dating for four years before getting engaged. They shared the news of their engagement on their respective social media accounts, with McAvoy sharing a picture of the two of them on a vacation with the caption " The most amazing day — can't wait to marry my best friend."
Since getting engaged, the couple has continued to keep their relationship private, with few updates on social media. Fans of the couple have congratulated them and expressed their excitement for their future together. It is unclear when they plan to get married or what their wedding plans are, but fans are looking forward to seeing them tie the knot.
A Peek into Charlie's Professional Career
Charlie McAvoy is an American professional ice hockey player who currently serves as the alternate captain for the Boston Bruins of the National Hockey League (NHL).
McAvoy's professional career began in the 2017-18 season when he joined the Boston Bruins after signing a three-year entry-level contract. He made his NHL debut on April 12, 2017, in a playoff game against the Ottawa Senators, and scored his first NHL goal in Game 4 of the series.
In his first full NHL season, McAvoy played in 63 games for the Bruins, scoring seven goals and adding 25 assists for 32 points. He also played in all 12 of the Bruins' playoff games, helping the team reach the second round. McAvoy's strong play earned him a spot on the NHL All-Rookie Team.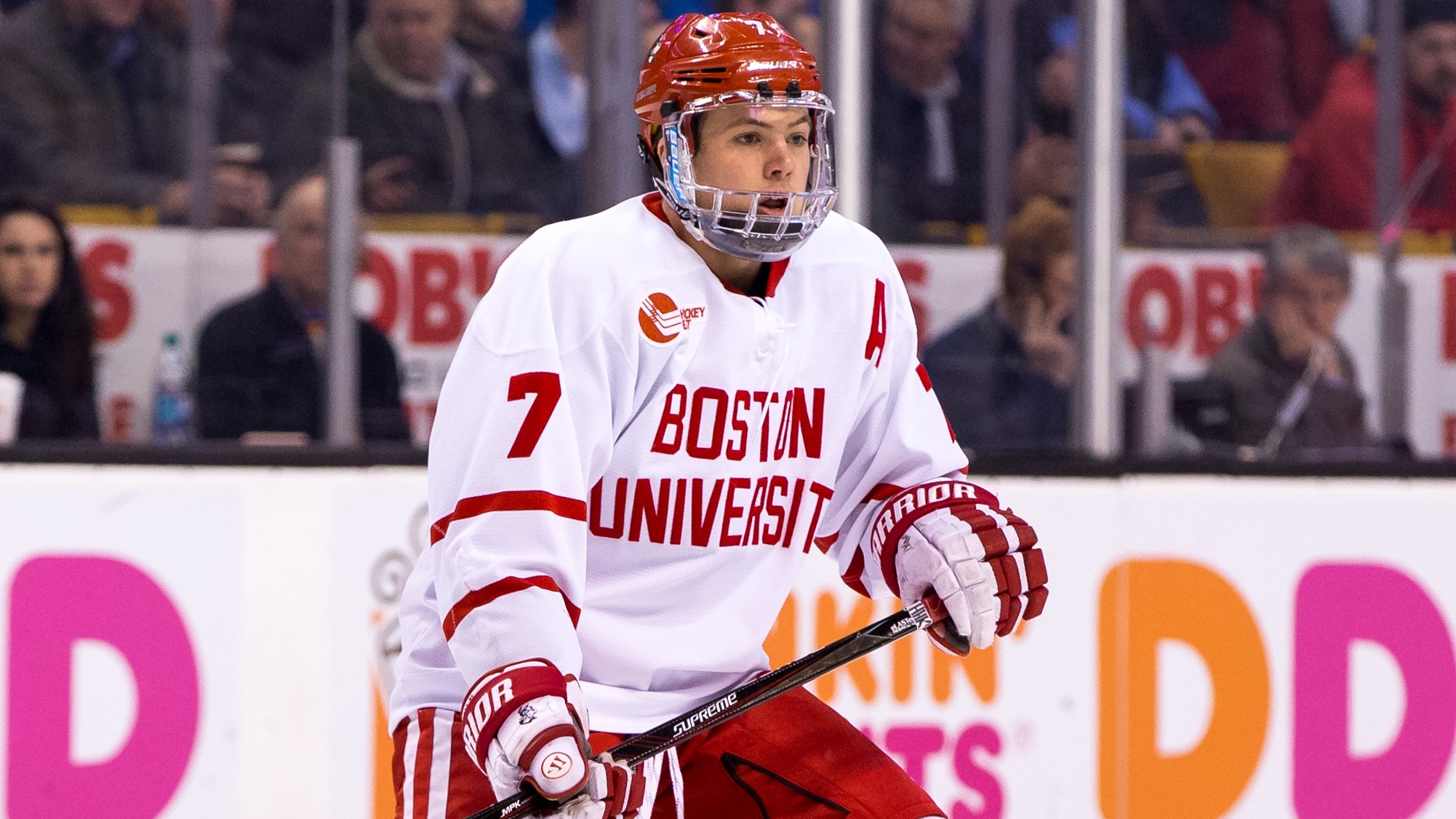 Charlie McAvoy in a match during his college days hockey tournament, 2016
SOURCE: goterriers.com
McAvoy's career statistics have continued to improve in the following seasons. In the 2018-19 season, he scored seven goals and added 21 assists for 28 points in 54 games, and in the 2019-20 season, he had five goals and 27 assists for 32 points in 67 games.
McAvoy has also been recognized for his impressive play with numerous awards and honors. In addition to being named to the NHL All-Rookie Team in 2018, he was also named to the NHL All-Star Game in 2020. McAvoy has also represented the United States in international competition, winning a gold medal at the 2017 IIHF World Junior Championship and a bronze medal at the 2018 IIHF World Championship.
Charlie McAvoy's playing career has been marked by impressive skill and dedication, and he has become one of the top young defensemen in the NHL. With his strong defensive play, offensive skills, and physical presence, McAvoy is sure to continue making an impact on the ice for years to come.
McAvoy's Net Worth, Salary, and Career Earnings
Charlie McAvoy has made a significant amount of money during his career. His net worth, salary, and career earnings have been the subject of much discussion among fans and analysts.
McAvoy's assets' net valuation is estimated to be around $8 million. This includes his career earnings, endorsements, and other sources of income. McAvoy has endorsement deals with companies such as Bauer Hockey, and he is also involved in charitable initiatives that help to support causes such as pediatric cancer research and the fight against racism and social injustice.
McAvoy's cash earnings for the 2022-23 season were $5,900,000. This includes his base salary, signing bonus, and other bonuses. He is currently signed to a three-year contract with the Boston Bruins that will pay him an average annual salary of $4.9 million.
Charlie McAvoy's fresh matte Jeep Grand Cherokee, September 2019
SOURCE: wrapsolutions.net
McAvoy's career earnings have been steadily increasing since he joined the NHL in 2017. According to HockeyZonePlus, McAvoy earned a base salary of $832,500 in his rookie season, with a total salary of $1,775,000 including signing and performance bonuses. In his second season, his base salary increased to $925,000, with a total salary of $3,262,500 including bonuses.
McAvoy's impressive play and strong negotiating position led to him signing a new contract with the Bruins in 2019. The contract was for three years and was worth a total of $14.7 million, with an average annual salary of $4.9 million.
McAvoy's salary and earnings are reflective of his talent and hard work on the ice, and he has become one of the soughted players for different teams in the NHL who are looking to sign a new and young talent. With his strong negotiating position and impressive play on the ice, McAvoy is sure to continue earning significant amounts of money in the future, and he is bound to be a key part of the Boston Bruins' success for many years to come.