Stine Bredal Oftedal is a Norwegian handball player by profession who currently plays for Hungarian handball club Gyori Audi ETO KC as a center back. She is also the captain of the Norwegian national team with which she won the World Championship in 2011 and 2015 in Brazil and Denmark respectively.
Individually, the Norwegian handball center back was named the IHF World Player of the Year in 2019. In the same year, she was named Foreign Handballer of the Year in Hungary while playing for Gyori Audi. Recently, in 2021, Stine was named All-Star Center Back of the EHF Champions League.
Norwegian handball captain Stine Bredal Oftedal
SOURCE: [email protected]
At just 30 years of old, the 2017 Most Valuable Player of the World Championship has won many trophies and awards in her name. However, her dream of winning the Olympic gold medal for Norway is still incomplete. In Olympic Games 2020 in Tokyo, she was close to the feat but had to settle with the Bronze medal.
Stine Bredal Personal Information, Family and her younger sister
Stine Bredal Oftedal was born on September 25, 1991, in Oslo, Norway. Her zodiac sign is Capricorn and she possesses a height and weight of 5 feet 6 inches and 64 kg respectively.
Her father's name is Svein Bredal Oftedal and her mother's name is Ellen Bredal Oftedal. The 2019 IHF World Player of the Year younger sister Hanna Bredal Oftedal is also a retired professional handball player who lastly played for Danish club Silkeborg-Voel KFUM.
She attended BI Norwegian Business School for her studies but later fully involved herself in handball.
What is the net worth of Stine Oftedal?
The Norwegian women handball team captain Stine Bredal Oftedal has an estimated net worth of $500,000. Her main source of income is her profession as a handball player. However, there are no sources claiming the actual salary of Stine.
The earning of handball player is comparatively very less than other sports like football, basketball, baseball. Most of the players are paid less than an average salary excluding the top players. Regarding the highest-paid woman handball player, Romanian player Cristina Neagu tops the list. She has an estimated yearly earning of EUR 265,000.
Read about the net worth of Filipino professional golf player Yuka Saso.
Stine Bredal Oftedal and her boyfriend Rune Dahmke net
SOURCE: instagram@runedahmke
Comparing women's handball player's salaries with men's, there is a huge difference. The top-paid men's handball player is Mikkel Hansel who earns a basic salary of €2.5 Million.
Stine named Forbes 30 Under 30
Recently, in 2021, the 2019 IHF Women's World Player of the Year was named on Forbes' 30 Under 30 - Europe - Sports and Games list. It includes high-profile athletes like footballer Marcus Rashford, tennis player Daniil Medvedev and Tour de France winner Tadej Pogacar.
Forbes branded her as the "new generation of handball players that embraces fast, dynamic play over size and physicality,".

Read More.Stine Bredal Oftedal
Relationship with Rune Dahmke
The 2014 French Championship MVP is currently in an open relationship with German Handball player Rune Dahmke. The couple has been together since 2017. Being a fellow handball player, Rune is a great supporter of his girlfriend Stine Bredal. Stine is 2 years older than her boyfriend Rune D.
Stine's boyfriend Dahmke posted his partner's photos publicly for the first time in July 2017 mentioning her as My Smurf. Since then, they frequently post photos of having a lovely time with each other on social media.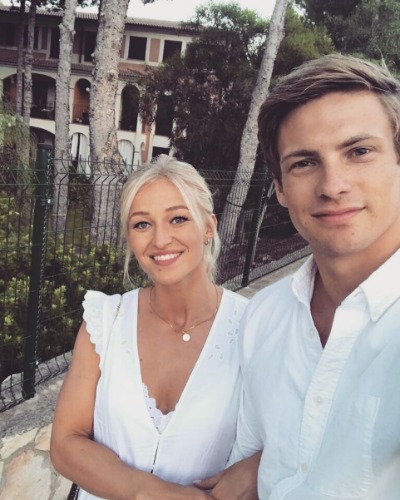 Stine Bredal Oftedal and her boyfriend Rune Dahmke
SOURCE: instagram@runedahmke
Read American television personality Ann Liguori's relationship status
The pair met for the first time in Paris through their common colleague Erlend Mamelund. Now, since, Bredal has left Paris and is playing in Hungary. They are in a long-distance relationship.
Explore more athletes at PlayersWiki.