Mikala Jones grew up surrounded by the ocean and its waves. His father, a talented surfer and surf photographer, instilled in him a deep connection to the sea. Mikala embraced his passion for surfing and turned it into a profession.
Mikala Jones embraced his love for surfing and transformed it into a successful professional career. Through hard work and talent, he established himself as a renowned surfer. However, tragically, Mikala's life was cut short at the age of 44 due to a fatal accident.
Mikala Jones Dead at 44: What was the Reason behind Jones's Death?
Tragic news shook the surfing world when Hawaiian professional surfer Mikala Jones, aged 44, tragically passed away on July 10, 2023. The untimely demise occurred during a fatal surfing accident in the Mentawai Islands, Indonesia.
Mikala Jones surfs the wave.
SOURCE: Instagram- @mikalajones
Mikala was a renowned figure in the surfing community who met his unfortunate end while engaged in the sport at a remote and undisclosed wave location in the Mentawais. The devastating news was confirmed by his daughter, Isabella Jones, leaving his loved ones and fans across the globe mourning the loss.
Mikala Jones enjoyed a successful career in the sport, earning recognition and admiration from his peers and supporters. However, his life was cut short by the tragic accident that unfolded. The fatal accident took place in the Mentawai Islands, Indonesia, where Mikala was surfing at a secluded and undisclosed wave spot.
The exact details surrounding the incident remain shrouded, but it has been described as an unusual and unexpected event. Mikala suffered a severe injury in the groin area, specifically the femoral artery, leading to fatal bleeding which took his life.
Mikala Jones Early Life and Family Background
Mikala Jones, a well-known surfer, and adventurer, had quite an interesting early life and family background. Born and raised in Hawaii, he was surrounded by the beauty of the ocean from a young age. Growing up in a family of avid surfers, it was no surprise that Mikala developed a deep love and passion for the sport.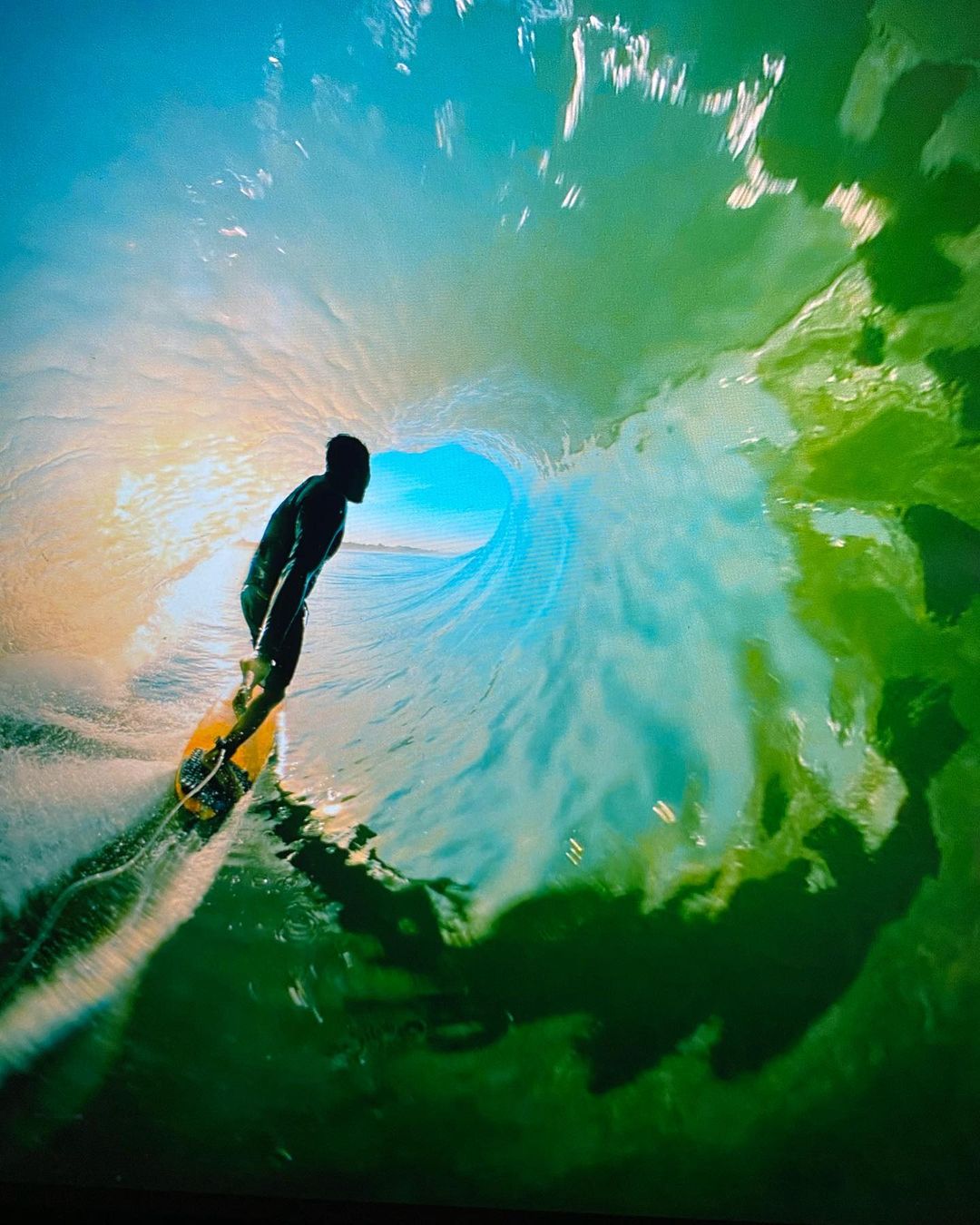 Mikala Jones surfing inside the whirlpool of waves.
SOURCE: Instagram- @mikalajones
Mikala was exposed to the thrill and excitement of riding the waves from an early age. His parents frequently took him along on their surfing trips, allowing him to witness firsthand the incredible power and beauty of the ocean. These experiences not only sparked
Jones Surfing Career: Know about Mikala's Titles and Achievements
Jones possessed an exceptional talent for creating an engrossing and immersive experience for his viewers, effectively transporting them into thrilling adventures. Mikala constantly sought out innovative methods to share his escapades, captivating his audience with enigmatic social media posts that left them eagerly guessing the locations of his next daring endeavors.
Mikala, unfortunately, died at the age of 44.
SOURCE: Instagram- @mikalajones
Jones established himself as a renowned Hawaiian professional surfer who had made Indonesia his new home throughout his remarkable 25-year surfing career. He gained fame by fearlessly conquering colossal waves and garnered a reputation for mastering some of the world's most formidable surf breaks.
Mikala Jones Net Worth at The time of his Death: How much was Jones Worth?
Jones' net worth at the time of his death was approximately $1.9 million, although there are no official statements from Jones himself regarding his wealth. Professional surfers earn between $250,000 to $400,000 per year through various sources such as competition winnings, sponsorships, product endorsements, social media collaborations, and digital projects.
Mikala Jones with his father at a young age.
SOURCE: Instagram- @mikalajones
However, top-tier professional surfers have the potential to earn over $500,000 annually, depending on their performance in competitions, travel expenses, product endorsements, and sponsorships. The income received by surfers is often directly linked to their professional ranking and success in the sport.
While only a few surfers achieve significant wealth and a select few become millionaires, winners of QS 10,000 events typically receive around $40,000 in prize money. In 2022, Gabriel Medina was estimated to be the highest-earning surfer in the world, with an annual income of $2.2 million.
Related: How did Mikala Jones Die? Hawaiian Pro Surfer, Mikala Dead at 44 due to Fatal Injury
Mikala Jones Wife, Emma Brereton: Jones Children and Wife are Deeply Sorrowed by His Passing
The passing of Mikala Jones has deeply saddened his wife, Emma Brereton, and their children. Mikala Jones was married to Emma Brereton, and they had two daughters named Bella and Violet. The family was known for their close-knit bond, as evident from the photos and descriptions found in the search results.
Late Mikala Jones with his Friends and associates.
SOURCE: Instagram- @mikalajones
One of Mikala Jones' daughters, Bella Jones, took to Instagram to share a heartfelt tribute to her father. In her post, she expressed her disbelief and conveyed that her father was doing what he loved the most before the accident, highlighting his passion for his pursuits.
Another daughter of Mikala Jones, Isabella Lokelani Jones, also paid homage to her father on Instagram. She shared a poignant post, expressing her profound sadness and disbelief at his passing, reflecting on the deep impact he had on her life.
Read More: Kelly Slater Is a Millionaire. In Details About Kelly Slater's Net Worth, Earnings, Career Earnings, and Sponsorships
Mikala was Tributed by Famous Surfers like Kelly Slater, John Florence, and Mick Fanning have expressed Condolences
The surfing world is in mourning following the devastating news of professional surfer Mikala Jones' untimely death. Jones, hailing from Hawaii, tragically lost his life in a fatal surfing accident in the Mentawai Islands of Indonesia on July 10, 2023. The entire surfing community has been shaken by this news, leading to an outpouring of condolences from renowned surfers.
Mikala Jones received condolences from many renowned surfers.
SOURCE: Instagram- @mikalajones
Renowned American surfer Kelly Slater expressed his sympathies on Instagram, acknowledging the passing of his friend Mikala Jones. Slater conveyed his deep sorrow and sent prayers to Jones' family. Another respected Hawaiian surfer, John John Florence, paid tribute to Jones on the same platform, recognizing him as a true legend and an inspiration to all. Florence mournfully added that Jones would be greatly missed.