Jordy Smith iz South African professional surfer known for his remarkable achievements on the World Surf League Championship Tour. Over the course of his career, he has attained multiple notable victories, including back-to-back wins in the prestigious Billabong J-Bay competitions in South Africa in 2010 and 2011.
Smith claimed first place in the Hurley Pro at Trestles, held in California, both in 2014 and 2016. In 2007, he also emerged triumphant in the World Qualifying Series. These accomplishments highlight Smith's exceptional talent and consistency in the world of competitive surfing.
Jordy Smith Early Life: Know about the Surfer, Jordy's Parents
Jordy Smith was born on February 11, 1988, and is a professional surfer from Durban, South Africa. He was introduced to the world of surfing by his father, Graham Smith, who had a background as a former surfer and held the Lost Surfboards license in South Africa. Growing up in Durban, Jordy developed a passion for surfing at a young age, starting his journey on the waves at just three years old. He attended Glenwood High School, a local educational institution in Durban.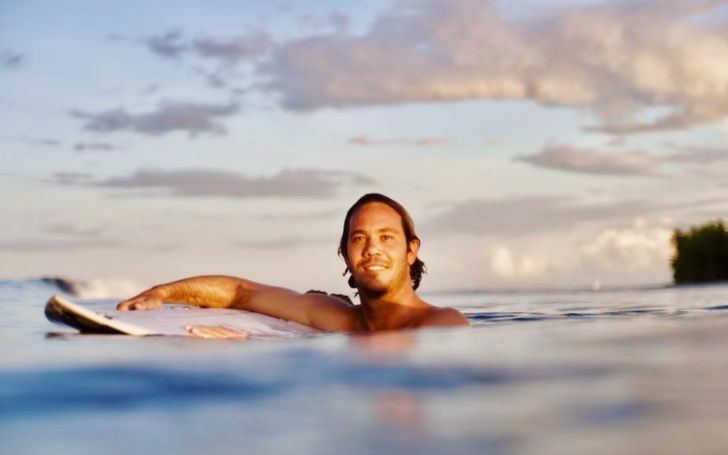 Jordy Smith was raised in South Africa.
SOURCE: Instagram- @jordysmith88
Jordy's father, Graham Smith, is also known by the nickname 'Gee Force.' His mother, Luellen Smith, is a teacher, and he has a sister named Casey. The support and influence of his parents played a significant role in Jordy's early development as a surfer.
With his upbringing in Durban and the guidance of his surfing enthusiast father, Jordy embarked on a path that would lead him to become a successful and accomplished professional surfer in the world of competitive surfing.
Jordy Smith Surfing Career: Know the details about his Surfing Titles and Accolades
Jordy Smith has achieved remarkable success and acclaim for his exceptional skills on the surfboard. Notably, he secured back-to-back victories in the Championship Tour held in his homeland of South Africa in 2010 and 2011, marking a significant milestone in the country's surfing history.
CAPTION: Jordy Smith has an estimated net worth of $2.1 Million.
SOURCE: Instagram- @jordysmith88
Throughout his career, Smith has consistently emerged victorious in various prestigious competitions. He triumphed in the Billabong Pro J-Bay in 2010 and 2011, the Hurley Pro at Trestles in 2014, and the Vans World Cup of Surfing in 2016. These wins highlight his exceptional talent and ability to excel in different waves and conditions.
Jordy Smith's talent and consistency have been recognized through his high rankings on the World Surf League Championship Tour. He has attained a career-high ranking of World No. 2, a testament to his exceptional performances and competitiveness against the world's best surfers.
In addition to his competition success, Smith has been a prominent figure in the surfing world, representing renowned brands such as O'Neill, Red Bull, and Hurley. His influence and impact extend beyond competitions, as he has been featured in surfing documentaries and films like "Bending Colours" and "View from a Blue Moon," further solidifying his status as a global surfing icon.
Jordy Smith's Surfing Style, Height, Weight, and Age
Jordy Smith's unique surfing approach distinguishes him within the Championship Tour. Hailing from Durban, South Africa, he is a regular-footed surfer known for his captivating power surfing style. His ability to generate speed and exhibit impressive strength in his turns enables him to execute remarkable maneuvers in the face of the wave.
Equally commendable is his expertise in aerial maneuvers, fearlessly launching himself off the wave's lip and performing intricate tricks mid-air before gracefully landing back on the wave. In terms of physical attributes, Jordy Smith stands at an impressive height of 6 feet 2 inches (1.88 meters). Additionally, he maintains a weight of approximately 190 pounds (86 kg). These dimensions further contribute to his commanding presence and prowess in the world of professional surfing.
Jordy Smith Net Worth, and Salary: How much is Jordy Worth?
Jordy Smith, the accomplished professional surfer, has amassed an estimated net worth of $2.1 million through his successful career. Beyond surfing, Smith has explored opportunities in acting and directing, diversifying his income streams and showcasing his versatility.
Jordy Smith with his friend Camping.
SOURCE: Instagram- @jordysmith88
Smith's financial accomplishments are exemplified by his ability to decline significant offers. In 2017, he reportedly turned down a lucrative $5.3 million deal, demonstrating his selective approach in choosing partnerships that align with his personal brand and values. Additionally, Smith's annual salary is estimated to be around $1.73 million, further contributing to his earnings.
Read More: Kelly Slater Is a Millionaire. In Details About Kelly Slater's Net Worth, Earnings, Career Earnings and Sponsorships
Jordy Smith Endorsements and Career Earnings
Jordy Smith's financial prosperity stems from his thriving surfing career. His achievements in competitions and partnerships with well-known companies like Channel Islands Surfboards, Oakley, O'Neill, Red Bull, and Neff headwear have played a crucial role in enhancing his financial standing.
Jordy Smith and his wife share 9 years of togetherness.
SOURCE: Instagram- @jordysmith88
These endorsements have not only offered substantial monetary backing but have also cemented his status as a renowned figure in the surfing realm. By aligning himself with reputable brands, Smith has leveraged his skill and popularity to secure profitable sponsorship agreements, resulting in a substantial increase in his overall wealth.
Read More: What Happened to Andy Irons? How Did He Die? In Details About Andy Iron's Net Worth and Career Earnings
Jordy Smith Wife, Lyndall Smith: Mr. and Mrs. Smith are Parents of Their Son, Ziggy Ray Smith
Jordy Smith and his longtime girlfriend, Lyndall Jarvis, tied the knot in a picturesque outdoor ceremony in Cape Town in 2016. The wedding, featuring elegant white sails, created a beautiful ambiance for their special day. Prior to their marriage, the couple had been in a committed relationship for several years, with Jordy proposing to Lyndall during the US Open in July 2016.
Jordy Smith's Son, Ziggy Ryan Smith.
SOURCE: Instagram- @jordysmith88
Lyndall has been a dedicated supporter throughout Jordy's successful surfing career. Their love story has now surpassed nine years. In October 2020, Jordy and Lyndall welcomed their first child, a healthy baby boy affectionately known as "Zig." As of 2023, Zig is two years old and approaching his third birthday. The couple cherishes their role as parents and often embarks on family vacations and tours to create cherished memories.
Jordy openly expresses his love and pride for his son through heartfelt Instagram posts, where he lovingly refers to him as "Zig." He frequently shares photos of his children, showcasing his happiness and the strong bond he shares as a father. On special occasions, such as birthdays, Jordy extends warm wishes to his wife and son, highlighting the love that fills their Smith family and the precious moments they cherish together.