Mikala Jones's childhood was immersed in the coastal environment, surrounded by the ocean and its captivating waves. His father was a talented surfer and surf photographer who aimed to instill in his children a deep connection to the sea.
Mikala Jones embraced his passion for surfing, ultimately turning it into a profession as he grew older. With dedication and skill, he carved out a successful career in the sport, establishing himself as a professional surfer. Unfortunately, Mikala passed at the age of 44 due to a Fatal Accident.
Mikala Jones Dead at 44: Mikala died cause of a Fatal Accident
Tragic news struck the surfing community as Hawaiian professional surfer Mikala Jones passed away at the age of 44 on July 10, 2023. The untimely death occurred due to a fatal surfing accident in the Mentawai Islands, Indonesia.
Mikala, unfortunately, died at the age of 44.
SOURCE: Instagram- @mikalajones
Jones, known for his expertise in riding the waves, was engaged in the sport at a remote secret wave in the Mentawais when the incident unfolded. The heartbreaking news was confirmed by his daughter, Isabella Jones, leaving his loved ones and fans worldwide grieving the loss.
Mikala Jones had established himself as a well-known figure in the world of surfing, enjoying a successful career in the sport. His passion and skill in riding the waves had garnered him recognition and respect among his peers and fans alike. However, tragedy struck as he faced the devastating accident that claimed his life.
How did Mikala's Fatal Accident Happen?
Jones lost his life due to a fatal surfing accident that occurred in the Mentawai Islands, Indonesia. The incident took place while Jones was surfing at a secluded and undisclosed wave spot off the Mentawais.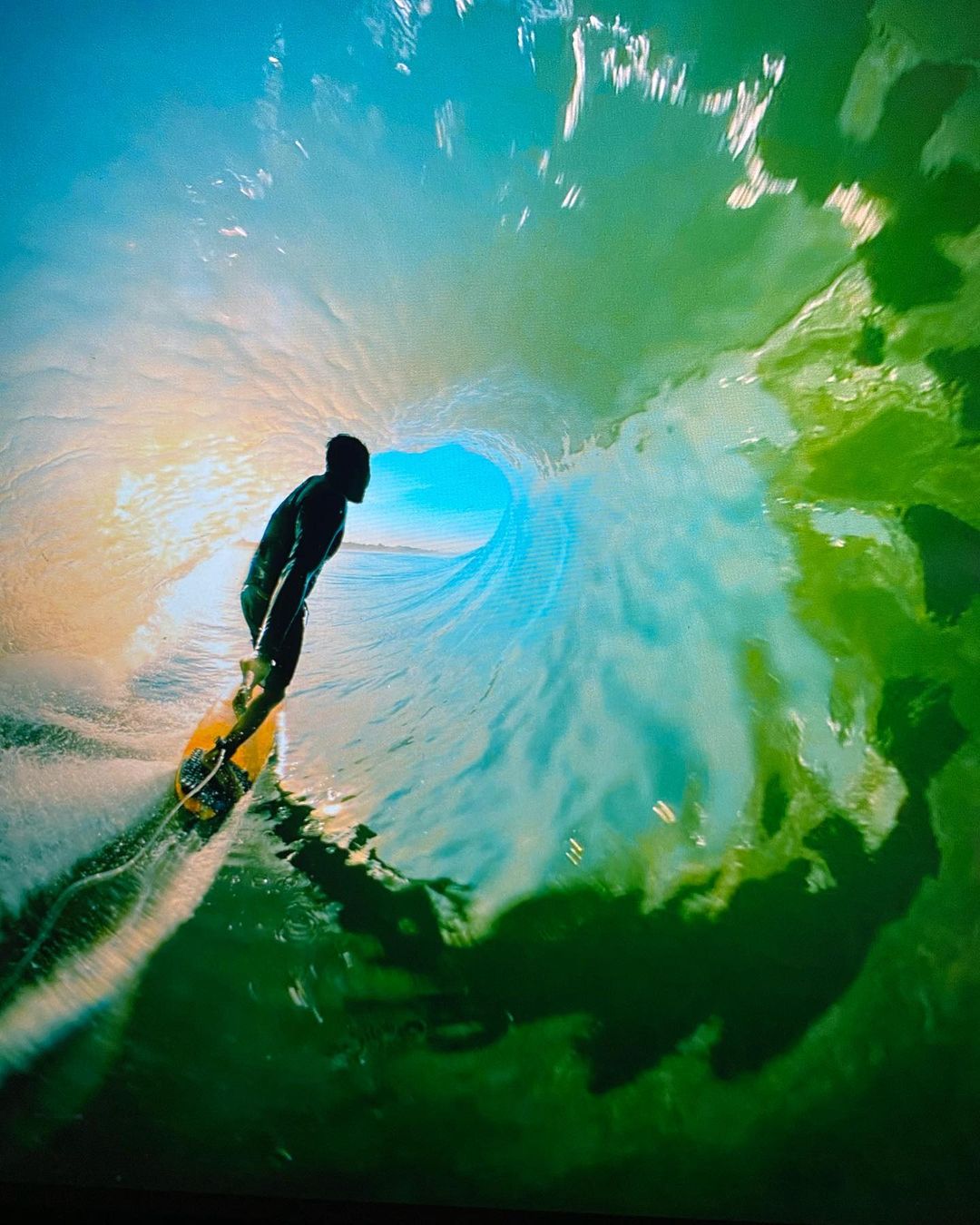 Mikala Jones surfing inside the whirlpool of waves.
SOURCE: Instagram- @mikalajones
The exact circumstances of the accident remain somewhat unclear, but it has been described as a freak occurrence. Jones sustained a severe cut in the groin area, specifically at the level of the femoral artery, which resulted in fatal bleeding.
It is believed that the injury was caused by contact with the surfboard fin. Despite efforts to save him, Jones was unable to be revived after being transported to a local hospital. The passing of Mikala Jones has deeply saddened his loved ones, friends, and devoted fans worldwide. The surfing community has lost a remarkable talent and a highly respected surfer.
Mikala Surfing Career: The Overlooked Surfer
Jones was a master at creating an immersive experience for his audience, giving them the sensation of being on a thrilling ride themselves. This unique skill made his content incredibly captivating. Inspired by his father's passion for photography, Jones was always on the lookout for innovative ways to share his adventures with his viewers.
Mikala Jones with his father at a young age.
SOURCE: Instagram- @mikalajones
One of his notable strategies involved posting enigmatic photographs on social media, leaving his audience intrigued and eager to guess the locations of his next thrilling escapades. Over his impressive 25-year surfing career, Jones became renowned as a Hawaiian professional surfer who had relocated to Indonesia.
He gained fame for fearlessly riding massive waves and earned a reputation for conquering some of the most challenging surf breaks in the world. Jones's accomplishments and contributions to the sport made him a highly respected figure within the surfing community, leaving a lasting impact on the sport's development and progression.
Read More: Kelly Slater Is a Millionaire. In Details About Kelly Slater's Net Worth, Earnings, Career Earnings, and Sponsorships
Jones's Net Worth at the Time of His Death: How rich was the Surfer?
At the time of his passing, Jones was estimated to have a net worth of $1.9 million. However, there have been no official statements from Jones himself regarding his net worth. On average, professional surfers earn between $250,000 to $400,000 per year through various sources such as competition winnings, sponsorships, product endorsements, social media collaborations, and digital projects.
Mikala Jones with his Friends and associates.
SOURCE: Instagram- @mikalajones
The top-tier professional surfers have the potential to surpass $500,000 annually, but this depends entirely on their performance in competitions, travel expenses, product endorsements, and endorsements. The actual income received by surfers often correlates with their professional ranking.
While only a few surfers achieve significant wealth and a select handful become millionaires, the winners of QS 10,000 events typically receive around $40,000 in prize money. For instance, in 2022, Gabriel Medina was estimated to be the world's highest-earning surfer, boasting an annual income of $2.2 million.
Read More: What Happened to Andy Irons? How Did He Die? In Details About Andy Iron's Net Worth and Career Earnings
Famous Surfers Kelly Slater, John Florence, and Mick Fanning have expressed their Condolences
The surfing community is deeply saddened by the tragic passing of Mikala Jones who is a professional surfer from Hawaii. On July 10, 2023, Jones lost his life in a fatal surfing accident in the Mentawai Islands of Indonesia. The news of his untimely demise has shaken the surfing world, prompting an outpouring of condolences from renowned surfers.
Kelly Slater who an American professional surfer, took to Instagram to express his sympathies, stating, "Our friend Mikala Jones passed away yesterday in The Mentawais while surfing the waves he loved. I'm so sorry and send prayers to his family." Similarly, John John Florence, a respected Hawaiian professional surfer, paid tribute to Jones on Instagram, describing him as a true legend and an inspiration to all.
Florence mournfully added, "Rest in peace Mikala Jones. You were a true legend and inspiration to us all. You will be missed." The surfing community as a whole has come together to grieve the loss of a talented and respected surfer.
Messages of support and condolences have flooded social media platforms from surfers like Mick Fanning, Joel Parkinson, and Stephanie Gilmore. Jones' tragic passing has deeply impacted not only his friends and family but also his fans worldwide.