Personal Info
Date of Birth

Age

26 Years Old

Famous Name

Kim Min-jae

Country South Korea
Facts
Father

Kim Tae-gyun

League Name

Serie A

Relationship Status

single

Weekly wage

£64,000

First Name

Kim

Fiance

N/A

No. of Instagram Followers

629K

Past Team

Fenerbahçe

Market Value

€35 M

Mother

Lee Yoo-sun

Wikipedia

https://en.wikipedia.org/wiki/Kim_Min-jae_(footballer)

Engaged Person Name

Last Name

Min-jae

Birth Name

Kim Min-jae

Net Worth

$3 million

2022 Club

Napoli

Currently Married

Unmarried

Current Club Jersey Number

3

Salary

£3,328,000

First Club Name

Gyeongju KHNP

Past married if any

No

Instagram

https://www.instagram.com/kiminjae3/

Famous Name

Kim Min-jae

Divorce

No

Contract

with Napoli until 2025

Position in Team

Defender

First Club Join Date

2016

Current team

S.S.C. Napoli, South Korea national football team

Girlfriend

N/A

2022 National Team

South Korea national football team

Current City

Tongyeong-si

Contract ending date

2025

Profession

Soccer Player

School Location

Suwon, South Korea

Squad No

3

Famous for

centre-back for Serie A club Napoli and the South Korea national team.

Started career as

football player

Caps

44

University Team

Yonsei University

World Cup Game

2022

Currently Club

S.S.C. Napoli

Rank

21 among all players of the Serie A

University attended

Yonsei University

School attended

Suwon Technical High School

Graduated year

dropped out of Yonsei University
Kim Min-Jae is a professional footballer from South Korea who plays for Serie A club Napoli and the South Korea national team. He plays as a centre-back and wears jersey number 3. Since July 2022, Min-Jae has been representing Napoli and has already made over ten game appearances.
Besides, Min-Jae was interested in playing football from an early age. So, he aimed to pursue a career in it. Meanwhile, Min-Jae began his football career after joining Yonsei University in 2015. Being a national footballer, Min-Jae has already represented the national squad in many tournaments.
South Korean Footballer Kim Min-Jae's Net Worth and Salary
Kim Min-Jae makes a good amount of money from being a professional footballer. A professional since 2016, Min-Jae has already played for many clubs and has taken decent cash. Online reports say that Min-Jae is estimated to have a net worth of around $800,000.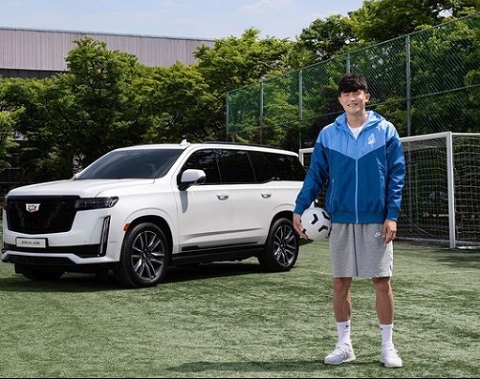 Kim Min-Jae posing with his car
SOURCE: Instagram @kiminJae3
He plays for Napoli, and he joined the team on July 27, 2022. When Min-Jae entered the team, he received a massive deal worth €18.05 million. So, playing for Napoli, he earns £64,000 weekly and £3,328,000 yearly. Likewise, his weekly salary in 2020 was £33,000, and his yearly salary was £1,716,000. During that time, Min-Jae was playing for Beijing Guoan. His market value is €35 million.
Due to his huge fortune, Min-Jae lives a lavish life, and he flaunts it through his Instagram page, where we can follow him as @kiminJae3.
Do Follow: Abdul Mumin and Iran national team 2018 FIFA World Cup
Sponsorship and Endorsement Deals
Min-Jae makes money from brand endorsement, just like Kim Young-Gwon. Min-Jae is currently working with Nike, and his deal with the brand may have helped him receive a fair chunk of money.
Likewise, Min-Jae lives a lavish life. Once he shared a photo along with a car of Cadillac Escalade company. So, it can be said he may be using the car from the same company.
Kim Min-Jae in his jersey
SOURCE: Instagram @kiminJae3
Min-Jae was also appointed as an ambassador for the Purme Foundation in January 2021.
Does Kim Min-Jae Have a Girlfriend?
Exploring the social media posts of Kim Min-Jae, it can be said that the footballer is currently single and does not have a girlfriend. Till now, the professional footballer has never talked about his love life openly in the media. This makes it clear that Min-Jae has never been involved in romantic affairs in the past too.
Since 2016, Min-Jae has been making regular posts on Instagram, and from the platform, he shares updates on his professional games and events. Despite that, he has not made a single post about having a girlfriend. So, it can also be said that Min-Jae is a private guy who likes to maintain a distance from the media.
Likewise, he appears to be focused on his professional career at the moment. So, let's explore his football career in depth.
Career At Club
The Tongyeong native, Min-Jae, began playing football after joining Yeoncho Middle School before moving to Suwon Technical High School in 2012. He remained there until 2015. Besides, Min-Jae's college career started when he joined Yonsei University in 2015.
Likewise, Min-Jae became more active in sports and in 2016, he signed a deal with Gyeongju KHNP. He played with Gyeongju KHNP in 17 professional games. For the 2017-18 season, Min-Jae moved to play with Jeonbuk Hyundai Motors. While playing for them, Min-Jae scored three goals in 52 games.
Kim min-Jae and his team after a match
SOURCE: Instagram @kiminJae3
After that, Min-Jae moved to Beijing Guoan and played in 45 matches. Later, Min-Jae received a chance to play for another club and signed a deal with Fenerbahce. Representing Fenerbahce, Min-Jae played in 31 games and also netted a goal. Furthermore, Min-Jae then moved to Serie A club Napoli on July 27, 2022.
Career At National Team
Regarding his career in the national team, Min-Jae played for the South Korea U20 in 2014 in two games. Likewise, he represented South Korea U23 for some years. His debut for the senior team came in 2017 when he played against Iran.
Representing the senior squad, Min-Jae has already appeared in over 40 games. Also, Min-Jae is in the team which is playing in the ongoing FIFA World Cup.
Read More.Park Chu-young
Early Life and Family Details
Kim Min-Jae was born to his parents, Lee Yoo-sun (mother) and Kim Tae-gyun (father), on November 15, 1996. Besides, Min-Jae is a native of Tongyeong, South Korea. So, he holds South Korean nationality. His parents are former athletes.
Also, his brother was a footballer who played as a goalkeeper for Myongji University. So, it can be said that Min-Jae comes from an athletic family background. Furthermore, Min-Jae is very close to his parents, as they have supported him since the beginning of his career.
Regarding his physical appearance, Min-Jae is a tall guy whose height measurement is 6 feet 3 inches (1.90 m).
Awards and Titles Received by Kim Min-Jae
K League 1 Young Player of the Year in 2017

K League 1 Best XI in 2017 & 2018

EAFF Championship Best Defender in 2019

Serie A Player of the Month in September 2022

AIC Serie A Player of the Month in October 2022
Social Media Presence
Kim Min-Jae is an active user of Instagram whose username is registered as @kiminJae3. As of now, he has gained more than 631k followers. Being a professional footballer, his IG account has already been verified.
So, from this account, Min-Jae gives details regarding his personal and professional life.