Jayson Mama is a professional Phillipino boxer famously known as the Smasher. He is the twin brother of Jerven Mama- another professional boxer from the Philippines. He stands at an orthodox stance and has three stars overall.
The sixteen times undefeated boxer has been one of the famous names in the Philippines boxing scene. He is a young athletic boxer having all the courage to take on the world.
Early Life and Bio
Jayson Masucol Mama was born on May 17, 1997 in General Santos City, Cotabato del Sur, Philippines. Jayson completed his schooling at a local school in Santos city. Born to a Philippino couple, Mama had a great time growing up with his brother Jerven Mama.
Young Jayson Mama
SOURCE: Instagram @jaysonmama
Jayson stands at the height of 5 feet 4 inches with a reach of 63 inches. He weighs around 51 kg. The 24-year-old boxer has been in sixteen fights, and he has not lost even one of them.
Jayson Mama - Jerven Mama The Twin Brothers
Jerven Masucol Mama is the twin brother of Jayson. Both brothers are professional boxers. Also popular as The Iron Fist, Jerven has been one of the big influencers for Jayson to continue his journey as a professional boxer.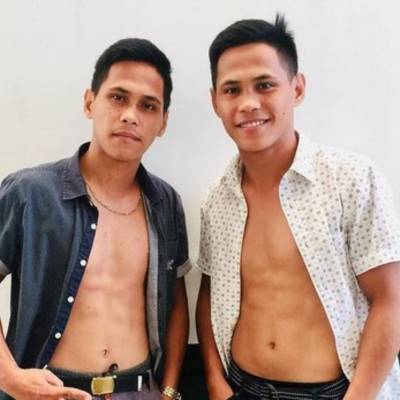 Jayson Mama and Jerven Mama The Twin Brothers
SOURCE: Instagram @jaysonmama
The dynamic duo of Jayson-Jerven has won a lot of boxing events in the Philippines. They are planning to take on the world. The Mama duo is here to win people's hearts again. Jerven is popular as The Iron Fist, whereas Jayson is popular as The Smasher. It showcases the power of their punch.
Jayson Mama Net Worth ( Career Earnings and Paycheck)
Jayson is a professional boxer who has been a popular figure all over the Philippines. Having his main income from boxing, Jayson is also endorsed by many popular brands from the country.
The Smasher earns around $7,000 from boxing each year. It excludes bonuses from winning fights. Currently, Jayson is managed by Jim Claude Management. They stand in a pole position to bring new sponsors and brands for Mama.
Jayson Mama spending his holiday paragliding
SOURCE: Instagram @jaysonmama
Jayson is in awe of new destinations. He loves to travel, and the love for traveling pumps up him to travel to new places for a holiday. Mama usually travels to beautiful places in the Philippines and has a good time.
Manny Pacquaio is one of the most famous professional boxers from the Philippines. He has a net worth of around $220 million. He is the idol for many boxers like Jayson and his brother Jerven. Jayson, Jerven, and their friend love to watch Manny's matches before training.
Jayson Mama training with his twin brother Jerven and f
SOURCE: Instagram @jaysonmama
The net worth of Jayson Mama is around $0.1 million.
Also Read: John Riel Casemiro Net Worth
Jayson Mama Girlfriend and Affair
Jayson is a handsome 24-year-old man. His cute smile has made a lot of ladies crazy. However, he has his heart set on a girl already. Jayson is in a relationship with Baby Lynn. They have been dating for four-five years already.
Jayson Mama with his girlfriend
SOURCE: Instagram @jaysonmama
The romantic love birds look so cute together. They eat together and travel the world together. Jayson has a moped scooter, and he usually goes on a ride with Baby on it. Before their dating, there were no dating rumors about Jayson dating someone other than Baby.
Jayson Mama and Baby Lynn on a cute moped
SOURCE: Instagram @jaysonmama
Jayson Mama's latest fight was against Romshane Sarguila, in which Mama defeated Sarguila by RTD. It was one of the craziest fights in Jayson's career.
Follow Playerswiki for more.