Curt Menefee is a sportscaster born in Atlanta, Georgia, U.S. Currently, he works as the play-by-play commentator for Seattle Seahawks preseason football. Likewise, he is the play-by-play commentator of the 2020 XFL on Fox, the 2022 return of the USFL on Fox. He also serves as a host of the Fox Network's NFL show Fox NFL Sunday.
Initially, Menefee was a sports reporter for MSG Network's SportsDesk show before coming to Fox Sports as a full-timer. Being in this field for a lon time, Menefee has gained many experiences, and his career at Fox started when he joined the team in 1997.
More on Curt Menefee's Career
Starting with his early days, Menefee was a sports reporter for MSG Network's SportsDesk show. Not only that, but he also worked at WNYW, New York City's Fox flagship station. He was also a host of a radio show on the popular Dallas, Texas, sports radio station KTCK.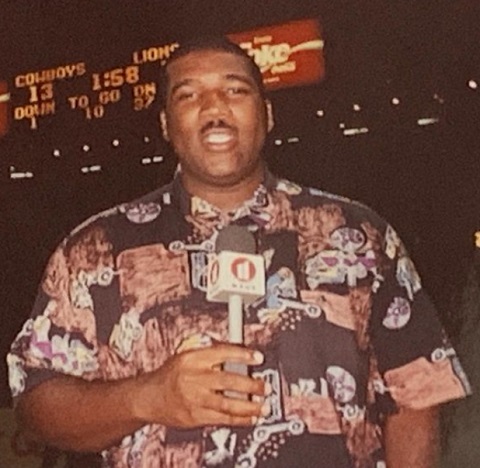 Curt Menefee is a sportscaster
SOURCE: Instagram @curtmenefee
After working at other stations, Menefee joined FOX Sports in 1997 as a sideline reporter. Later, he moved to play-by-play for Fox's NFL Europe and Fox NFL coverage on FOX Sports and FSN. And in 2007, he became the host of Fox NFL Sunday.
Likewise, Menefee became the host of the UFC on Fox on November 12, 2011. So, working in multiple stations, Menefee has also preserved a considerable fortune.
Menefee Enjoys Net Worth of $3 Million
Menefee makes a good amount of money from being a sportscaster just like Marv Albert and Tim McCarver. In the United States, a sportscaster has an average salary of $53,077. So, we can say that Menefee may earn above the average wage as he has been doing this job for many years.
According to Celebrity Net Worth, Menefee is estimated to have an impressive net worth of $3 million. Currently, Menefee is working in multiple stations, and it is clear that Menefee's earnings are increasing daily.
Curt Menefee makes money from brand endorsement
SOURCE: Instagram @curtmenefee
No doubt, Menefee lives a quality life, and we can get updated with his ongoing lifestyle by following him on Instagram, where he is verified as @curtmenefee.
Married Life: Does Menefee Share Children With His Wife?
Well, Menefee is married to his wife, Viollette Menefee. The pair have been supporting each other for many years, and they are doing pretty well in their life. The Menefee couple engaged on July 19, 2012. Less than a year after getting engaged, they walked down the wedding aisle on May 31, 2013.
Their marriage ceremony was attended by their family and close ones, and it was held in Ravello, Italy. Till now, they have not talked anything about having kids. So, we are unable to share information about their children.
Curt Menefee has two dogs
SOURCE: Instagram @curtmenefee
Meanwhile, Menefee lives with his partner in Los Angeles, California, and they also have a dog which Menefee often features on his social media handle.
Curt Menefee Is a Native of Atlanta, Georgia
Curt Menefee was born and raised in Atlanta, Georgia, U.S. His father's name is Don Jones, while his mother's details remain under review. Not to mention, Menefee holds an American nationality.
Regarding his educational background, Menefee went to Coe College in Cedar Rapids, Iowa, and received a Bachelor of Arts degree. After that, he attended Northwestern University.