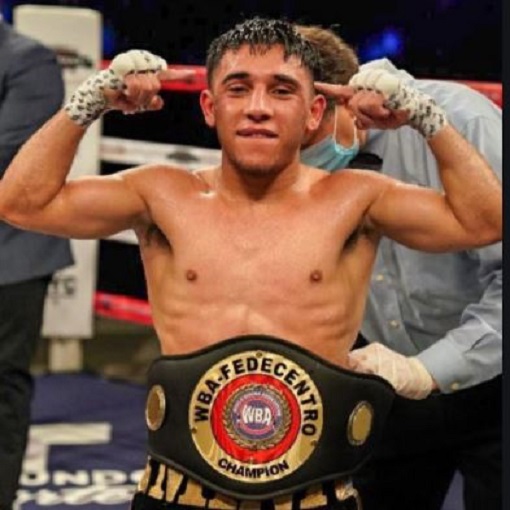 Facts
Birth Name

Axel Alejandro Aragón Vega

Birth Place

Distrito Federal, Mexico

Famous Name

El Mini

Net Worth

$0.1 Million

Nationality

Canadian

Profession

Boxer
Axel Aragon Vega is a Mexican professional boxer who competes in the light fly division. Turned professional in 2016, he has compiled a record of 13-4-1 win-loss-draw to date. His most recent bout was against Hiroto Kyoguchi on 13th March 2021 at Estrada vs. Chocolatito 2.
Distrito Federal, Mexico native, Axel Alejandro Aragon Vega was born on 4th April 2000, under the star sign Aries. He holds a Mexican nationality. Further, the twenty-year-old boxer stands 5 ft 0½ inch (154 cm) and weighs 108 lb.
How Much Is Axel Aragon Vega's Net Worth In 2021?
Along with a name and fame, Axel Aragon Vega has earned a good deal of money through his boxing career. He reportedly makes no less than the five-dight figure per fight. As of 2021, his net worth is estimated at $0.1 million.
Like other athletes, pro boxers have sponsorship and endorsements. But in Axel cases, there is no report about him having endorsements and sponsorships.
Is Axel Aragon Vega Dating?
Axel Aaragon Vega has his personal life as secret as possible. Additionally, the boxer is nowhere to be found on Instagram, Twitter, and Facebook. Seems like the boxer does not want media attention concerning his private life.
Only age twenty but he has already established himself as a good prospect in the boxing world. No doubt, he is much focused on his career rather than showing off his personals in the media.
Fights
On 7th October 2016, Axel Aragon made his professional debut against Jorge Miguel Hernandez, winning the bout via Unanimous decision. That season, he had one more win against Andres Luna.
The following season, he had five fights: facing the loss in year's first fights against Juan Toscano and compiling 4 wins against Jorge A De la Rosa Dominguez, Alexis Quezada, Eduardo Izquierdo, and Adolfo Velazco Cruz.
Unlike the previous season, Axel started 2018 with a win against Julio Cesar Morales on 26th May. Further, he has three wins against Giovani Rafael Mendoza, Julio Cesar Morales, and Adolfo Velazco Cruz. Later, he had drawn against Edvin Ramirez Contreras and eventually a loss against Wilfredo Mendez.
Axel during fight
SOURCE: Tapology
On 16th March 2019, Axel faced Julio Cesar Morales at Gimnasio Ciudad Deportiva Valle Dorado, Ensenada. The fight's result was a unanimous decision in Axel's favor. In the following bout, he knocked out Edwin Reyes at Sports Arena, Pico Rivera on 20th July 2019. A month later on 24th, he had another victory over Giovanni Noriega via KO. Unfortunately, he had a loss against Wilfredo Mendez.
In 2020, he had only a fight which was a win over Saul Juarez at Osceola Heritage Park, Kissimmee, for the vacant World Boxing Association Fedecentro Light Fly Title.
On 13th March 2021, Axel lost to Hiroto Kyoguchi at American Airlines Center, Dallas.
Stay Tuned With Playerswiki