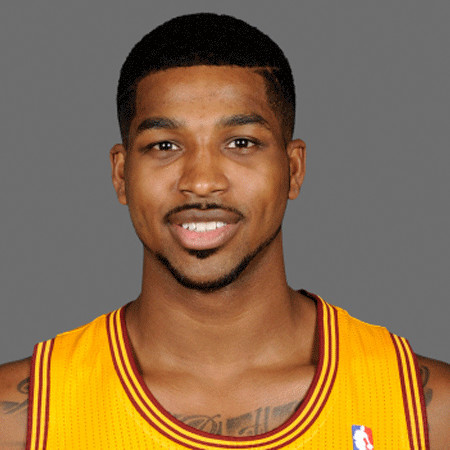 Facts
Birth Name

Tristan Trevor James Thompson

Birth Place

Toronto, Canada

Famous Name

Tristan Thompson

Father

Trevor Thompson

Mother

Andrea Thompson

Net Worth

$30 million

Salary

$17 Million

Nationality

Canadian

Ethnicity

Black

Currently Married

N/A

Divorce

N/A

Children

2

Affair with

Khloé Kardashian

Girlfriend

Khloé Kardashian
Tristan Thompson is a Canadian professional basketball player who currently plays as a center/power forward for Cleveland Cavaliers in the National Basketball League (NBA). He played college basketball for the University of Texas and was picked 4th overall in the 2011 NBA Draft by Cavs.
Tristan Thompson is currently dating his girlfriend Khloe Kardashian and has a daughter with her. He previously dated Jordan Craig and also has a son. He currently has an estimated net worth of $30 million and earns around $17 million annually.
Tristan Thompson Salary and Net worth in 2019
Thompson's net worth is about $30 million and his salary is about $17 million per year.
Tristan is currently signed to a 5 year / $82,000,000 contract with Cavaliers with the average salary of $16,400,000. His salary for the 2018 season is reported to be $17,469,565 while he will be earning $18,539,130 in 2019.
| | |
| --- | --- |
| Year | Salary |
| 2015 | $14,260,870 |
| 2016 | $15,330,435 |
| 2017 | $16,400,000 |
| 2018 | $17,469,565 |
| 2019 | $18,539,130 |
He used to earn the annual salary of $16,400,000 in 2017 while his salary in 2016 and 2015 was $15,330,435 and $14,260,870 respectively.
Tristan Thompson has made the career earnings of $79,554,999 in 8 seasons from his NBA career. His net worth is estimated to be about $30 million in 2018.
The Cavaliers forward earns a huge amount from his endorsement deals with various brands. He has a shoe deal with Nike and can be seen promoting on his Instagram. He was also seen posing for the promotion of Neiman Marcus products on some of his Instagram posts.
Besides, he is reported to have deals with Beats By Dre, Complex, Mountain Dew, etc.
Tristan and his partner Khloe own a house in Ohio, Cleveland bought in 2015 for $1.9 million. The 6000 square feet house has five bedrooms and seven bathrooms.
The couple also has a house in the Woodland Hills area which was bought for $2 million. The house equipped with a basketball court has seven bedrooms and eight bathrooms.
Tristan Thompson Personal Life and Relationships; Who is he Dating currently?
Tristan Thompson is currently engaged to his girlfriend Khloe Kardashian. He started dating Khloe in September 2016.
View this post on Instagram
Khloe is an American television star, entrepreneur, and model who also stars in her family's reality television series, Keeping Up with Kardashians.
In December 2017, Khloe revealed that she was pregnant with Tristan's first child. On her Instagram post, she wrote:
"Tristan, thank you for loving me the way that you do! Thank you for treating me like a Queen! Thank you for making me feel beautiful at all stages! Tristan, most of all, Thank you for making me a MOMMY!!! You have made this experience even more magical than I could have envisioned! I will never forget how wonderful you've been to me during this time! Thank you for making me so happy my love!"
Tristan and Khloe became the parents of a daughter named True Thompson, on April 12, 2018.
View this post on Instagram
During the same time in April, Tristan was captured kissing an unidentified woman in New York. He was accused to be cheating Khloe. The woman was later known to be an Instagram model Lani Blair.
Despite all the rumors and conflicts, the couple is still together and happy.
He also had an affair with model Jordan Craig. Jordan was pregnant with his first child when he started dating his current girlfriend Khloe. Tristan has a son named Prince Oliver born in December 2016 with his ex-girlfriend Jordan Craig.
Thompson has a good physique as he is 6ft 9 inches tall and weighs 108 kg.
Tristan Thompson Bio and Early Life
Tristan Thompson was born on March 13, 1991, in Toronto, Ontario, Canada. He was born to Trevor and Andrea Thompson. During his childhood, he worked as a paperboy to support his parents before his family moved to Newark, New Jersey.
Thompson's parents are from Jamaica. He has 3 brothers and all of them are basketball players.
High School and College Career
He used to play basketball from an early age. Thompson represents his country Canada in international level. Basketball analytics service Draftexpress describes Thompson as a player who has promising ability to move without the ball.
Thompson spent his sophomore and half of his junior year at St Benedict's Preparatory School. He played brilliantly during his time at St Benedict's. After having a conflict with the St Benedict's coach Dan Hurley, Thompson decided to leave St Benedict's after playing 21 games for them.
Thompson then joined Findlay in Nevada and there also he played brilliantly under coach Michael Peck. He helped to lead Findlay to their first and second National Championship.
Thompson played for Texas Longhorns in 2010-2011. He averaged 13.1 points and 7.8 rebounds per game and won the team's most valuable player in that season as he helped his team to reach the NCAA Tournament Round of 32.
Tristan Thompson Professional Life
On April of 2011, Tristan Thompson was declared for NBA draft. He was drafted fourth overall by Cleveland Cavaliers in the 2011 NBA draft and signed a professional contract with them. Thompson made his professional debut for Cleveland Cavaliers against his hometown Toronto Raptors on December 26, 2011. He scored 12 points and pulled in 5 rebounds in his debut match as he came off the bench.
In his first season, he played 60 games (starting 25), averaging 8.2 points per game and pulling in 6.4 rebounds per game. In the 2012-2013 season, Thompson started all 82 games for Cleveland Cavaliers as he averaged 11.7 points, 9.4 rebounds (highest in his career) and 0.9 blocks playing 31.3 minutes per game.
Thompson switched his shooting hand from left to right in the 2013-2014 season. During that season, he started all 82 games for Cleveland Cavaliers, as he averaged 11.7 points, 9.2 rebounds and 0.4 blocks playing 31.6 minutes per game.
Thompson came off the bench for the most of 2014-2015 season playing all 82 games (starting 15), averaging 8.5 points and 8 rebounds per game. His team made the playoffs in that season. He started most of the games of playoffs and the Cavaliers reached the 2015 NBA finals where they defeated Golden State Warriors coming back from the 3-1 trail.
Tristan, along with his teammate LeBron James, helped the team reach the NBA finals in 2016 but were again defeated by Stephen Curry's Warriors. The team also played the finals of 2017 NBA where they again were defeated by Warriors inspired by Kevin Durant, Steph Curry, and Klay Thompson.
Awards and Honors
He has won 2011 Big 12 Freshman of the Year, bronze medal in FIBA Americas U18 Championship 2008 and was included in 2011 All-Big 12 Second Team, 2011 Big 12 All-Defensive Team and NBA's All-Rookie Second Team for the 2011-12 season.
International Career
Tristan Thompson has represented Canada at the international level. He participated in FIBA Americas U18 Championship in 2008 and 2009 FIBA Under-19 World Championship. Thompson finished his college degree from the University of Texas.