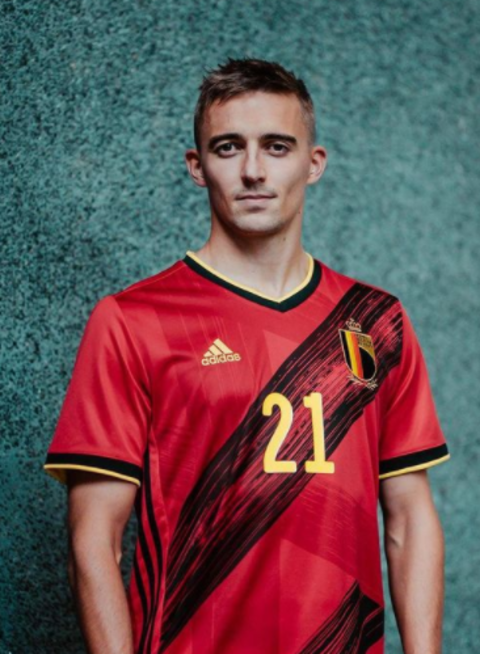 Personal Info
Date of Birth

Age

27 Years Old

Famous Name

Timothy Castagne
Facts
Father

pierre castagne

Birth Name

Timothy Castagne

Net Worth

£5 million.

Birth Country

Belgium

Salary

£3,276,000

Children

daughter

Nationality

Belgian

Ethnicity

white

Girlfriend

Camielle Melon

Religion

Christian

Profession

Football player

Currently Club

Leicester City
Timothy Castagne is a professional football player from Belgium who plays as a right-back for the English team, Leicester City of the English Premier League. He is a member of the Leicester football team which won the FA Cup 2020-21.
Castagne was born in Arion, Belgium on December 5, 1995. He began his training at the local clubs, US Waltzing-Bonnert, and Lorraine Arion. He then moved to the youth academy of Virton in 2006.
Timothy Castagne's Career
Castagne moved to the Genk training facility in 2011. Two years later in June 2013, he signed a professional contract for three years with the Smurfs. He was included in the main team after the completion of the first half of the season 2014-2015. He made his Belgian Pro League debut on September 14, 2014, as a starter against Club Brugge. Castagne scored his first professional goal on May 2, 2015, in a 7-1 win over Waasland-Beveren.
Read More.James Justin
Throughout three seasons with Gent, he made 80 appearances across all competitions. In July 2017, he committed to play for the Italian team, Atalanta coming as a replacement for Andrea Conti who had left for AC Milan.
He netted his first goal for the Goddess on January 2, 2018, in Coppa Italia win over Napoli. He scored his first Serie A goal in a three-all draw against Roma. He was an integral factor in Atalanta's two decisive major victories against Lazio and Genoa.
His goal in Atalanta's 3-0 win over Shakhtar Donetsk in UCL 2019-2020 helped the Nerazzurri to advance to the round of 16. In the course of his stay at Atalanta, he made 96 appearances and scored 8 goals in all tournaments.
On September 3, 2020, he moved to Leicester City on a 5-year deal and scored his first goal for the Foxes in his debut EPL match where the team saw a 3-0 win over West Bromwich Albion. For the national team, he has made 14 appearances and two goals since becoming a senior in 2018.
Leicester City striker Jamie Vardy Net worth and Married life
Timothy Castagne's Net Worth and Salary
Analysts report Castagne's career earnings have reached over £5 million. His first reported salary was found to be about £13,000 - which he received spending the 2014-15 season at Genk.
After his promotion to the senior team in 2015, he was offered a salary of £33,800 by the Blue Whites. The next season, his earnings doubled amounting to £85,000 - projected at the end of the year 2016. For his final season with Genk, he stacked up earnings worth £187,000. In 2017, he agreed to play for Atalanta with his wage established at around £500,000 or so.
Timothy Castagne with his sponsorship partner, Amplifyse
SOURCE: Instagram
At the closure of the second season with the Goddess, he was provided with compensations worth a little over £550,000. In 2020, he got a hike in his salary by as much as forty percent with several sources agreeing it to be in the region of £700,000. His current wage as a Leicester defender is allegedly being valued at £2.8 - £3.4 million a year.
By the start of the EPL 2025-26, the six-foot-one left-back is well expected to hit over £10 million exclusively from East Midlander's payroll. In light of the above perusal, one could argue Castagne's net worth is within the vicinage of £2 -£3 million.
Castagna's fortune has also been boosted to some extent through his sponsorship deals with brands like Herbalife 24, Amplify Sports and Adidas.
Former Leicester City defender Harry Maguire Net worth and Married life
Timothy Castagne's Girlfriend and Affair
Castagne is currently in a relationship with Camille Melon. She is believed to be a hippophile. The couple first had been assumed to have started dating in 2014 with the Belgian wall first appearing on Melon's Instagram on October 31, 2014. Melon, on the feed, however, refrained from referring to Castagne as her boyfriend and such.
Timothy Castagne started dating Camile Melon in 2014
SOURCE: Instagram
"If I could give you one thing, I would give you the ability to see yourself through my eyes," wrote Camille on February 16, 2015, sharing a picture of herself and the former Atalanta's number 21. She further added, "Only then you would realize how special you are to me." This pretty much confirmed the duo had already sparked a bond between each other.
Timothy Castagne with his girlfriend Camile Melon
SOURCE: Instagram
Though, the first time, Castagne revealed his relationship with Melon was on April 28, 2015, via a snapshot of himself and his girlfriend with the lettering, "Pour Toujours," something that translates to "forever" in English. The pair, as per their remembering, claim their romance actually kicked off in July 2014. The duo welcomed their first child in early 2022.