Tammy Abraham is an English professional footballer who plays as a striker. Currently, he plays for Serie A club Roma and England National Team. In 2018 he became the top scorer of Aston Villa, scoring twenty-five goals in a single season, breaking the record which was held by Yorke in 1997.
Abraham was born Kevin Oghenetega Tamaraebi Bakumo-Abraham on born October 2, 1997, in Camberwell, Greater London. He grew up with his elder brother Timmy, who also followed the path of football and played for the academic team of Fulham. Although Tammy is eligible to play for Nigeria, he chose to play for England National Team.
How much does Tammy Abraham Earn From Roma?
According to present data, his total net worth is around $3 million. Currently, he is playing for Roma, and when he joined the team, Abraham received a deal worth €40 million.
Before that, he was an essential player at Chelsea, with whom he appeared in many professional games. In 2020, he earned £82,000 weekly and £4,264,000 yearly.
Tammy Abraham flaunting his expensive car on Instagram
SOURCE: Instagram@tammyabraham1
According to Transfermrkt, Abraham's market value is €50 million, and looking at his graph, we can speculate that it will increase in the coming years.
With his earnings and salary, he lives a lavish lifestyle flaunting his expensive buys. Furthermore, Abraham flaunts his amazing life via his IG account, where he is verified as @tammyabraham.
Who is Tammy Abraham's Girlfriend?
According to current reports, Tammy Abraham is unmarried. Currently, he is in a relationship with Leah Monroe. His girlfriend Leah is a beautiful fashion lifestyle vlogger with her youtube channel. Abraham and Leah have been sharing the relationship of a girlfriend and a boyfriend for over five years.
Leah Monroe helps Tammy to reach his destination by supporting him during his play and by encouraging him to play better.
Tammy and his girlfriend Leah Monroe
SOURCE: 9jaVoko.com.ng
A few months earlier, Leah celebrated Abraham's birthday, and she wrote a message on social media wishing:
A very special birthday to a very special person in my life. This is my best friend, The LOML & My rider. Hard to find all three in one person. I truly appreciate you. I thank God for your life & I pray he continues to bless you & guide you. P.S congratulations on your 1st champions league goal.
Career Overview
Tammy set up his youth career at an under-8 level at Chelsea's youth academy. Abraham spent twelve years in the youth academy from 2004 to 2016. He was loaned to Bristol City in 2016-17. In Bristol city, he scored 23 goals in 41 appearances.
After spending one season in Bristol city, he was loaned to Swansea City for the 2017-18 season, where he scored only five goals in his thirty-one appearances. After his awful performance in Swansea city, he was loaned to Aston Villa for the 2018-19 season, where he scored twenty-five goals just in thirty-seven games.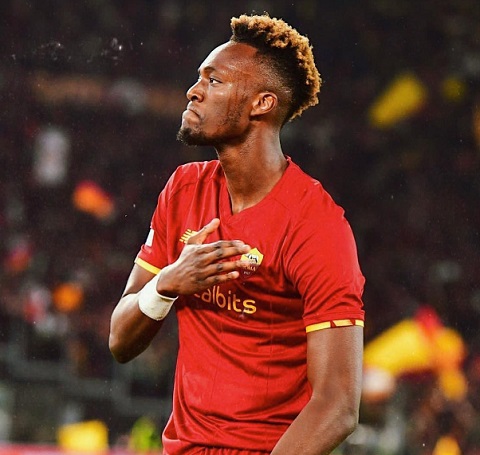 Tammy Abraham plays as a striker
SOURCE: Instagram @tammyabraham
After his excellent performance at Aston Villa, he was recalled by Chelsea in 2019 and was provided a number nine jersey. He was the youngest player to score a hat trick in the premier league era. Playing with Chelsea, he appeared in 58 games and scored 21 goals.
Abraham scored his first Chelsea goal when he scored a brace in a 3–2 away win over Norwich City. On August 17, 2021, Abraham signed a deal with Serie A club Roma and had been representing the team.
Read More.Dominic Calvert-Lewin
Trevoh Chalobah and Jorginho are also footballers playing with Chelsea.
Awards and Achievements
EFL Championship play-offs 2019
Toulon Tournament: 2018
Championship Player of the Month: November 201
Bristol City Player of the Season:
Bristol City Young Player of the Season: 2016–17
Bristol City top scorer: 2016–17
PFA Team of the Year: 2018–19 Championship