Neymar da Silva Santos Junior celebrated as Neymar Jr., is a Brazilian professional footballer who plays as a forward for the French club Paris Saint-Germain and the Brazil national team. Neymar wears jersey number 10 in his current club.
The PSG Star has a mouth-watering net worth of $78 million. Apart from that, Neymar is also the father of a son who was born to his former girlfriend, Carolina Dantas.
What Is The Net Worth Of Star Footballer Neymar?- Junior's Net Worth, Salary, And Contracts With PSG
Neymar Junior has an estimated net worth of $78 million, including all of his properties and earnings. Being signed with PSG, Neymar Jr. makes a fair sum of money as he has a massive deal of €222 million. So, his weekly salary at the club is £810,000, and his yearly salary is £42,120,000.
Neymar lives a lavish life
SOURCE: Instagram @neymarjr
Furthermore, Neymar is the second-highest-earning player on the team. Besides that, he earned £606,000 in a week and £31,512,000 in a year in the 2020 season. Before joining his current team, Neymar also played with Barcelona, and his deal was €88 million. His current market value is €75 million but it is not the highest. His highest market value was €180 million, recorded on January 24, 2018.
Read More: Nadine Goncalves
What Are The Brands That Sponsor Neymar?- Neymar Jr. Sponsors Earnings
Neymar might not have even touched the halfway point in his footballing career, but he is already among the best-paid and most admired athletes on the planet. In 2016, Forbes estimated Neymar's earnings from endorsements at $21 million annually, the only active footballer earning more money off the pitch than on it, along with Messi and Ronaldo.
Some of his many sponsorship deals include partnerships with Nike, Gillette, Beats Electronics, Red Bull, Panasonic, Volkswagen, Claro, Unilever, Santander, and many more. His 11-year Nike deal worth $105 million will earn him $9.5 million yearly. His total endorsement earnings in a year are $16 million.
Neymar promoting Puma
SOURCE: Instagram @neymarjr
Neymar is also actively involved in various charity games and events. He donates 10% of his total income to his church and organizes charity matches to raise food for needy families.
Read More: Neymar and Messi on the Top of the Most Wasteful Players of the Weekend List
Neymar Net Worth: Cars, Jets, And Other Assets
Neymar lives in a luxurious 5-story house in Paris. The rent of the house is reported to be £12,800 a month. He also owns a home in Rio de Janeiro worth around £6 million. He has a vast collection of cars with a total worth of £ 1 million.
Neymar Car Collection Private yacht Private Jet
SOURCE: YouTube
Some of his best cars are Ferrari, Maserati, Audi, R8 Spyder, Porsche, etc. Also, he added, Ferrari 458 Italia costs around £160,000, the zippy R8 Spyder has an estimated price of £120,000, the Volkswagen Touareg starts at £44,000, and the Audi RS7 worth £120,000.
Further, he owns a $4 million Phenom 100 private jet, with registration PT-LBL. In 2016 he purchased a second jet, a Cessna Citation 680 worth $5 million with registration PR-SMK. In 2013, he bought a $4 million Eurocopter EC130B4 with registration PR-BKK. He owns a Ferretti yacht named Nadine.
Read More. François Kamano
Who Are The Girlfriends Of Neymar?- Neymar Jr. Gets Intimate With Jessica Turini
Neymar is rumored to be in a new relationship with a bombshell model named, Jessica Turini who competed in a beauty pageant in Brazil. The provided information isn't officially announced by Neymar and could be a bluff. Neymar has kept his dating life private and reveals little to no information about the ladies he dating.
Moving on to his onto his previous relationships; Neymar was in a relationship with his former girlfriend, Bruna Marquezine. The couple began dating each other in 2013. They had an on-and-off relationship and separated for some time in the middle.
Neymar Jr ex-girlfriend, Bruna Marquezine
SOURCE: YouTube
Neymar and Bruna first met at a carnival celebration in Rio de Janeiro in 2012. Neymar's ex-girlfriend is an actress and forged a career as a youngster starring in shows such as Mulheres Apaixonadas (Women in Love) and America.
Who Is The Son Of Star Footballer Neymar?- Neymar Jr. Fathered A Son Before Wedlock!
At the age of 19, he became a father of a baby boy named Davi Lucca da Silva Santos. He had the child with his former girlfriend though not a spouse, Carolina Dantos.
Neymar's son
SOURCE: Instagram
Besides, he also has a long and massive history regarding his love life. Some of the other names that come along as his possible girlfriends in the past are Barbara Evans, Nicole Bahls, Daniela Carvalho, Carol Abranches, Andressa Suita, Maria Cardi, Roberta Appratti, Carol Belli, and Dani Sperle.
More about Neymar: FIFA World Cup 2018: Brazil Announce 23-man Squad with Neymar as the Team Captain
Who Is Neymar Jr.'s Mother?- The PSG Star Player Had Rough Childhood
Neymar was born as Neymar da Silva Santos Junior on February 5, 1992, at Mogi das Cruzes, Brazil. He belongs to a mixed heritage of European and African, but he ultimately holds a Brazilian nationality. He was born to Neymar Santos Sr., a former footballer, and Nadine Santos, with a sister named Rafaella Santos.
Neymar with his mother
SOURCE: Instagram @neymarjr
Neymar has been a very talented soccer player since his childhood days. His father was too in this field, which inspired him to choose the same path as his father did. A private school provided him with scholarships to develop and continue as a footballer in his future career. He used to play futsal in the basketball courts and streets in his early days. In 1999, he began to play for the youth side Portuguesa Santista.
Read More: Neymar Finally Breaks his Silence on Ronaldo Vs Messi Debate
What Is The Age Of Neymar?- Neymar Football Career: Neymar Jr. Of The Brazil National Team Was Acknowledged By Pele
Neymar's talent sparkled in the eye of the Santos Football Club. He signed a contract with the club in 2003. However, Neymar made his professional debut in March 2009 with a 2-1 win against Oeste. Later in 2013, he left Santos and joined the Spanish club FC Barcelona. After four years with the club, he joined PSG on August 3, 2017. Javier Pastore assigned him the number 10 jersey as a "welcome gift".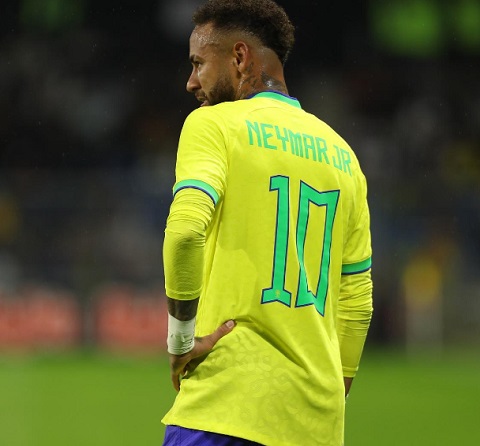 Neymar plays for Brazil's team
SOURCE: Instagram @neymarjr
He also started to play in the national team of Brazil in 2009. His playing position in the field is as a forward or a winger, and he is also the national team captain. Also, he plays for the national team of Brazil and has made over 120 game appearances.
Besides that, Neymar also played in the FIFA World Cup 2022.