Lee Zii Jia is a prominent Malaysian badminton player who has achieved notable milestones throughout his career. His accomplishments include winning the gold medal in the men's singles event at the 2019 SEA Games, securing his first BWF Super 1000 title at the 2021 All England Open, and emerging as the men's singles Asian champion in 2022.
Lee Zii Jia has showcased his skills and dedication on the court with an impressive record of 237 wins and 107 losses. Lee has clinched multiple BWF World Tour titles, including a victory at the 2022 Thailand Open. Lee Zii Jia is represented by the talent agency MN2S, further highlighting his prominence and appeal as a professional badminton player.
Lee Zii Jia Early Life: Lee's Badminton Coach and Initial Stages
Lee Zii Jia was born on March 29, 1998, in Alor Setar, Kedah, Malaysia, Lee hails from a family with a sporting background. His father, Lee Chee Hin, and his mother, Leow Siet Peng, were both teachers and former basketball internationals.
Lee Zii Jia started playing badminton at the age of 6.
SOURCE: Instagram- @leezhijia
At a young age, his father recognized the importance of physical activity and introduced him to a badminton club in Kedah when he was six years old. Initially, Lee Zii Jia took up badminton as a means to improve his health, but it soon became evident that he had a natural talent for the sport. Beiwen Zhang, Lin Dan, and Peter Gade are some of the renowned badminton players.
Impressed by his performance in the under-12 competition, Lee Zii Jia was selected to join the Bukit Jalil Sports School, a renowned sports institution in Malaysia. It was there that he had the opportunity to train under the guidance of esteemed coaches, including Datuk Misbun Sidek and Datuk Tey Seu Bock, both former national badminton champions.
Lee Zii Jia Badminton Ranking and Badminton Stats
Lee Zii Jia has garnered a strong reputation in the sport with his remarkable achievements. Currently ranked as the world number three in men's singles badminton, Lee Zii Jia has consistently showcased his skills and determination on the court.
Lee Zii Jia currently ranks number three in men's singles badminton
SOURCE: Instagram- @leezhijia
He has secured several prestigious BWF World Tour titles, including victories at the 2018 Chinese Taipei Super 300, 2022 Thailand Open, and the highly acclaimed 2021 All England Open. Additionally, he has achieved runner-up positions in events such as the 2018 Korea Masters and the 2022 Denmark Open.
Beyond his success in competitions, Lee Zii Jia's impact extends beyond the badminton court. He holds the distinction of being the first Malaysian badminton player to have his image featured on a billboard in Times Square, a testament to his growing popularity and recognition.
Lee Zii Jia Net Worth, Prize Money, Career Earnings: How rich is Lee?
Lee Zii Jia has an estimated net worth of around $500,000 Lee has established himself as a valuable asset in the world of badminton. His earnings primarily come from various sources, including prize money and incentives from organizations.
Lee Zii Jia is from Malaysia.
SOURCE: Instagram- @leezhijia
Lee Zii Jia has accumulated a total of RM339,818 in prize money and incentives for his outstanding performances in various tournaments. These financial rewards serve as recognition for his skill, dedication, and achievements in the sport. Lee has received incentives from organizations such as the Badminton Association of Malaysia (BAM) and the state government of Kedah.
Lee received RM30,000 from BAM and RM25,000 from the state government of Kedah after his victory at the 2021 All-England tournament. In the 2021 All England tournament, Lee Zii Jia earned a substantial prize money of RM246,538 for his outstanding performance. Lee Zii Jia received RM8,407 as he advanced to the semi-finals of the Swiss Open. The 2023 Swiss Open offered total prize money of USD 210,000.
The winner of the men's singles division received $15,750, while the runner-up received $7,980. Players who reached the semi-finals earned $3,045, and those who made it to the quarter-finals earned $1,260. All players in the Top 16 of the men's singles division received $735.
Lee Zii Jia Endorsement Deals and Sponsorships
In February 2022, Lee Zii Jia signed a lucrative seven-year deal with Victor, a renowned Taiwanese badminton equipment manufacturer. The contract is valued at more than RM12 million, highlighting the confidence and support Victor has in the Malaysian badminton player. This partnership further solidifies Lee's commitment to excellence and showcases his appeal as a prominent figure in the badminton world.
Lee Zii Jia is sponsored by Braun Buffel.
SOURCE: Instagram- @leezhijia
Since January 2020, Lee Zii Jia has served as a brand ambassador for 100PLUS, Malaysia's leading isotonic beverage. Although the specific financial details of the two-year agreement remain undisclosed, it underscores the recognition of Lee's accomplishments and his ability to inspire others through his success in the sport.
In addition to Victor and 100PLUS, Lee Zii Jia secured sponsorship from Apacs Sports, a badminton equipment manufacturer, starting in September 2021. This collaboration demonstrates the trust and confidence placed in Lee's talent and potential, as he continues to make his mark in the badminton arena.
Read More: Who is Lin Dan Married With? In Details About His Wife and Children. Also Know His Earnings, Net Worth, and Retirement
Lee Zii Jia Relationship Status: Know about Lee's Romantic life
As of 2023, Lee Zii Jia's relationship status appears to be single. Despite rumors circulating about his potential romantic involvement with Thai badminton player Pornpawee Chochuwong, Pornpawee clarified during a live stream that they are just friends. This indicates that any speculation about a romantic relationship between them is unfounded.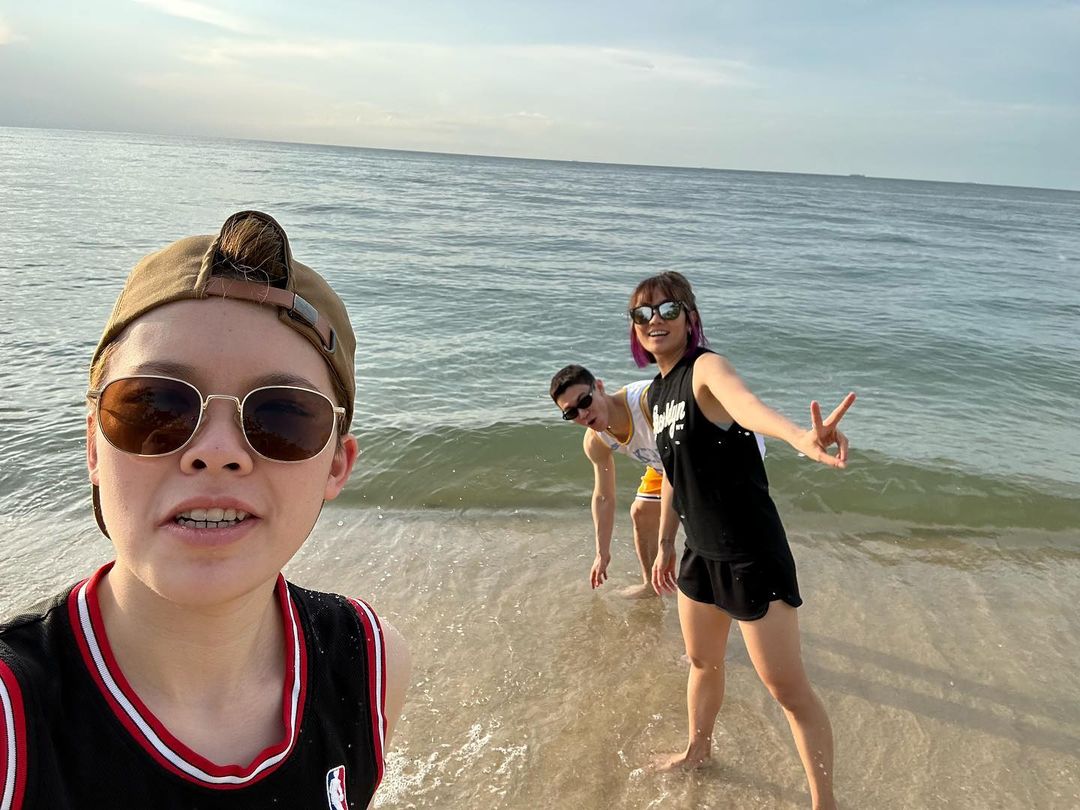 Lee Zii Jia hanging out with his friends
SOURCE: Instagram- @leezhijia
There have also been observations of Lee spending time with a girl named Peijinglai, although no specific information about their relationship has been confirmed by the athlete himself. Lee Zii Jia maintains a private personal life and prefers to keep his romantic affairs out of the public eye.
Read More: Why Did Peter Gade Divorce With His Wife, Camilla Hoeg? In Details About His Married Life and Children. Also, Know His Net Worth and Career Earnings
Lee Zii Jia Racket: What Racket Does LZJ Use?
Lee Zii Jia, a professional badminton player, opts for the Victor Thruster Ryuga badminton racket for his matches. This racket is renowned for its head-heavy design, which means that the weight is concentrated on the head of the racket. It is available in various colors and weight classes to suit players' preferences and playing styles.
The Victor Thruster Ryuga is highly regarded among professional badminton players due to its exceptional combination of power and control. The head-heavy balance of the racket enables players to generate more power in their shots, allowing for strong and aggressive smashes.
At the same time, the racket offers excellent control, allowing players to maneuver the shuttlecock precisely during rallies. The specifications of the Victor Thruster Ryuga badminton racket include an isometric head shape, a weight of approximately 91 g (3U), and a G5 grip size. It has stiff flexibility, providing a solid and stable feel during gameplay.
The maximum string tension varies depending on the weight class, with the 3U model capable of handling up to 32 lbs (14.5 Kg) of tension. The frame of the Victor Thruster Ryuga is constructed using High Resilience Modulus Graphite and incorporates HARD CORED TECHNOLOGY, which enhances the racket's stability and durability.