Kento Momota is a highly regarded Japanese badminton player known for his dynamic court movements and unpredictable playing style. Momota's exceptional performance in 2019 earned him a place in the Guinness Book of World Records for winning the most men's singles titles in a season.
Momota has achieved victory in various major tournaments. Kento's accolades include two World Championships titles, two Asian Championships titles, and one All-England title.
Kento Momota's Van Crashed into Truck Killing the Van's Driver Immediately
On January 13, 2020, Kento Momota was involved in a tragic car accident on the Tomei Expressway in Japan. The van he was traveling in collided with a truck which resulted in the immediate death of the van's driver.
Kento Momota
SOURCE: Instagram- @kentomomota
Momota suffered significant facial injuries, including a broken nose and fractured eye socket, which required surgical intervention. The coach and physiotherapist accompanying Momota also sustained injuries in the accident.
The investigation revealed that the primary cause of the collision was the van driver's failure to maintain a safe distance from the truck ahead. Due to the severity of his injuries, Momota was compelled to withdraw from both the 2020 Malaysia Masters and the 2020 Indonesia Masters badminton tournaments
Momota resumed his participation in competitive badminton, showcasing his remarkable skills and passion for the sport in subsequent tournaments.
Kento Momota Early Life: When did Kento Commence into The World of Badminton
Kento Momota started his journey in the sport when Kento was only seven years old. Momota achieved his first remarkable victory in the All Japan Elementary School Championships which is a prestigious tournament in his home country. Peter Gade, Viktor Axelsen, and Lin Dan are some of the prominent badminton players.
Kento Momota
SOURCE: Instagram- @momota_kento
In 2011, Momota turned professional, embarking on a career that would bring him numerous triumphs and accolades. He achieved great success by winning the gold medal in men's singles at the 2018 BWF World Championships in China and the 2019 BWF World Championships in Switzerland.
These victories established him as one of the top players in the world. Kento has clinched victories in other renowned championships like the All England Open, Japan Open, China Open, and Indonesia Open.
Kento Momota Badminton Rankings: Momota's Major Badminton Achievements
As of July 7, 2023, Kento Momota currently holds the 60th position in the Badminton World Rankings. He has claimed two World Championships and has secured two Asian Championships titles.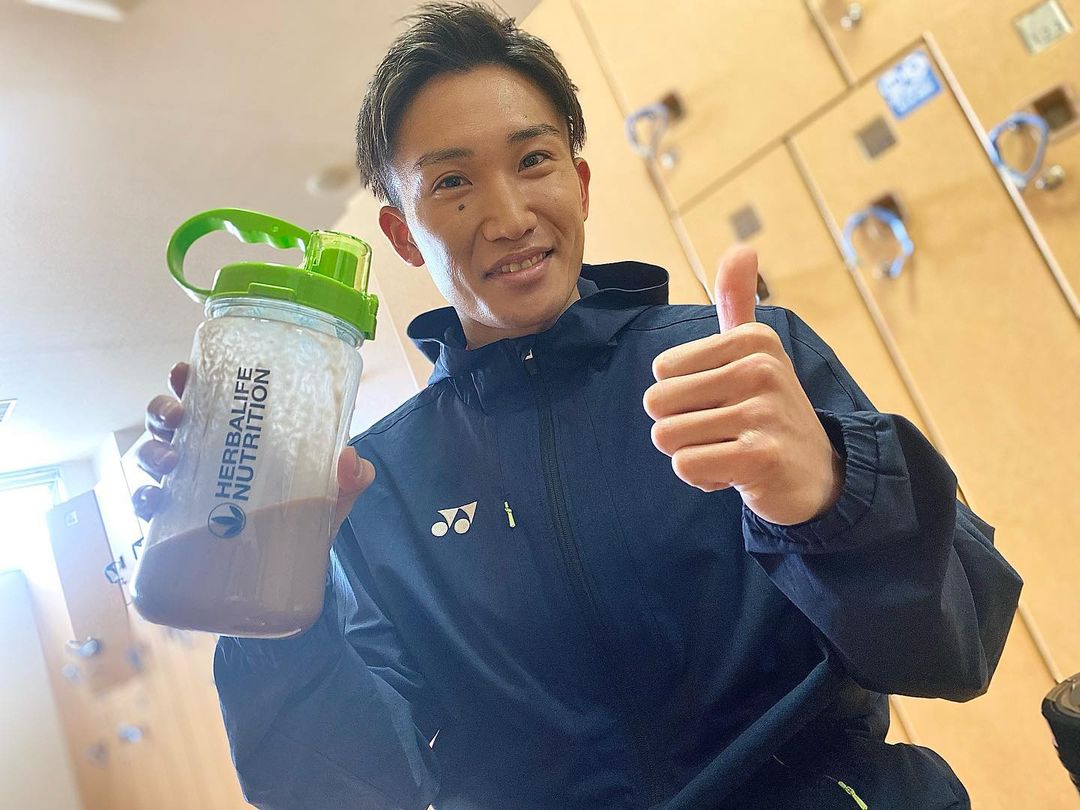 CAPTION: Kento Momota
SOURCE: Instagram- @momota_kento
One of Momota's notable accomplishments is winning the prestigious All-England title, adding to his list of triumphs. His success extends to the World Tour, where he has an impressive record of 19 titles.
Kento has claimed victory in seven International Series tournaments, four Superseries events, and two Grand Prix competitions.
In 2019, Momota achieved a significant milestone by entering the Guinness Book of World Records for winning the highest number of men's singles titles in a single season. His exceptional performance throughout the 2019 season led to an impressive tally of 11 titles.
Read More: Has Carolina Marin Retired? Get To Know In Details About Her Career, Boyfriend, Net Worth and Earnings
Kento Momota Girlfriend: Know about Momota's Romantic Life
Kento Momota is a private individual when it comes to sharing details about his romantic life. Kento has chosen to keep his personal relationships away from the public eye, and there is no concrete information available regarding his dating status or whether he has a wife.
Kento Momota
SOURCE: Instagram- @momota_kento
Momota's focus has primarily been on his career and achieving success in the world of badminton. In 2021, Japanese media outlets reported that Momota had reconciled with his ex-girlfriend, Yuki Fukushima who is also a prominent badminton player.
It is important to note that Momota has not made any public statements regarding his relationship with Fukushima. Kento is a career-focused guy and mainly shares about his professional life rather than his romantic on his social media.
Read More: Who is Zlatan Ibrahimovic's Wife, Helena Seger? All About Helena's Net Worth, Married Life, and Children
Kento Momota Racket: Which racket does Momota Prefer?
Kento Momota is sponsored by Yonex has chosen to use one of their highly acclaimed badminton rackets, the Astrox 99 Pro. This racket has gained immense popularity among players and enthusiasts alike.
Kento Momota
SOURCE: Instagram- @momota_kento
It is specifically designed to cater to the needs of aggressive attacking players who seek maximum power and speed on the court. The Astrox 99 Pro features a head-heavy balance, meaning that more weight is concentrated toward the head of the racket.
This design allows players like Momota to generate powerful shots and smashes with relative ease. Additionally, the racket is equipped with an extra stiff shaft, providing exceptional control and stability during intense gameplay.