Personal Info
Date of Birth

Age

20 Years Old

Famous Name

Country United States US
Facts
Father

Jabari Smith Sr.

Relationship Status

single

Weekly wage

No. of Twitter Followers

54.4K

First Name

Jabari

Endorsment brands

No. of Instagram Followers

155K

Mother

Taneskia Purnell

Wikipedia

https://en.wikipedia.org/wiki/Jabari_Smith

Last Name

Smith

Birth Name

Jabari Montsho Smith Junior

Net Worth

$5 Million

Facebook

Twitter

https://twitter.com/jabarismithjr

Salary

$8,882,640

Birth Country

United States

Endorsement earnings

Instagram

https://www.instagram.com/jabarismithjr/?hl=en

Famous Name

Career Earnings

$8,882,640

Horoscope

Taurus

House Location

Hobbies

House Price

Nationality

American

2nd Car

3nd Car

4th Car

Awards

Mr. Georgia Basketball, Georgia Gatorade Player of the Year

Sponsors

Adidas

Profession

Basketball Player

School Location

Tyrone, Georgia

Famous for

Father, Jabari Smith

Started career as

Basketball Player

Came to fame after

University Team

Auburn University Basketball Team

Currently Club

Houston Rockets

University attended

Auburn University

School attended

Sandy Creek High School

Alumni
Jabari Smith Junior is an American professional basketball player, who plays for the Houston Texas of the National Basketball Association (NBA). Junior is the son of a former professional basketball player, Jabari Smith Senior and has trained under his guidance. The athlete was honored with NABC Freshman of the year, SEC Freshman of the year, and Wayman Tisdale award in the year 2022.
Jabari Montsho Smith Junior was born in Fayetteville, Georgia on May 13, 2003, the player was raised by his father Jabari Smith Sr., and mother, Taneskia Purnell. Montsho has a really close relative named, Kawame Brown who was selected in the 2001 NBA Draft.
Jabari Smith Net Worth: How Much Does The Son Of Jabari Smith Sr Earn?
The athlete hasn't even played for a year with Houston Rockets and has earned a base salary of $8,882,640 and will earn an average annual salary of $10,082,608. Jabari Smith's estimated net worth is $5 million. Smith has sponsored Adidas but hasn't revealed the transaction. Junior has signed a four-year contract worth $40,330,432 with the Houston Rockets.
Jabari Smith has an estimated net worth of $5 million.
SOURCE: Instagram: @jabarismithjr
The player has risen to 144th rank in the NBA as of 2022 financial rankings stated by Spotrac. As Jabari is the lone son of Jabari Smith Sr. and Taneskia Purnell, he will be the successor of the net worth amassed by his parents in the future. After the completion of 4 years contract with the Houston Rockets, Jabari Smith Junior will have an estimated net worth of $20 million.
Jabari Smith Girlfriend: Know The Details About That Lucky Girl
Smith is one of the fiery players of this generation and has tasted success in his early professional career in life. Everyone wants their life to be enjoyable, and nowadays one who can fulfill those luxurious needs might act as the nectar for the honeybees. Jabari is also that nectar but has he chosen the queen with who he will share his fruits of success?
Jabari Smith plays for the Houston Rockets as the forward.
SOURCE: Instagram: @jabarismithjr
Jabari Smith Junior is single as of 2023, but the player might also be involved in secret affairs which he might keep away from public eyes. The fortunate girl is yet to arrive and fulfill the life of the NBA prince who is currently living a sole life. Junior might announce the good news to the public soon.
Jabari Smith Jr Stats: Explore Junior's, Basketball Journey
Jabari was finely mentored by his father, Smith senior from the age of 5. The player joined an Amateur Athletic Union named Atlanta Celtics when he was 15 years old. Jabari was unique to numerous other collegiate athletics as he had advanced skill sets that most players might only accomplish at the end of their collegiate career.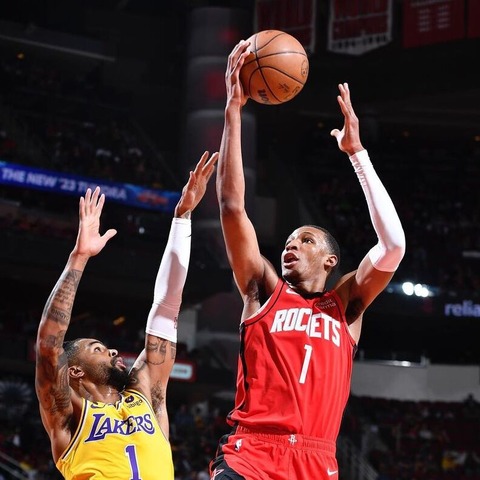 Jabari Smith was mentored by his father at 5 years of age.
SOURCE: Instagram: @jabarismithjr
The player just knew his path and as a five-star recruit, he committed to Auburn University. Smith in his junior year of college averaged 24.5 points and 10 rebounds per game and in his senior years, the stats slightly dropped. The main reason for committing to Aubrurn University is that he was coached and trained with a modern traditional approach than a modern one.
Recommended Bio: Joe Hampton
Houston Rockets Player Jabari Smith's Stats: What Is His Relation With Jalen Green?
The Rockets drafted Jabari Smith in round 1 with the 3rd overall pick, the great thing about the achievement is that the player is only 19 years of age. Jabari started his professional career in 2022 and he was the highest-drafted player to ever come out of Auburn, surpassing famous players like Chris Morris and Chuck Person. Smith is a teammate with a young basketball player like him, named Jalen Green who plays as Shooting Guard.
Jabari Smith has scored 16.9 points per game, 7.4 rebounds per game, and 2.0 assists per game as of May 2023. Even though the player is a rookie for the veteran professionals, he is still slaying his stats. The rockets did a fabulous job of drafting this player. This is only the start of his journey, he will be a profound basketball player of this generation.
Similar Bio: Andre Reeves Junior
Who is Jabari Smith Jr.'s Dad?: Know About Jabari Smith's Height, Weight & Age
Jabari Smith Jr.'s father is a former professional basketball player who played for Sacramento Kings, Philadelphia 76ers, New Jersey Nets, and other several clubs which competed in European leagues. He shared his only child, Smith Junior with his wife named Taneskia Purnell, and assisted him to find his purpose.
The young athlete stands at a towering height of 6 feet 11 inches and Jabari might still add up and might reach 7 feet in the future. Jabari Smith is currently 19 years old and weighs 250 pounds i.e, 113 K.G. Overall Junior has obtained the fruits of his training and discipline which he worked on when since the age of 5.