Personal Info
Date of Birth

Age

23 Years Old

Famous Name

Country United States US
Facts
Father

Andre Reeves senior

League Name

NBA G

Relationship Status

affair

Weekly wage

No. of Twitter Followers

3,757

Points

9.1 Points per game

First Name

Andre

Fiance

No. of Instagram Followers

9,908

Past Team

Father Nationality

American

Market Value

Rebounds

3.1 Rebounds per game

Mother

Louise Peddy

Wikipedia

https://en.wikipedia.org/wiki/A._J._Reeves

Engaged Person Name

Last Name

Reeves

Birth Name

Andre Reeves Jr

Net Worth

$500,000

Mother Nationality

American

2022 Club

Maine Celtics.

Currently Married

Current Club Jersey Number

10

Twitter

https://mobile.twitter.com/ajreeves11

Siblings

Jermaine Peddy , Jesika Reeves ,Jasmine Reeves, and CJ Peddy

Salary

Married to

Birth Country

United States

No. of Siblings

4

First Club Name

Maine Celtics.

Past married if any

Instagram

https://www.instagram.com/ajreeves11/

Famous Name

A.J. Reeves

Children

Divorce

Contract

Wife profession

Horoscope

Gemini

Position in Team

Shooting Guard

Date

June 4

First Club Join Date

2022

Nationality

American

Current team

Maine Celtics.

Affair with

Delya Lorquet

Ethnicity

Girlfriend

Delya Lorquet

2022 National Team

Awards

National Team Earning

Current City

Contract ending date

Profession

Basketball Player

School Location

Newton, Massachusetts

Is played fifa word cup 2018

Famous for

Being a basketball player

Started career as

Came to fame after

the Maine Celtics of the NBA G League

University Team

Providence

Show

University attended

School attended

Brimmer and May

Alumni

Providence College Alum

Graduated year

2022
Andre Reeves Junior is an American Professional basketball player has signed an Exhibit 10 deal with the Boston Celtics in October 2022 and began the season with the NBA G League, which is the National Basketball Association's official minor league. He joined to Celtics' affiliate the Maine Celtics as a shooting guard.
Andre Reeves Junior was born in Massachusetts, U.S., on June 4, 1999. The player was born to a father, Andre Reeves, and Louise Peddy. Andre grew up with his two sisters, Jesika Reeves and Jasmine Reeves, and two brothers, Jermaine Peddy Reeves and CJ Peddy Reeves.
A.J Reeves' Net Worth: How Much Does The NBA G Pay?
Andre Reeves Junior plays for the minor league of the NBA, Maine Celtics. A.J. Reeves has an estimated net worth of $500,000, the collegiate basketball player rose to height after playing for the Providence men's basketball. Andre represented the United States at the 2019 Pan American Games which was held in Peru, where he assisted the national team to secure the bronze medal.
A.J. Reeves' estimated net worth is $500,000.
SOURCE: Instagram: @ajreeves11
The NBA G has less fanbase than the NBA hence will obviously pay less for contracts and salary, cause it's the miniature version of the NBA. A.J. along with his siblings is the successor of their parent's assets and Junior can be well off if he can get into Boston Celtics' draft.
A.J Reeves' Girlfriend: Reeves Is Intimately Involved In An Affair
The athlete seems satisfied with his current situation, he got his dream to play for Boston, graduated from the university in May of 2022, and is involved in an intimate affair with a beautiful girl named Delya Lorquet. The duo haven't openly talked about their relationship and have posted various stories on Instagram, plus his girlfriend has recently uploaded their photo on her Instagram.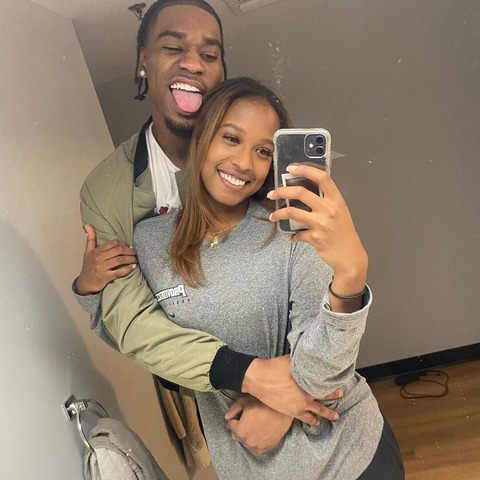 A.J. Reeves is in an intimate relationship with his girlfriend.
SOURCE: Instagram: @delyalorquet
Observing the Instagram Delya we can conclude that she is aspiring to be a model further, she posts eye-catching images of herself. They both synergized and complement each other, the duo haven't shared any other personal information regarding their love life and enjoy each other's company away from the public's eye.
A.J Reeves NBA: How Was He Recruited Into The Club
A.J. had a successful career as a collegiate basketball player, he was recruited by the Maine Celtics, and the recruiting process was done in quite a unique way. Andre has a balanced body and good lift, which helps him become a shooting guard, he had a scoring rate of 37.3% when shooting from three-point range during his college days.
A.J. Reeves was recruited by the Maine Celtics.
SOURCE: Instagram: @ajreeves11
In a pre-draft workout, Andre hit 84-of-100 threes and after playing with the Celtics summer league team, he finally landed his shot in Maine Celtics. The Providence's head coach spoke highly of him and stated that he had a gift for making shots.
Recommended Bio: Joe Hampton
A.J Reeves Providence: Know About His Stats During College
Andre graduated from Brimmer and May School and during his senior year, he averaged 27.9 points, 9.1 rebounds, 5.2 assists, and 2.1 steals per game. In 2017, Reeves was regarded as the 6th best shooting guard by ESPN. When Junior was in his freshman year, he averaged 9.8 points and 3 rebounds per game.
Andre suffered from a foot injury which caused him to way off a little, but he didn't sway off and kept working out and the hard work of his fruits paid off when he was recruited by the Maline Celtics. The player is boldly committed to this club and stated that "I'm trying to do everything possible to keep it going and stay a professional as long as I can."
Suggested Bio: Karoline Striplin.
Know About A.J Reeves' Physique
A.J Reeves stands at a towering height of 6 feet 6 inches and weighs 93 kilos, the player is young and is aiming to play for the NBA league's Boston Celtics. The player has an athletic build and strong core, with a flexible and agile body. Overall, the player has a bright future, and if he can land a play in the official NBA then his life is set.