Ilana Sheryl Kloss boasts a diverse career; her roles as a former professional tennis player, tennis coach, and the commissioner of World TeamTennis from 2001 to 2021. In her remarkable journey, Kloss achieved distinction as the top-ranked doubles player worldwide in 1976 while holding the 19th spot in singles rankings in 1979.
Her expertise extended to the junior circuit, where she clinched victories such as the Wimbledon Juniors singles title in 1972 and the US Open Juniors singles title in 1974. Furthermore, Kloss's impressive achievements included triumphs in the US Open Doubles and French Open Mixed Doubles categories in 1976.
Ilana Kloss Net Worth 2023 - CEO of Bille Jean King Enterprises
Ilana Kloss has an estimated net worth of $1.5 Million, Kloss had played numerous games during her career and might have also earned a handful. Ilana is currently the CEO of Bille Jean King Enterprises which is named after her partner who is also a former world No. 1 tennis player. The former athlete hasn't revealed any clues regarding her career earnings during her prime days.
Ilana and her family waiting for the turkey.
SOURCE: Instagram- @cooksandking
As a CEO of an enterprise, she might boast much more than the estimated net worth, and without the official statement from herself, the conclusion can't be made. While some sites have amounted to her net worth to be around $5 Million, however, this information isn't backed by any evidence. On the other hand, her partner Billie Jean King has an estimated net worth of more than $20 Million.
Ilana Kloss Prize Money & Endorsement Deals
Ilana's career earnings and prize money, while she was in the prime of her tennis, weren't recorded as the information about her career earnings and net worth wasn't popular around that time. Regarding her endorsement, the story is the same as before and can't be concluded without her official statements.
Ilana achieved a lot of success as an athlete
SOURCE: Instagram- @cooksandking
Presently, the most affluent figures in the realm of tennis include Ion Tiriac who has amassed a substantial net worth of $1.7 billion. Following suit is Roger Federe's, securing a noteworthy fortune of $550 million, while Novak Djokovic ranks closely behind with a commendable net worth of $200 million. In the women's domain, Serena Williams holds a formidable position with a wealth amounting to $250 million.
Kloss Lesbian Partner, Billie Jean King: How was Ilana's Romantic Life?
Tennis legend Billie Jean King has maintained a decades-long relationship with her former doubles partner, Ilana Kloss, with the couple eventually tying the knot in a discreet ceremony in 2018. Describing Kloss as "the love of my life," King's sentiment reflects the profound bond they share, evident even prior to their marriage.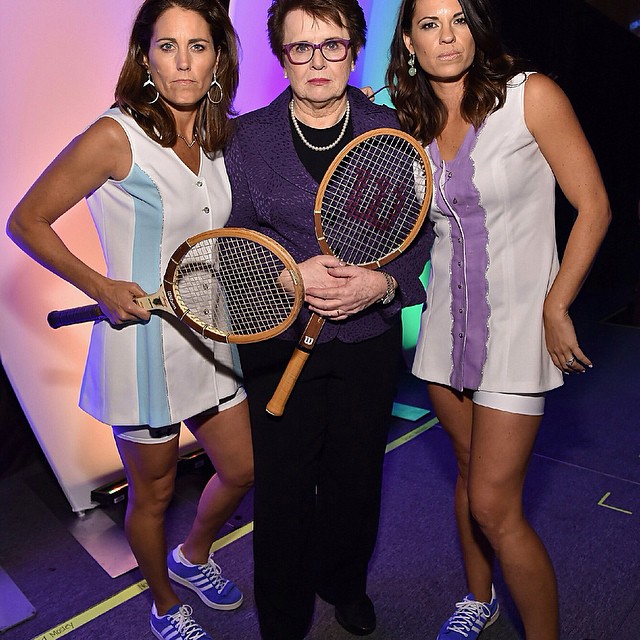 Ilana's Partner Billie Jean in 40th WSF celebrations
SOURCE: Instagram- @cooksandking
Their enduring commitment is evident in their exchange of rings, a practice they had embraced for years which highlights the strength and depth of their romantic connection. Their enduring and committed romantic journey speaks to a deep and unwavering attachment between the two.
The fated tennis partners were certain that they will marry each other cause of their mutual interest in tennis which made them interact with one another and they both eventually fell in love and married each other now they are growing old together and are still rejoicing their love life without any regrets.
Related- How much is the Net worth of Tennis star Alexander Zverev Jr.? Details about his Earnings, Lifestyle, House, and Cars
Ilana's Tennis Titles & Accolades: How Did She Perform as a Tennis Player?
Ilana Kloss achieved remarkable milestones that solidified her as a force to be reckoned with on the court. In 1979, she soared to the pinnacle of her singles performance, attaining a career-high World No. 19 ranking. Kloss's junior years were equally impressive, with victories that included securing the US Open juniors singles title in 1974 and capturing the coveted Wimbledon juniors singles championship in 1972.
Ilana and her partner Billie Jean King during the old days of tennis.
SOURCE: Instagram- @cooksandking
Kloss's prowess extended to the doubles arena, where she showcased exceptional talent. Her achievements as the World No. 1 ranked doubles player in 1976 underscore her dominance in this category. In a standout year, she clinched victories at both the US Open Doubles and French Open Mixed Doubles tournaments in 1976. Notably, Kloss's influence extended even to the 35-and-over tour, as she secured US Open doubles and mixed doubles championships in 1999, displaying her enduring skill and versatility.
Beyond her accomplishments on the court, Kloss's excellence resonated in other dimensions as well. She secured an impressive trio of gold medals at the 1973 Maccabiah Games held in Israel. Recognizing her outstanding contributions, Kloss was honored with inductions into prestigious halls of fame. In 2006, she became a member of the US National Jewish Sports Hall of Fame, and in 2010, her remarkable legacy was cemented further with her inclusion in the International Jewish Sports Hall of Fame.
Related- Who are Roger Federer's Children and What are They Doing? All About Roger Federer and Mirka Federer's 4 Kids.
Kloss Transition from Tennis to Tennis Coach, Commissioner & CEO of Bille Jean King Enterprises
After spending some years playing tennis, Ilana Kloss shifted her focus to coaching. She started coaching for World Team Tennis (WTT) in 1983, leading teams like the Chicago Fyre to championship victories. In 1985, she played and coached for the Miami Beach Breakers. Over time, Kloss took on more responsibilities within WTT, becoming vice president in 1987 and executive director in 1991.
In 2001, Kloss took on a major role as the CEO and Commissioner of WTT. In this position, she oversaw both the professional sports league and efforts to spread tennis across the country. Her tenure lasted until 2018, during which she played a crucial role in shaping the league's direction.
Beyond tennis, Kloss's influence extended to Billie Jean King Enterprises (BJKE), where she currently serves as the CEO. In this role, she's in charge of developing the business and forming important partnerships. Kloss's involvement in sports also includes being the managing partner of BJKE and the president of Angel City FC, a women's soccer team in the National Women's Soccer League. Alongside her accomplishments, Kloss's partnership with Billie Jean King has been a strong force both in business and in life.