Stephen and Ayesha Curry have successfully maintained a strong and loving marriage for over a decade. Their ability to defy the "basketball couple curse" is evident in the various ways they prioritize spending quality time together. Whether it's enjoying date nights or hosting special events, they continuously find stellar ways to nurture their relationship.
Their enduring partnership is also evident in their heartfelt social media posts, where they openly express their deep love and admiration for one another. They are proud parents to three beautiful children, namely Riley Elizabeth Curry (10 years old), Ryan Carson Curry (7 years old), and Canon W. Jack Curry (4 years old).
Fate Binds Stephen Curry and Ayesha Curry: How did the Golden State Warriors Star Player meet his Wife?
Stephen and Ayesha Curry's enduring love story began during their teenage years. They first crossed paths in a church youth group located in Charlotte, North Carolina. Their romantic journey didn't begin immediately. At the time, Stephen was 15 years old and Ayesha was 14. Life took them on separate paths, but fate brought them back together when they were adults. It was during a trip to Los Angeles, where Ayesha was living, that Stephen rekindled their connection and pursued a relationship with her.
Ayesha Curry and Stephen Curry in Hawaii.
SOURCE: Instagram- @ayeshacurry
Their relationship has proven to be strong and resilient, defying the challenges often faced by couples in the basketball world. Both Stephen and Ayesha have demanding careers and have managed to prioritize and nurture their marriage. They continuously find exceptional ways to spend quality time together, ensuring their bond remains strong. Their commitment to each other is evident in their dedication to making their marriage work, setting an inspiring example for others.
Couples that Defied the Basketball Couple Curse: Stephen Curry Knew that He Had Found the Right Woman
In a heartwarming continuation of their love story, Stephen and Ayesha Curry exchanged vows on July 30, 2011. The couple, who had first met nine years earlier in the same church where they eventually tied the knot. Their wedding took place when they were both in their early 20s, and they knew in their hearts that they were destined to be together. Since that special day, they have celebrated over a decade of marriage and have been blessed with three beautiful children.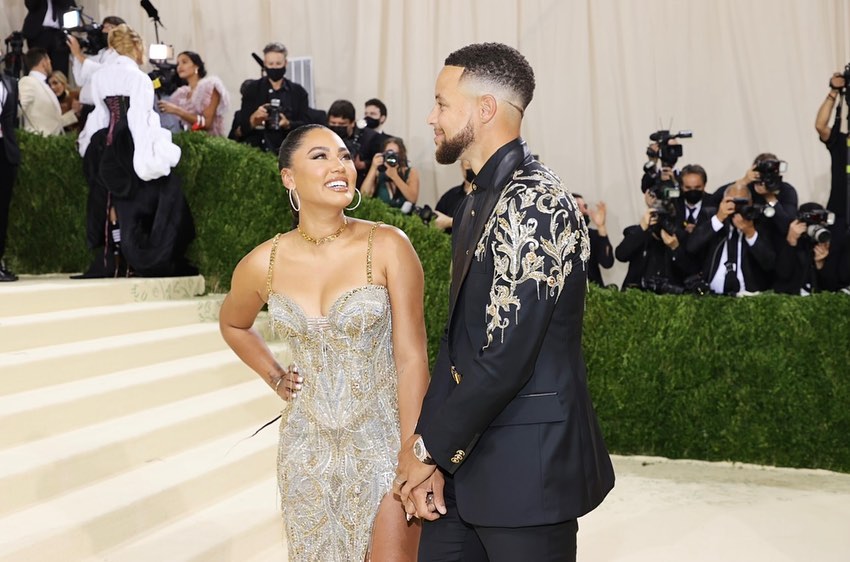 Stephen Curry with her wife, Ayesha at Met Gala.
SOURCE: Instagram- @ayeshacurry
While specific details about their wedding and venue remain undisclosed. According to Brides magazine, Ayesha Curry wore a stunning strapless, taffeta Amsale gown as her wedding dress, while Stephen Curry looked dashing in a grey tuxedo.
The Magic Couple's Children: All About Stephen Curry and Ayesha Curry's Three Kids
Stephen and Ayesha Curry have a busy life, balancing basketball games, and TV shows, and raising their three children. Their family expanded with the birth of their daughters Riley and Ryan, followed by their son Canon. Ayesha became a young mother and struggled to navigate her career while raising her kids. She found her passion in cooking, which led to the creation of a successful empire including restaurants, cookbooks, and a TV series.
Related: In Details About Stephen Curry's Father Dell Curry. His Married Life, Kids, and Net Worth
Railey Elizabeth Curry, 10
Riley Elizabeth Curry was born on July 19, 2012, Elizabeth quickly gained attention for her vibrant personality. At just 2 years old, she stole the show during a post-game press conference, capturing hearts with her adorable yawns and sassy remarks. Riley became an internet sensation and was declared the real MVP of the 2015 NBA finals.
On the birthday of Steph Curry's eldest daughter.
SOURCE: Instagram- @ayeshacurry
Over the years, Riley has shared numerous precious moments with her parents. She attended the 2022 ESPY Awards alongside Stephen, Ayesha, and her sister Ryan, and the family posed together in matching black-and-white outfits. Riley is also following in the footsteps of both her mom and dad, displaying an interest in volleyball and showcasing her culinary skills by preparing a delicious chicken piccata from scratch.
In July 2022, Stephen celebrated Riley's milestone 10th birthday, expressing his love and admiration for his daughter. He surprised her with a special gift of "Curry 10" sneakers from his shoe line. More recently, Riley appeared all grown up during a women's basketball game at Stanford University, attending with her father and showcasing her personal style.
Related: Stephen Curry Reacts to Luka Doncic Wearing Curry 7s Sneaker
Ryan Carson Curry, 7
Ryan Carson Curry was born on July 10, 2015, in Oakland, California, United States, and is 7 years old as of June 2023. Ryan Curry is still exploring her interest in sports, she has spent considerable time supporting her dad on the basketball court. She has been by her mom and sister's side during Stephen's playoff runs with the Golden State Warriors and has celebrated multiple championship victories at victory parades.
Ayesha congratulates her daughter, on her 7th birthday.
SOURCE: Instagram- @ayeshacurry
In a heartwarming moment during the 2022 NBA playoffs, Ryan gave her dad a high five from the crowd after game five of the Western Conference First Round NBA Playoffs, capturing a sweet father-daughter bond. In a previous episode of Stephen vs The Game, Stephen showcased his skills in haircare, putting Ryan's hair in a ponytail while she playfully asked her sister for some Doritos.
Ryan and her sister Riley share their mom's love for Beyoncé, and they are dedicated members of the Beyhive. They were overjoyed to receive a special delivery from the singer, as captured in a video shared by Ayesha. Additionally, the sisters were seen jamming out to Beyoncé's song "Already," showing their love for Black Is King.
On Ryan's 7th birthday, both Stephen and Ayesha expressed their love and admiration for their daughter through heartfelt Instagram posts. Ayesha described Ryan as compassionate, caring, and smart, while Stephen expressed his pride and love for his special girl.
Canon W. Jack Curry, 5
In February 2018, Stephen and Ayesha Curry announced that their family was expanding once again. Ayesha shared a photo of herself wearing a "PREGGERS" T-shirt, revealing that they were expecting their third child. On July 2, 2018, they welcomed their first son, Canon W. Jack Curry.
Steph Curry and Ayesha Curry with their youngest son
SOURCE: Instagram- @ayeshacurry
The couple chose the name Canon during their honeymoon and it held a special meaning for them. Ayesha explained that the name has French origins and means "young wolf," which resonated with them as a family. As a four-year-old, Canon has already developed a vibrant personality. Stephen described him as their most social child, jokingly mentioning that Canon thinks he's already the mayor of his school even before starting pre-K.
Canon has shown an early interest in basketball, although there was some initial confusion about his dad's career during the pandemic. Ayesha mentioned that Canon initially thought his dad was a golfer since there was no basketball season at the time. However, he has since realized that his dad and uncles play basketball, and he's been excited to learn more about the sport. Ayesha proudly shared a video of Canon showcasing his skills by dribbling two basketballs simultaneously.
In July 2022, Ayesha celebrated Canon's fourth birthday and highlighted his growing talents. She expressed their admiration for his determination and revealed his skills in games like flip cup and flip bottle, jokingly suggesting that he's ready for college already.