Guillermo Ochoa is a Mexican footballer who plays as a goalkeeper for Liga MX club America and the Mexico National Team. Since 2019, he has been playing for his current club. Besides, Ochoa wears jersey number 13 in his current team.
Ochoa is also a national player who has been playing for the senior side of Mexico since 2005. Ochoa is the most capped goalkeeper in the history of the national squad. He also received an offer to end his football career and be an NFL kicker on July 2022.
How Much Is Guillermo Ochoa's Net Worth? Know His Salary and Endorsement
Guillermo Ochoa is estimated to enjoy a net worth of $2 million. Currently, he is signed to Liga MX side Club America. His deal with the team is €1 million. So, representing them, Ochoa earns £66,000 in a week and £3,432,000 in a year. Ochoa is the highest-earning player in his club.
Guillermo Ochoa promoting Nike
SOURCE: Instagram @yosoy8a
Previously, Ochoa played for other clubs, too, and playing for them, Ochoa took home a fair profit. Also, Ochoa is a national player. Besides, Ochoa's market value is €1.20 million, but it is not his highest value. His highest market value was €8 million, recorded on June 15, 2009.
Being a professional footballer, Ochoa also makes money from brand endorsement. Currently, he is signed with Nike and wears their kits.
Is Guillermo Ochoa Married? Know His Personal Life
Ochoa is married to his longtime girlfriend, Mexican model Karla Mora. The couple has been with each other for a long time. Ochoa and Mora began dating when Ochoa moved to France. Before getting married, Ochoa and his wife started their family. On February 8, 2013, Ochoa welcomed their first child, a daughter named Lucciana.
Guillermo Ochoa with his happy family
SOURCE: Instagram @yosoy8a
And on April 1, 2015, Ochoa gave birth to another child named Guillermo Ochoa. After two years, on July 8, 2017, Ochoa and his wife tied the knot in the presence of their family and relatives. Just after two years, the family increased when another daughter was born in May 2019.
The family of three now lives happily, and Ochoa often posts snaps with them on his Instagram handle, where we can find him active as @yosoy8a.
Guillermo Ochoa Also Dated Dulce Maria
Ochoa was previously in a relationship before dating his current wife. He dated Dulce Maria, a famous Mexican singer, songwriter, actress, and author. The former pair began dating at the end of 2005.
Guillermo Ochoa dated Dulce Maria
SOURCE: Infobae
Their love life was going pretty well, but later, it started sour. So, in April 2016, it was confirmed that Dulce and Guillermo split.
Early Life
Guillermo Ochoa was born Francisco Guillermo Ochoa Magana on July 13, 1985, in Guadalajara, Jalisco, Mexico. He got his surname 'Ochoa' from his father, Guillermo Ochoa Sanchez, and 'Magana' from his mother, Natalia Magana Orozco.
Ochoa played with his hometown club before making his debut with Club America in 2004.
Playing Career (2004- Present)
At 18, Ochoa made his professional debut with Club America in 2004. Following the 2005 season, Ochoa won his first championship with the team: Clausura 2005. The victory also followed Ochoa and the team's hands over the 2005 Campeon de Campeones Cup and the 2006 CONCACAF Champions Cup.
Guillermo Ochoa plays as a goalkeeper
SOURCE: Instagram @yosoy8a
Though Ochoa was offered contracts from many English clubs, he decided to play for Club America till 2011, when he helped the team to win the 2008 InterLiga tournament. He has made over 115 game appearances.
Ajaccio (2011-2014)
Ochoa joined the French club Ajaccio on July 4, 2011, on a free transfer and signed a 3-year contract with the club. He made his debut for the club on August 5, 2011, in a 0-2 loss against Toulouse.
The Mexican goalkeeper played for the club until 2014, when Ajaccio was relegated to Ligue 2 on April 20, 2014. In 3 years with the Ajaccio, Ochoa made a total of 112 appearances.
Malaga (2014-2017) and Loan to Granada
On August 1, 2014, Ochoa signed a 3-year deal with Spanish La Liga club Malaga; however, he didn't make an appearance in the first season as Carlos Kameni was manager Javi Gracia's first-choice goalkeeper.
On March 5, 2016, Ochoa made his debut with Malaga though he was transferred to Granada on loan on July 22 that year and played till 2017. While in Granada, Ochoa conceded 82 goals as Granada was relegated to the Segunda Division after only four wins.
Standard Liege (2017- 2019)
Ochoa signed with Standard Liege on a 2-year contract on July 9, 2017, and won the Belgian Cup: 2017–18 with the team.
International Career
At the age of 20, Ochoa made his International debut for Mexico National Team in a 2-0 win against Hungary on December 14, 2005. He was named the third-choice goalkeeper for the 2006 FIFA World Cup. Formerly a member of Mexico's U-23 squad, Ochoa made his second World Cup appearance in the 2010 FIFA World Cup as a backup for veteran Oscar Perez following their win in the 2009 CONCACAF Gold Cup.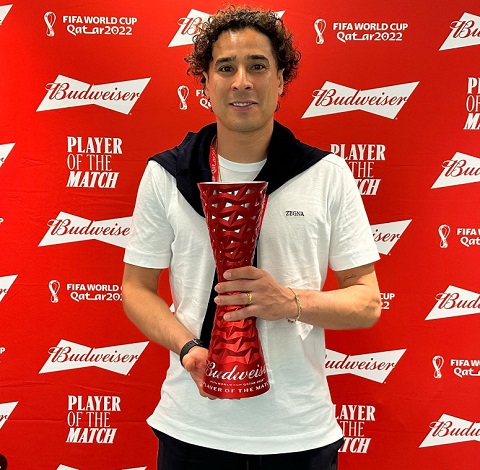 Guillermo Ochoa receiving an award in FIFA World Cup 20
SOURCE: Instagram @yosoy8a
Having played the 2014 FIFA World Cup, Ochoa made his 4th appearance in the World Cup as the first-choice goalkeeper for the Mexico National Team in the 2018 FIFA World Cup under the captainship of Andres Guardado. In the game against Germany, Ochoa made nine saves, notably pushing a goal-bound Toni Kroos' free-kick onto the crossbar, eventually leading to the victory of 1-0.
Read More.Kevin Alvarez
Read More.Juan Carlos Osorio
Doping Allegation
Back in 2011, during the CONCACAF Gold Cup, Ochoa, along with other 4 Mexican members, tested positive for the banned substance Clenbuterol; it was claimed that the use of contaminated meat created the issue.
Even at first, World Anti-Doping Agency (WADA) appealed to the Court of Arbitration for Sport to request a ban, but after the full report was submitted to WADA, the appeal was withdrawn on October 12, 2011.
Read More.South Korea Vs Mexico: Kick-off time, Venue, Channel, Possible Lineup, Players to Watch, Predictions & Betting Odds