Personal Info
Date of Birth

Age

27 Years Old

Famous Name

Ferland Mendy

Country France FR
Facts
No. of Twitter Followers

264.5 k+

No. of Instagram Followers

1.8 million +

Father Nationality

Senegalese and French

Birth Name

Ferland Sinna Mendy

Net Worth

$40 million- $50 million

Mother Nationality

Senegalese

Salary

$11 million

Birth Country

Meulan-en-Yvelines, France.

Famous Name

Ferland Mendy

Horoscope

Gemini

Position in Team

Left Back

Nationality

French

Current team

Real Madrid CF and France National Team

Girlfriend

-

Boyfriend

-

Current City

Madrid, Spain

Sponsors

Adidas Football

Profession

Professional Footballer

Is played fifa word cup 2018

No

Famous for

Real Madrid's Left Back

Started career as

Youth Player for Ecquevilly EFC

Came to fame after

His move to Real Madrid from Olympique Lyonnais

Currently Club

Real Madrid
Ferland Mendy is a professional footballer who plays for Real Madrid CF and France National Team. He plays as a left-back and is a Laliga Champion. The French National Team #23 is also a Supercopa de Espana winner.
Starting his senior journey from Le Havre, Mendy currently plays for Real Madrid. The Real Madrid #23 has made millions of fans over the course of playing, from Olympique Lyonnais to Real Madrid.
Early Life and Bio
Ferland Sinna Mendy was born on 8 June 1995 in Meulan-en-Yvelines, France. He is of Senegalese descent. He started his youth career at Ecquevilly EFC in 2002. Meanwhile, His senior career started with Le Havre.
Young Ferland Mendy playing for Le Havre
SOURCE: Instagram @ferland_mendy
Mendy is 5 feet 11 inches tall. His good height provides him an upper hand against opponents in aerial duels. The Real Madrid #23 is a great player when it comes out to mark opponents and cause havoc on the football field.
Ferland Mendy Age, Brother
Ferland is 26 years old as of now. At such a young age, Mendy has made his name in world football. He has impressed all the football spectators around the globe.
People often have questions regarding " Is Ferland Mendy related to Edouard Mendy?", "Is Ferland Edouard's brother?" and many more. Edouard Mendy is the cousin of Ferland Mendy. Edouard plays for the Chelsea Football Club and Senegal National Football Team.
Ferland Mendy and Edouard Mendy
SOURCE: Facebook @Fuera De Juego
Edouard is a Champions League Winner and won the Best Keeper of the UCL 2020/21 season. The Mendy brothers faced off during the Champions League SemiFinals clash between Real Madrid and Chelsea. Edouard won the tie against his cousin Ferland and later went on to win the competition with the Blues.
Benjamin Mendy is a left-back who plays for France National Team and Manchester City. Most people also got confused about Ferland Mendy- Benjamin Mendy relationship. They are not brothers by blood, but they do share a lovely teammate relationship.
Ferland Mendy Net Worth (Salary, Career Earnings)
Mendy plays as a left-back for one of the most expensive football clubs in the world. The French National #23 signed for Real Madrid for $63 million on a six-year contract. The annual salary for Ferland is $11 million.
Before signing for the Royal Whites, Mendy earned around $1.5 million every year. The Madrid switch was a great boost in his football career both financially and competitively.
Ferland Mendy posing for Adidas Football
SOURCE: Instagram @ferland_mendy
Ferland is also endorsed with Adidas football. He takes part in Adidas promotional campaigns for which he charges a handsome amount of money. The talented left-back also has a great craze for spending luxurious holidays in some of the world's best holiday spots.
The net worth of Ferland Mendy is estimated to be around $40 million - $50 million.
Ferland Mendy Girlfriend, Relationship Status
Ferland is a handsome young man. He has an infectious smile making him a heartthrob among the ladies. However, the 26-year-old footballer is currently single. He is well-focused and truly dedicated to the love of his life, i.e., football.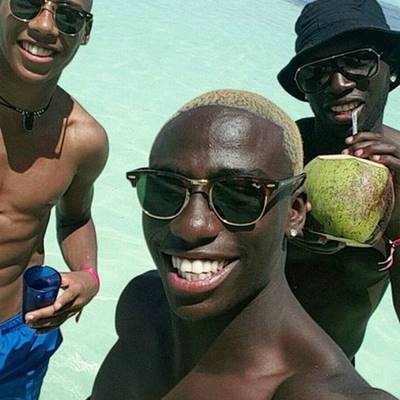 Ferland Mendy enjoying vacation with his friends
SOURCE: Instagram @ferland_mendy
Mendy is not seen with any girls during his holidays. He is seen more with his friends and family chilling on the weekends. His life is all about family, friends, and football. However, he is following many female celebrities on his social media. So, you might see him dating any time soon.
Ferland Mendy Olympique Lyonnais Career
After two years, Mendy started his senior career with Le Havre B and later got promoted to the first team. He spent two years at Le Havre until Lyon signed him on 29 June 2017 for five years. The transfer fee was $7 million with add ons.
Ferland Mendy against Manchester City in the 2018.19 UC
SOURCE: Instagram @ferland_mendy
Mendy had his Champions League debut against Manchester City in a 2-1 win for Lyon. He had great performances match after match. He had a total of 57 appearances for Lyon, scoring two goals. His immense talent grabbed the attention of many footballing powerhouses.
Zinedine Zidane saw the fire in Mendy and approached Florentino Perez to sign the French beast. And Finally, on 12 June 2019, Ferland got signed for the Royal Whites. The two Frenchmen share a great bond. He got emotional when Zizou backed down as the Real Madrid coach last season.
Zinedine Zidane giving instructions to Ferland Mendy during a Laliga match
SOURCE: Instagram @ferland_mendy
Rayan Cherki is another player of Olympique Lyonnais who is currently linked to Real Madrid. He is playing at the highest quality, with many big clubs eyeing over the midfielder. It will be no surprise if Cherki becomes a Madridista shortly. He will follow the steps of Karim Benzema and Ferland Mendy if he completes the dream move.
Ferland Mendy Real Madrid Career and Contract
Ferland had his debut for Real Madrid on 1 September 2019 against Villareal. The game ended in a 2-2 draw. When Real Madrid was on the verge of winning their 33rd Laliga Trophy, they needed to beat Granada to claim it. Mendy became the match's hero, giving the Royal Whites a win with his first Real Madrid goal.
Mendy's first Champions League goal came against Atalanta in the 2020/21 Champions League 16. The match ended 1-0 in favor of Real Madrid, with Mendy being the only goal scorer.
Ferland Mendy celebrating his first Champions Leauge Goal against Atalanta
SOURCE: Instagram @ferland_mendy
Ferland has appeared in a total of 51 matches for Real Madrid, scoring two goals. He has a lot of monstrous defensive performances to his name. He assisted Benzema for the winning goal against Atletico Madrid, an important match for the title race.
Mendy has signed a professional contract of $63 million for six years in Real Madrid. He earns around $11 million every year with bonuses for great performances. In an interview, the Madrid left-back said that he is very happy to play for his dream club, and he will adore every moment of it.
Ferland Mendy's Best Skills and Goals
To know more about your favorite players, Check out Playerswiki.
Read More.Maxence Caqueret