Elizabeth Beisel is an American competitive swimmer who specializes in backstroke and individual medley. Beisel has achieved 4 gold medals, a silver medal, and 4 bronze medals in Olympic women's swimming competitions, representing the United States. She has her personal best in the long course as 2:06:18 in 200m backstroke and 4:31:27 in 400m individual medley.
Elizabeth Lyon Beisel was born on August 18, 1992, in Rhode Island, U.S. Elizabeth was raised by her father Ted Beisel, and mother, Joan Beisel along with her sibling Danny Beisel. She is also famous for her controversies related to a series known as 'Survivor'.
Elizabeth Beisel Net Worth: How Much Did She Amass Through Swimming?
Elizabeth Beisel is a competitive swimmer and a humanitarian, she is raising funds for people who are battling cancer. Elizabeth Beisel has an estimated net worth of $500,000, Beisel along with being a swimmer is a certified yoga teacher and a swimming ambassador at SPIRE Institute and Academy. The details about her salary are kept away from the spotlight.
Recently Elizabeth has to go through a huge loss, she lost her father, Ted Beisel. Legally, the father's assets get passed down to their offspring and now the successors of amassed assets by Ted are Elizabeth and her brother Danny Beisel.
Elizabeth Beisel Enjoying Her Vacation In Nepal.
SOURCE: Instagram: @ebeisel34
Beisel is sponsored by swimming apparel brands and jewelry like gill marine, Pentair Rocean, Matunuck Surf, fiercen designs, Speedo USA, fyb jewelry, and CG SPORTS. The above net worth is just an estimation based on her Instagram posts, she has kept her net worth private, so it might be more than our current estimation.
Is Elizabeth Beisel Married: Know About Jack Survivor 39
Human beings can't choose whom they fall in love with, the same phenomenon happened with the American swimmer. Elizabeth Beisel fell in love with a guy named Jack Nichting. The couple got involved in the affair in a unique way.
Elizabeth Beisel and Her Fiance Jack met via a TV show.
SOURCE: Instagram: @ebeisel34
Elizabeth and Jack were participants in the show known as 'Survivor'. Beisel was eliminated on day 30 and Nitching was cut on episode 7. Jack shared an announcement on his Instagram and stated that he is beyond proud to call her his girlfriend. The couple is still together, even to this day, and have recently shared a picture of a ring on Elizabeth's hand on Jack's Instagram.
It's not revealed by either party whether the ring was an engagement ring, but it is highly probable that is the engagement ring cause of its design. The optimistic news about their marriage might echo through their social media in near future.
Read about: John Havlicek, who is also a humanitarian like Elizabeth.
Elizabeth Beisel Survivor: What Did She Do To Trigger Audiences?
The American swimmer participated in a contest which was also a TV show named 'Survivor: Island of the idols', the series aired globally from September 25, 2019, until December 18, 2019, when Tommy Sheehan was named the winner over Dean Kowalski who was voted by Elizabeth.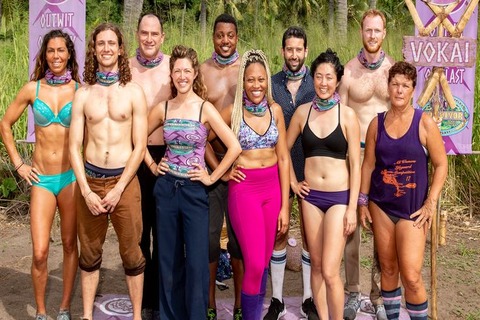 The 'Survivor' season 39 cast.
SOURCE: CBS
Elizabeth triggered audiences cause of her false accusations of sexual harassment and was rude and unsupportive to the actual victim. Even though she apologized to the audience for her misconduct, audiences felt that her apology was harsh and insincere which made audiences hate her.
Also Read: Saniya Rivers.
Elizabeth Beisel: First Woman To Sucessfuly Swim To Block Island
The swimmer got a lot of energy, and Beisel became the first woman to successfully swim to Block Island. She swam across a 10.4-mile route from Matunuck Beach to Sandy Point at the northmost tip of the island.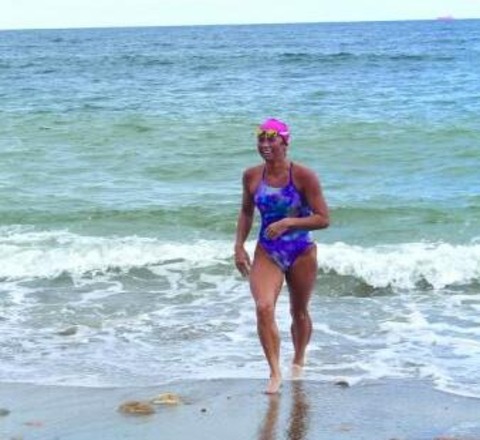 Elizabeth became the first woman to successfully swim to Block Island.
SOURCE: block island times
When Elizabeth managed to raise $133,000 as a fund for cancer research which was named "Block Cancer". Beisel had to call for support in the middle of the swim cause the swimmer wasn't making progress, and three boats and 2 kayakers helped her, then she started to make swim towards the shore of her goal.
The Swim route was also dangerous as it had many aggressive seals, she wanted to stop and hug the seals but couldn't do so cause her marathon was being monitored by Elaine Howley. Elizabeth's family waited at the shore, they were anxious at first but became overjoyed after she reached the shore.
Read: Shelomi Sanders, daughter of Deion Sanders.
Elizabeth Beisel Medal: Her Olympics Journey
Elizabeth has participated in numerous World Championships, she played her first Olympic game in 2009 and was ranked 4th and 5th in the medley and back respectively. Beisel has won a total of four gold medals, one silver medal, and four bronze medals in other events as of 2023 but hasn't won a gold medal in an Olympic event.
In the 2008 Summer Olympics and 2009 World Championships Elizabeth finished fifth in the final. In the 2012 Summer Olympics, she achieved her bronze medal. Beisel was the gold medalist at the 2010 Pan Pacific Swimming Championships, the 2011 Shanghai FNA world championships, and the 2014 Pan Pacific Swimming Championships.
Read about: Federick Goings, a vicious murderer.
Elizabeth Beisel Block Cancer: Her Father Who Lost A Battle Against Pancreatic Cancer
Elizabeth stands at 5 feet 7 inches and weighs 59 Kilos, she is an athletic and warm-hearted person. She raises funds for a cancer research program named 'Block Cancer'. Bisel had to lose her own father Ted Beisel.
Elizabeth's father passed away on July 1, 2021.
SOURCE: Instagram: @ebeisel34
Elizabeth's father, Ted Beisel was fighting for 6 months with Pancreatic Cancer, but he rested in peace on July 1, 2021. Beisel praised her father's smile even though, he was enduring death-like pain, on her Instagram post and reminded people that her fundraising program might save someone's life one day.
Read about: Bruno Massel, a handsome automotive technician and drag racer.