Personal Info
Date of Birth

Age

23 Years Old

Famous Name

Diogo Dalot

Country Portugal PT
Facts
Father

Antonio Jacinto Teixeira

Weekly wage

£32,000

Relationship Status

affair

League Name

Premier League

First Name

José

No. of Instagram Followers

2.2 million

Endorsment brands

Nike

Father Nationality

Portuguese

Past Team

AFC Porto, AC Milan

Market Value

€32 Million

Last Name

Teixeira

Mother

Anabela Dalot Teixeira

Wikipedia

https://en.wikipedia.org/wiki/Diogo_Dalot

Net Worth

$2 million

2022 Club

Manchester United

Currently Married

No

Birth Name

Jose Diogo Dalot Teixeira

Mother Nationality

Portuguese

Current Club Jersey Number

20

Birth Country

Portugal

Salary

£1,664,000 Per Year

Married to

None

Siblings

Mariana

Famous Name

Diogo Dalot

No. of Siblings

1

Instagram

https://www.instagram.com/diogodalot/

First Club Name

Porto B

Divorce

No

Children

No

Horoscope

Pisces

Position in Team

Right Back

Date

March 18

Current team

Manchester United

Nationality

Portuguese

Girlfriend

Claudia Lopes

Ethnicity

Portuguese

2022 National Team

Portugal

Current City

England

Sponsors

Nike

Is played fifa word cup 2018

Profession

Football player

Squad No

Started career as

Football player

Currently Club

Manchester United
Diogo Dalot is a professional football player from Portugal and currently plays for Premier League club Manchester United. He plays in the right-back position for Manchester United. He transferred from Porto to Man U in 2018. He wears the Number 20 shirt for his current club. He mainly plays in the right-back position, but he can also play in the left-back place.
United's Number 20 also plays for the Portugal national team. He was included in Portugal's leading team in 2021. Starting his club career in FC Porto, he won Portugal's top league, Premier Liga, in the 2017-18 season.
The Net Worth of Diogo || His Income and His Properties
Portugal's young right-back Diogo has an estimated net worth of $2 million approximately. His earnings mainly come from his professional football. Besides that, he also earns from sponsorships deals with various major brands like Nike.
Diogo Dalot enjoying the view
SOURCE: [email protected]
Currently, Dalot has a weekly salary of £32,000 and a yearly salary of £1,664,000. In the past, Dalot has also played for other teams in the past and taken decent home cash. Currently, Dalot has a market value of €32 million.
Moreover, Dalot lives with his sweetheart in England but rarely flexes his cars and luxuries. But no doubt, he is fond of visiting different places and often shares them on his social media.
Read:- What is the Net worth of Lotomba? His salary and contract with Nice
Dalot's Contract and Salary with Manchester United
In July 2018, Manchester United bought Diogo from FC Porto for the sum of €22 million. At that time, he was just 20 years old.
After two seasons of spending with Man U, they loaned him to the Italian club AC Milan, where he spent one year. The loan fee was 5000 thousand pounds. Then in 2021, his loan to Milan was ended, and he returned back to the United.
Diogo Dalot signing contract with FC Porto
SOURCE: [email protected]
Also, he is one of the latest paid football players in United. Players with less salary than him are McTominay, Mengi, and Tom Heaton.
But the salary of Manchester players is high as their star Manchester United Cristiano Ronaldo, earns £24,960,000 per year.
Diogo Dalot and his sponsorship with Nike
One of the major sponsors of Diogo Dalot is Nike, a famous accessories manufacturer brand.
Though it is not sure when Dalot signed a contract with Nike, they have been in business for too long. As per reports, Nike has been sponsoring United's right-back from even before 2015. And their partnership has been worth fruitful to both parties.
Diogo Dalot promoting Nike
SOURCE: [email protected]
Dalot also frequently posts and promotes them through his Insta.
In August 2021, he posted a short clip of him with the Nike football boots with the caption,
"My new friends for the start of the season @nikefootball #TeamNike #MotivationPack"
Who is Dalot's date? Is he still dating or married?
Based on our research and findings, Diogo Dalot is currently dating his love, Claudia Lopes. The couple has been together for more than two years.
Sources claim that Dalot and his girlfriend Lopes started dating in early 2020 before revealing after a few months.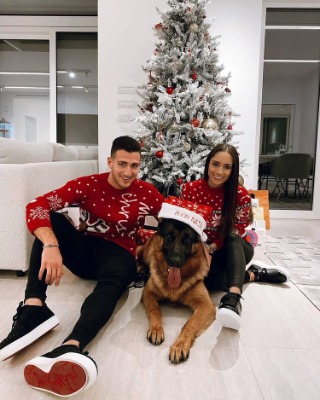 CAPTION: Diogo Dalot with his girlfriend and dog
SOURCE: [email protected]
Furthermore, Dalot often posts images with his girlfriend on Instagram. His girlfriend, Claudia, appears to be an interior designer who is associated with Home Design.
Read:- Is Takehiro secretly dating? Relation and Dating Life
Who is Diogo's future wife, Claudia?
Cláudia Pinto Lopes is a beautiful blonde girl who is currently dating Manchester United star Diogo Dalot. She is mainly known for becoming the girlfriend of D. Dalot.
Claudia attending a game
SOURCE: Instagram @claudiaspintolopes
She was born on May 13, 1995, making her four years older than her love Diogo, who was born in 1999. She is also Portuguese by nationality. She has blonde hair and appears average in height, measuring 5 feet 4 inches.
Every year, he wishes for his girlfriend through Instagram. On May 13, 2021, he wanted to tell her he was the woman of his dreams. He wrote,
"Happy birthday to the Woman of my dreams. Love You @claudiaspintolopes"
Like her bf, she is also active on Instagram with the username @claudiaspintolopes and has more than 25.8k followers.
She is also an Instagram model and shares photos of herself frequently. Most of her Insta pics are of her own wearing nice dresses. Also, she sometimes posts with her date Diogo.
Dalot's dog
He lives in England along with his love Claudia and his dog. Dalot's dog is Young JD, of the German shepherd breed.
CAPTION: Diogo Dalot with his dog
SOURCE: [email protected]
He sometimes posts his photos with the dog on his Instagram. He considers his dog Young JD as his family.
Read:- Trossard's Bio, Family, and Early Life
Diogo Dalot support for No to Racism
Racism has been one of the major problems among football payers. Several top players have been affected by it, and many players have stood against it. In this case, Diogo Dalot is not different from others. He is frequently against racism and often posts them.
In June 2020, supporting Black Lives Matter, he said,
"We, the Players, stand together with the singular objective of eradicating racial prejudice wherever it exists, to bring about a global society of inclusion, respect, and equal opportunities for All, regardless of their colour or creed."
Dalot for Portugal
Born in Portugal, he holds citizenship of the same country; he has been playing for them for more than seven years. He made his debut for Portugal's U15 team in 2014. He made two appearances for the team before playing for the U16 team.
Diogo Dalot is also a national player
SOURCE: Instagram @diogodalot
In 2016, he also won the UEFA European U17 Championship for Portugal. From 2017 to 2019, he played for Portugal's U20 team. At the same time, he was also included in Portugal's U21 team.
Finally, in 2021, he was promoted to the Senior team of Portugal and has already made over four appearances. Besides, Dalot is included in the national team playing in the FIFA World Cup 2022.
Early Career
From his childhood, he was very much interested in playing football and desired his family's background of singing. When he was nine years old, he joined the youth team of FC Porto, a top club in Portugal.
Diogo Dalot wears jersey number 20
SOURCE: Instagram @diogodalot
After spending nine years in the youth team, he was included in Porto's B team. And eventually, the same year, he was promoted to their senior team. He made his debut on October 13, 2017, after just eight years of his debut for the B team of FC Porto.
Dalot's Physical measurements: height and weight
Moving onwards, Dalot has a height of 6 feet 0 inches (1.83 meters). He has an average body weight of 78 kg. He has short well-trimmed hair with a black eye.
His strength is his physicality, along with his speed and techniques. He is also influential in the offense position and often plays as a right-wing back.
Who is Dalot? Personal Information and Early Life
José Diogo Dalot Teixeira was born on March 18, 1999, in Braga, Portugal, and his birth sign is Pisces.
He was born to his father, Antonio Jacinto Teixeira, and his mother, Anabela Dalot Teixeira. According to the source, Dalot's parents were devoted Christians and used to sing in the church.
CAPTION: Diogo Dalot with his family
SOURCE: [email protected]
He sometimes shares photos of his mom and dad on his social media, often thanking them for helping him whatever he is today.
Dalot and his singer sister
He grew up in the city of Portugal along with his sister Mariana Dalot. He even considered her as his best friend as his sis used to support him and share things. His sister also followed their parent's footsteps and also sang in the church. Even more, she is also a professional singer.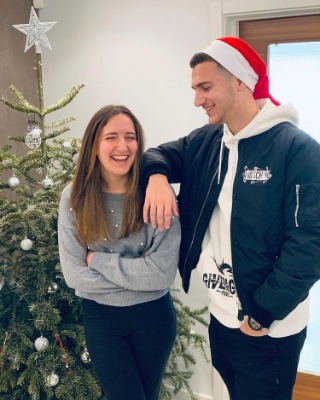 Diogo Dalot with his sister
SOURCE: [email protected]
She is also very active on Instagram, sharing photos about her profession and daily life. She goes by the username @marianadalot, which has more than 13.1K followers. According to her Insta, she graduated with vocals in London.
Diogo Dalot's sis once posted her photos with her brother where she said,
"I realized that nothing would give me more joy in life than watching you grow up. You are my only certainty in life and that gives me the encouragement I need to live. here or at the end of the world. congratulations "
Explore more athletes at PlayersWiki