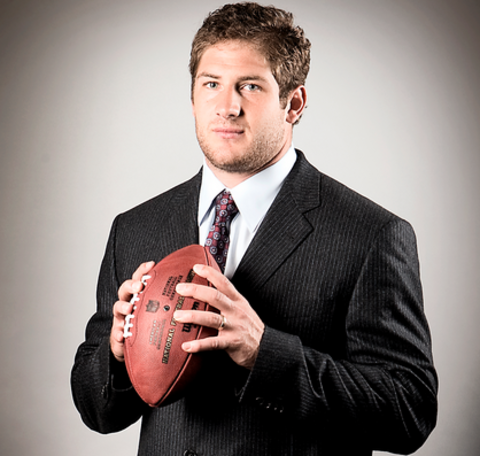 Chris Cooley is a former American football tight end who played for the Washington Redskins of the National Football League. A third-round draftee in the 2004 NFL draft, Cooley is a two-time Pro Bowl champion, Utah State University Athletics Hall of Fame, and First-team All-Sun Belt (2003). His NFL career includes 4,711 receiving yards and 33 receiving touchdowns.
Cooley was born on July 11, 1982, in Powell, Wyoming. He attended Logan High School in Logan, Utah. He was also into wrestling and baseball during his teenage years.
Chris Cooley's Career
During his college football career with Utah State University, Cooley with 95 receptions finished 1,255 yards. His first season in the NFL with the Redskins, Cooley recorded 37 receptions for 314 yards, catching three passes for more than twenty yards, and finishing the season with an average of 8.5 yards per catch.
Read More.Scot McCloughan
In 2204, Chris Cooley was drafted in the third round, with the 81st overall pick by the Washington Redskins.
SOURCE: NFL/Washington Redskins
In 2005, he caught 71 passes for 774 yards and seven touchdowns. That season, he broke the Redskins record for receptions as a tight end in a single campaign. In 2007, he set an NFL record by being the only tight end in league history to have six or more touchdowns in each of his four seasons. Washington Redskin owner, Daniel Snyder's Net Worth, Career, Wife
He finished the 2008 season with 83 catches for 849 yards and one touchdown, with career highs in both catches and yardage. In 2011, he became the Redskins' all-time leader in receptions at the tight end position with 422 receptions, breaking the previous franchise record of 421 set by Jerry Smith. In his final four seasons, he battled with several recurring injuries and consequently missed most of the games.
Chris Cooley's Net Worth and Salary
In September 2007, Cooley had signed a six-year, $30 million contract extension with the Washington Redskins. It implies the tight end was already receiving a salary worth more than $2 million. That's neglecting different sets of bonuses and all the extras compensation the NFL is generally known to pay to its players.
Needless to say, his multi-million dollar contracts and endorsements must have had significant help in establishing Cooley's net worth. The number of seasons a player has spent in the National Football League tells a lot about his monetary gains.
Cooley's eight years span at the NFL must have seen him enjoying a yearly payment of at least $6 million - counting from the 2007 season; courtesy of that year's contract between the Powell native and the Washington Redskins. Despite having signed an accord of tens of millions, sources claim Cooley's net worth in 2021 is only around seven figures - mostly agreeing at $8 million or so.
Washington Football Team's Ron Rivera Net Worth, Career, Wife
Chris Cooley's Wife; Who Is He Married To?
Cooley married his first wife Angela two weeks after his 20th birthday in Utah. Before that, the couple was dating for two years, said the former Redskins' no 47 with the Washington Post in January 2006. In the same interview, he admitted that there were ups and downs throughout his marriage with Angela.
The pair officially separated in December 2005. The footballer said he and Angela remained friends even after the divorce. The same year, he was reported to dating Redskin's cheerleader Christy Ogleeve.
Chris Cooley had a relationship with Washington Redskins' cheerleader, Christy Ogleeve.
SOURCE: ChrisCooley47.blogspot.com
She was later fired for fraternizing with Redskins players. They, however, married on May 23, 2008, in Landsdowne, Virginia. In September 2012, Cooley and Ogleeve announced their divorce. The retired NFL player welcomed his first child, daughter Sloane on September 11, 2014. He also has a four-year-old son, Body.
Several tabloids have come forward with a report that he is now married to a woman named, Madi DeBray with whom he has decided to relocate from Leesburg, Virginia to Powell, Wyoming. He met Madi in 2011.
Chris Cooley is believed to be married to a woman named Madi Debray
SOURCE: Doug Graham/Loudoun Now
The 38-year-old now pursues a side career as a potter and also owns an art gallery in Leesburg. After retiring from NFL, he tried to make his career in radio broadcasting and as of recent, runs his own podcast, The Chris Cooley Show.