Personal Info
Date of Birth

Age

59 Years Old

Famous Name

Charles Haley

Country United States US
Facts
Relationship Status

Divorced

First Name

Charles

No. of Instagram Followers

10.1K

Mother

Virginia Haley

Last Name

Haley

Birth Name

Charles Lewis Haley

Net Worth

$3million

Currently Married

Siblings

Birth Country

United States

Instagram

https://www.instagram.com/charleshaleyhof/

Divorce

No

Date

January 6

Nationality

American

Ethnicity

Religion

Christians

School Location

University Team

James Madison University

School attended

William Campbell High School
The 32-team National Football League is comprised of many titans. NFL is a highly competitive league. Out of all these beasts, we have Charles Haley.
Charles Haley is a defensive player that can also be found playing various roles. This versatile player is the first ever to be a five-time Super Bowl champion. The NFL champion was also an assistant defensive coach for the Detroit Lions for a year. With seven titles, learn how Haley began his career as an outside linebacker to a full-fledged defender.
Is Charles Rich? Net Worth and Salary
A beast during his peak in the 1990s, Charles was a dominating player in the field. He had good earnings and salary in his career form. Currently, according to IMDb, the defender is worth $3 million.
Some sources also said that the NFL star had signed a $12 million four-year deal. Although the retired athlete mostly stays under the radar, he is known to lead a humble life. The former athlete earned most of his wealth through his career as a defender.
Do Follow: Brian Hill and Is Odell Beckham Jr.'s Gay Rumors Are True or He Is Dating a Girl
Marriage and Family
Charles Haley married a woman named Karen just after his rookie season. The couple went on to have four kids, Charles Lewis Haley Jr, Madison Haley, Brianna Haley, and Princes Haley. Madison Haley grew up as a reputed soccer player and won the NCAA College Championship with Stanford.
Haley with his children
SOURCE: Twitter: @CharlesHaleyHoF
Chris Haley Sr. had bipolar disorder. The NFL superstar's condition made family life difficult to go on happily. Although Karen looked after her husband very well, it couldn't go on. Her children, including her, would sometimes be afraid of Chris Haley Senior's behavior.
The couple, unfortunately, split up somewhere around 2007 but remain good friends. The children and Karen still look after their father.
Career Rise and Highlights
With the San Francisco 49ers
After Haley's college years, he was drafted by the San Francisco 49ers in the fourth round of the 1986 draft. The youth was faster than he was said to be in sprints clocking at 4.55 seconds in the 40-yard dash. Haley was also voted to the NFL All-Rookie team by Pro Football Weekly and United Press International. His rookie year went smoothly, and he would be found carrying games, winning his first championship ring in 1988 and his second in 1989.
In 1990, the defender had a record of 58 tackles and nine passing defenses and was ranked third in the league. Haley has been voted the UPI NFC Defensive Player of the year and All-Pro consensus. The NFL star led his team through the 1986 to 1991 season in sacks and played in Super Bowls XXII and XXIV.
Haley, unfortunately, had to be traded to Dallas Cowboys due to Haley's clash with the head Coach George Seifert on August 26, 1992.
Dallas Cowboys and the Championship
The draft of Charles Haley into the team was perhaps the best decision by the Dallas Cowboys. The defender led the team and helped it improve from 17th in total defense to first. Improving the team's defense from 17 to the top is a feat of its own. He was pivotal in turning the group into a Super Bowl-level team and winning it in 1992.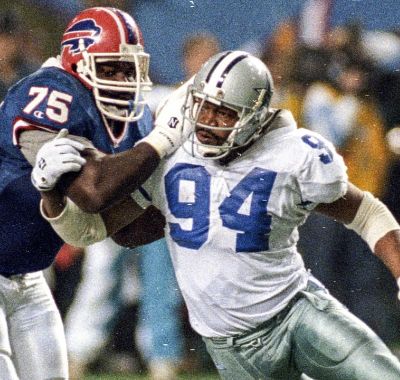 CAPTION: Haley in action
SOURCE: Dallas Cowboys
Haley received his UPI NFC Defensive player of the year and became an All-Pro again. The champion's next season in the NFL wasn't as successful but still amazing enough to win the 1993 Super Bowl. Haley had back problems and had to undergo a series of surgeries, and could not play as impressively.
The All-Pro had once immediately announced his retirement after losing to his previous team, the 49ers but turned down the idea after being offered a new contract. The following season, the team would win another Super Bowl championship, making him the first to own five championship rings.
Haley temporarily returned after the 1995 season due to his back injuries and to look after his daughter, Brianna (youngest), after being diagnosed with leukemia. He got back into NFL again in 1999, playing with the 49ers, but retired after that.
Also read: Danieal Manning Biography and Net Worth
Childhood and Upbringing
Charles Lewis Haley, aka Lewis Haley, was born on January 6, 1964, in Gladys, Virginia. Charles was taken to a family of seven and, economically, was not good.
The mother of the kids, Virginia, was an ambitious mother who thought greatly of their children and wanted them to do something great. Charles' parents worked two jobs to support the family.
The future NFL star was unhappy with his childhood as he had no friends and his brothers weren't that kind to him. His brother's treatment of him probably was because Charles had bipolar disorder, a mental illness that causes intense mood swings and emotional and social problems. The condition made him feel he wasn't welcome in the family, and his people disliked him.
Football and basketball were the only things Charles found relief in. He attended William Campbell High School in Naruna, Virginia, where he played as a starter for the football team. His role consisted of being a linebacker and tight end.
The linebacker was good at football. Haley's condition of bipolar disorder did not stop the athlete from winning the best defensive player of the year award and the Seminole District championship. Charles also played for The district basketball team.
Even after such awards and honors, Haley was not sought out by people at the start of his senior season. In the end, Haley accepted a scholarship from James Madison University and played for the team.
At the end of the athlete's school career, the defender was a two-time Division I-AA all-American with a record of 506 tackles and 17 sacks.
More on Charles Haley, Weight, Height, and More
Haley stands at a lofty 6 feet 5 inches (196cm) and weighs around 116 kg (225 pounds). Body physique and weight play a significant role in an athlete's career, especially in a defensive position. The defender has a muscular and bulky physique that makes him difficult to get past.
CAPTION: Charles Haley
SOURCE: BVM Sports
Haley had also tried maintaining a steady weight of 250 pounds for better strength for his defense. Despite being such bulky, the defender stayed agile and terrorized quarterbacks.
The NFL champion relied on actions rather than words. Charles was ambitious and determined. He now has signature shiny bald hair, although he had hair during his career.
Read More.Andrew Thomas
Honors and Awards
Two Time First Team All Pro

Five Time Super Bowl Champion

Five-Time Pro Bowl

Dallas Cowboys Ring of Honor

San Francisco 49ers Hall of Fame

Best Defensive Player of the Year [Many years from his high school to professional]
Haley with his five championship trophies
SOURCE: The Hilltop
Some Facts on Charles Haley
It was at Menninger Clinic's Annual Luncheon in Houston that Haley spoke on his bipolar disorder. His disorder made him feel isolated, yet he grew up thinking it was 'okay.' Dark as it is, the former athlete also confessed he had once tried to take his own life.
Charles Haley now dedicates himself to ensuring people do not take their own lives. Haley works to prevent mental degradation and encourage others to be unafraid to seek help. The NFL champ helps fund several local organizations that help people.
"I don't want two or three, I want one thing to live for. If you can lean on that when hard times come, you've already found the answer."
Haley worked as an assistant defensive coach for the Detroit Lions for two years, 2001-2002. He also is a special advisor who mentors rookies for his former clubs, the Cowboys and the 49ers.
Read More.Kimmi Chex