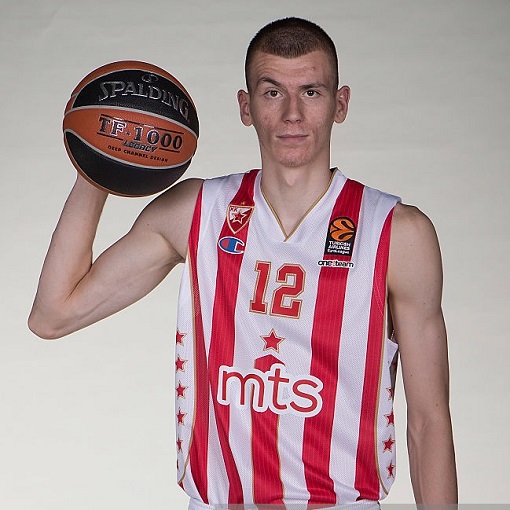 Facts
Birth Name

Boris Simanic

Birth Place

Ljubovija, Serbia, FR Yogoslavia.  

Famous Name

Boris Simanic

Birth Date

20 March 1998

Horoscope

Pisces

Net Worth

$150,000

Salary

$100,000

No. of Instagram Followers

10300

Height

6' 11''

Current team

Crvena Zvezda MTS

Profession

Basketball Player

Currently Working For

Crvena Zvezda MTS
Boris Simanic is a Serbian Professional Basketball Player who plays for Crvena Zvezda MTS of the ABA League and the Basketball League of Serbia. Among the few Serbian players in the 2020 NBA draft alongside Filip Petrusev of the Gonzaga Bulldogs. Simanic had also participated in the 2019 NBA draft but unfortunately did not get drafted.
Simanic was born on 20 March 1998 under the star sign Pisces. He was born in Ljubovija, Serbia, FR Yogoslavia.
Boris Simanic Net Worth: 2020 NBA draft and Projected Salary
The Power Forward has once again declared for the NBA draft. He is the #84 prospect in the draft above CJ Elleby and Rayshaun Hammonds according to sources from CBS Sports. Simanic is considered to be drafted in the second round of the draft. If he is picked in the second round of the draft, his projected salary will range from $800,000 to $2,000,000 annually depending on the pick.
The 95 kg Simanic is currently in the rooster of Crvena Zvezda where he joined since 2013 as a youth player. He debuted for the senior team in the 2015-16 season. As per his salary in the league, he received around $1,000-2,500 dollars of weekly salary that comes around $100,000-120,000 annually which is nowhere around the salary of the players in the NBA where the players are guaranteed millions.
Boris Simanic signing contract with Crvena Zvezda MTS
SOURCE: Eurohoops
In addition, he has also represented Serbia in international tournaments such as 2013 under-16 European Championship where the team won the silver medal. Boris played at the European Championship in 2015 representing the under-18 squad and the under-19 team at the World Championship.
The Serbian player is yet to conquer the NBA where he will sign contracts worths millions of dollars but as of 2020, his estimated net worth is $150,000.
Boris Simanic Girlfriend: Who is the Serbian player Dating?
The 6-foot-11, 209 lbs, Boris Simanic is very secretive about his personal matters and we are yet to figure out his relationship status since he is fairly private about such matters. Furthermore, his Instagram account is also private and is yet to be public.
However, the multitalented Simanic might be trying to stay focused on his career for the time being without the distraction of controversies or affairs which might be the reason for his single life.
Scouting Report
No. 28 – Crvena Zvezda's Power Forward debuted for the team in the 2015-16 season where he was named Most Valuable Player of 2016 Euroleague Generation Tournament Finals in 2016. He shows good mobility and plays effortlessly above the rim, having good balance and timing as well.
However, the 6' 11'' need to add a little muscle to his upper and lower body and get consistent with his threw-pointers. But the overall performance of Boris makes him one of the good picks in the 2020 NBA draft.
Career Highlights and Awards
3× ABA League champion (2016, 2017, 2019)
3× Serbian League champion (2016, 2017, 2019)
Serbian Cup winner (2017)
Adriatic Supercup winner (2018)
Next Generation Tournament MVP (2016)
Stay tuned with Playerswiki