William Theodore Walton III, popularly known as Bill Walton is a retired basketball player and winner of two National Basketball Association(NBA) championships. The 65-year-old American had the career of a professional NBA player for 14 years. Along with his basketball skills, he is also known for his acting talents in Little Nicky (2000), Forget Paris (1995) and He Got Game (1998).
Walton, who became a controversial NBA color commentator for NBC post-retirement, is married to Lori Matsuoka and has four children. Let's know further details about the married life of Bill Walton with Lori Matsuoka.
Bill Walton Married to Lori Matsuoka
Bill Walton is married to 65-year-old Lori Matsuoka. The two got married in 1990. This is the second marriage of Bill. The former NBA star who is now a television sportscaster was previously married to Susan Guth on 24 February 1979 and due to certain complications got separated in 1989.
The former couple has four sons named Adam, Nathan, Luke, and Chris and both parents hold the custody of the four children.
Lori Matsuoka met 6 feet, 11-inch tall player after his divorce to Susan in the year 1990. They encountered each other a party organized by the Dead. Following the dating period of a year, Walton and Lori tied the knot.
Bill Walton with arms around his wife Lori.
Source: sduptownnews.com
Lori is a native of California and holds diverse Japanese, Chinese, and Hawaiian heritage. She is a huge philanthropist and Inspirational Lifestyle Blogger for BdaKiNE.com. In her blogs, she mostly prefers to share her interests in animals, food, music, philanthropy, and travel.
Avoiding any rumors and controversies the beloved sports commentator lives happily with his wife and sons in San Diego.
Related Article: Bill Walton's Top Moments during Warriors-Blazers Match
Father of Four Children
The "Sportsman of the Year" award holder in 2000, Bill is the father of four children all boys and all of them being from his first wife Susan Guth. All the boys of Walton's family are engaged in basketball.
Guess the apple really doesn't fall far from the tree.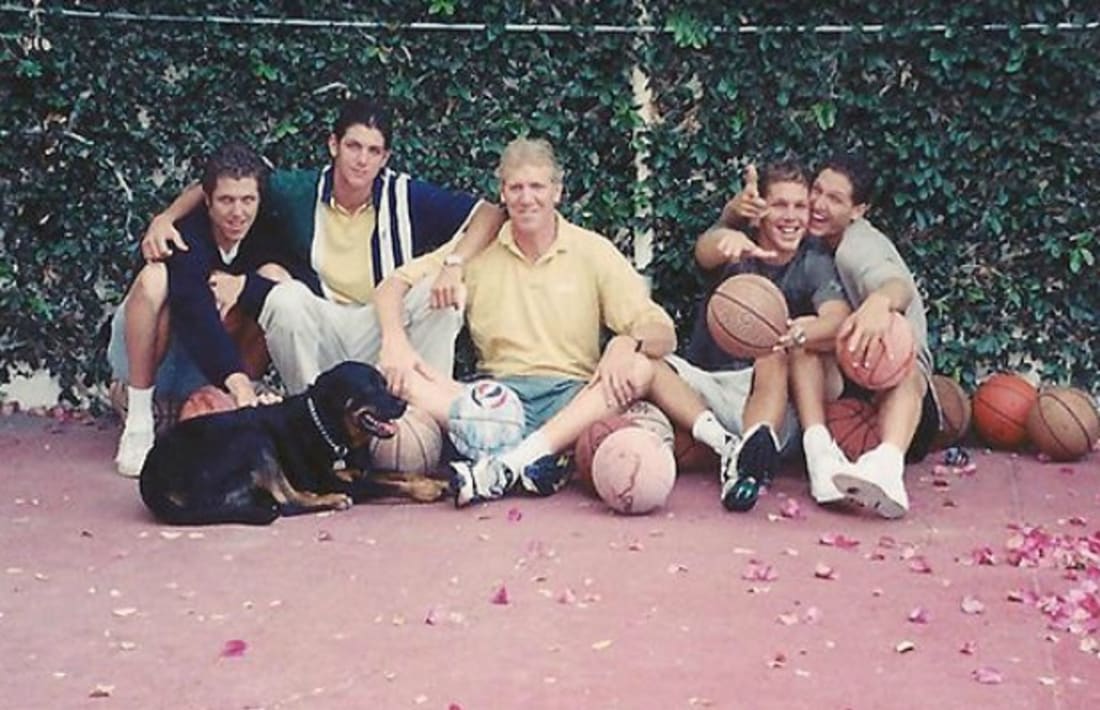 Legendary Bill Waston with his sons beside
Source: NBA.com
Adam Whitecloud Walton is the eldest son of Bill Walton. He played National Collegiate Athletic Association basketball at Louisiana State University.
Nathan Walton also played basketball at Princeton. But he discontinued his game and stepped into the corporate world. The second son Nate has an MBA degree from Stanford University's Graduate School of Business. At present, he serves as the President of SGS Holdings LLC. Nate also ran for Governor of California in 2003 in the recall election of Gov. Gray Davis.
The other child of Bill, Luke Walton won both the 2009 and 2010 NBA Finals while playing for the Los Angeles Lakers just as his father, making them the first father-son pair to hold multiple NBA championships. Luke then after was appointed as the head coach of the Lakers on April 29, 2016. He was the only Waston son to earn the spot in NBA.
The Lakers coach is married to his long-time girlfriend Bre Ladd. The couple is the parents of two children, who are grandchildren to Bill Walton.
Likewise, the youngest sibling Christopher Walton or simply Chris played for San Diego State.
AD Here (After Content)