Ben Shelton is an American professional tennis player who played college tennis for the Florida Gators. He has a career-high ATP singles ranking of No. 97, which he achieved on November 21, 2022. In his college career, Shelton won the men's singles title at the 2022 NCAA Division I Tennis Championships.
Shelton turned professional in August 2022 after playing against Wu Yibing at Georgia's Rome Challenger. His ATP tour debut came at the Atlanta Open as a wildcard and played against Ramkumar Ramanathan. During the summer of 2022, he advanced to Challenger finals at Rome, USA, as Q and Chicago. Also, he beat Casper Ruud earlier in the summer and is the youngest of 13 Americans in the top 100 in the world.
Ben Shelton Net Worth: Explore His Career Earnings and Prize Money
Shelton is doing pretty well in his professional career, and his finances are also increasing. As of now, he has prize money of $283,392. Taking his career earnings into consideration, it can be said that Shelton has a net worth of around $100,000. As Shelton just turned professional, it can be said that his fortune will rise in the coming years.
Ben Shelton receiving prize money.
SOURCE: Instagram @benshelton
Playing in grand slam tournaments, Shelton has earned over $90,000. Likewise, his earnings at ATP is more than $95,000. Moreover, Shelton has a strong presence on Instagram, flaunting his lifestyle. We can find him under the username @benshelton.
Which Racket Does Shelton Use?
Looking at his Instagram posts, it can be said that Shelton uses rackets from Yonex. A report shows that he has Yonex VCORE Pro 97 HD and Yonex VCORE Pro 97D 2021.
Ben Shelton using Yonex rackets.
SOURCE: Instagram @benshelton
Apart from working with Yonex, Shelton has collaborated with other brands. We can see him wearing t-shirts from Nike.
Relationship Status: Ben Shelton Is Dating Anna Hall
Shelton is currently in a relationship with his stunning girlfriend, Anna Hall. Exploring their Instagram posts, it can be said that Shelton and Hall have been dating each other for quite a while now. However, it is unknown when they met and began dating.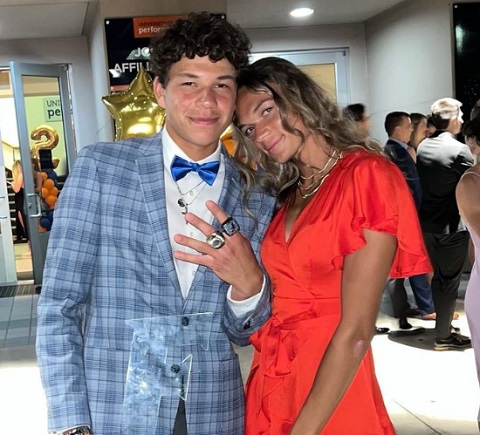 Ben Shelton with his girlfriend, Anna Hall.
SOURCE: Instagram @benshelton
Their social media posts show that the pair are doing well. Anna and Ben often explore different places together. In December 2021, they went to a beach located in Naples, Florida. The tennis player also shared a series of their moments.
Anna Hall Is Heptathlete
Anna Hall is an American heptathlete. She also won the heptathlon at the 2022 USA Outdoor Track and Field Championships. Likewise, Hall earned a World Athletics heptathlon medal for the United States team for the first time in over 20 years.
Regarding her early life, Anna Hall was born on March 23, 2001, in Denver, CO. Her parents are David Hall and Ronette Hall.
Shelton Turned Professional In 2022
Shelton started playing tennis at the young age of 10. Before that, he was interested in playing American football. When he turned 12, he regularly started playing tennis. Shelton was also a finalist at the 2020 USTA Boys 18s Singles Winter Nationals. After finishing his junior career, he committed to play collegiate tennis for the Florida Gators in June 2020.
Ben Shelton posing for a photo.
SOURCE: Instagram @benshelton
In his sophomore year, Shelton went 37-5 in singles matches and won the NCAA Singles Championship over August Holmgren. Shelton finished the year as the No. 1 singles player in the ITA rankings. Later, it was announced that he would forgo his remaining college eligibility to turn professional. So, the tennis player also revealed that he would continue his college education online.
Likewise, Shelton played in the 2022 Tiburon Challenger against top seed Denis Kudla. He defeated Christopher Eubanks at the Charlottesville Men's Pro Challenger.
Who Are Ben Shelton's Parents, Bryan Shelton & Lisa?
Ben Shelton was born on October 9, 2002, to his parents, Bryan Shelton and Lisa Shelton. He is a native of Atlanta, Georgia, United States. Also, Shelton has a sister named Emma. She played college tennis in Florida and is reportedly on the University of Florida women's tennis team.
Ben Shelton with his family members.
SOURCE: Instagram @benshelton
When Shelton began playing tennis, he admired Roger Federer. Apart from playing tennis, he enjoys track and field and pick-up basketball.
Shelton's Father Is a Tennis Coach
Shelton's father, Bryan Shelton, inspired him to play tennis too. Bryan is an American college tennis coach. Also, he is a former professional tennis player. His collegiate career was with Georgia Tech from 1985 to 1988. He played professionally from 1989 to 1997.
Now, Shelton serves as the head coach of the Florida Gators men's tennis team at the University of Florida. He also coached the Gators team that won the 2021 NCAA Championship.