Andries Noppert is a professional football player born in Heerenveen, Netherlands. He plays as a goalkeeper for Eredivisie club Heerenveen and the Netherlands national team. Besides, Noppert wears jersey number 44 in his current club.
The professional goalkeeper began his football career after joining Heerenveen in 2013. Later, he got a chance to play for other clubs too. And in 2022, he came back to his first club and has made over ten game appearances for the team.
Heerenveen's Goalkeeper Andries Noppert's Net Worth and Salary
Noppert makes most of his gains from being a professional football player. He is signed with Heerenveen and has a fair deal with the club. So, looking at his career earnings, Noppert has a net worth of around $100,000. While playing for Heerenveen, Noppert has a weekly salary of £2,500 and £130,000 per annum.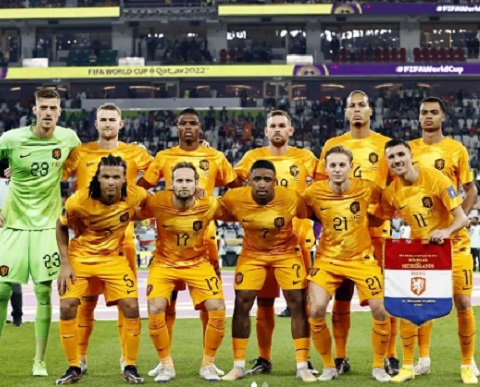 Andries Noppert with his team
SOURCE: Instagram @andriesnoppert
Playing football for a long time, Noppert has represented multiple clubs, due to which his income may be impressive. Meanwhile, his market value is €2 million. Moreover, Noppert may earn something from brand endorsement and sponsorship deals.
His income will surely rise in the coming years as Noppert is still playing football actively. Further, Noppert lives a quality life and often flaunts it via his Instagram account.
Read More: Ali Lajami
Is He Dating or Single?
Moving into his love life, Noppert is already taken, and he is living a happy life with his partner. From his Instagram account, Noppert has shared multiple snaps with his partner, which makes it clear that his love life is going well. Also, his partner's name is not available in the public domain.
However, the professional football goalkeeper has not talked much about his love life, due to which we can't say whether he and his wife are married or not. On June 2, 2019, Noppert posted an image with his probable wife on Instagram, marking six years of togetherness.
Andries Noppert with his wife
SOURCE: Instagram @andriesnoppert
Apart from that, Noppert is not only a loving partner, but he is also a father. On March 19, 2022, the goalkeeper announced the happy news of him being a father for the first time. His son named Daan Noppert, came into the world. So, we can say that Noppert lives a happy life with them. Moreover, he is also a family person who likes to spend most of his spare time with his family members.
Career At Club
Noppert began his football career in 2013 after entering Heerenveen. For the following season, he went to play with NAC Breda. Playing for NAC Breda, Noppert served as a goalkeeper in 6 matches. For the 2018-19 season, Noppert played with Foggia and appeared in 8 games.
In 2019, he signed a deal with Dordrecht and just appeared in two games. On January 22, 2021, Noppert signed a professional contract with another club named Go Ahead Eagles. Being a part of the Go-Ahead Eagles, Noppert appeared in 15 games.
Since July 1, 2022, Noppert has been playing for Eredivisie club Heerenveen and has already played in more than ten games.
Career At the National Team
The professional goalkeeper received a call from the senior team of the Netherlands in September 2022. Before that, he had not made a single-game appearance for the national team of the Netherlands. Moreover, Noppert was also included in the 26-man squad for the 2022 FIFA World Cup in Qatar.
Andries Noppert with his teammates after training session
SOURCE: Instagram @andriesnoppert
So, his debut for the senior team was when Noppert played against Senegal in the Netherlands' first game at the 2022 World Cup. The Dutch team won the first game by scoring two goals. Virgil Vandaik serves as the caption of the national team.
Read More.Donyell Malen
Andries Noppert Early Life and Family Background
Andries Noppert was born to loving parents on April 7, 1994, in Heerenveen, Netherlands. The details regarding his parents remain a mystery as the footballer has never talked openly about them in the media. In the same way, his family details are also a mysterious topic to the people.
Andries Noppert posing with his kids
SOURCE: Instagram @andriesnoppert
Furthermore, Noppert holds Dutch nationality and peaks at a height of 6 feet 8 inches (2.03 m). Besides, Noppert was passionate about playing football from an early age. So, Noppert started his football career with his local side.
Read More.Maarten Stekelenburg
Follow Andries Noppert On Social Media
Noppert is an active social media user who has a strong presence on Instagram. His username is @andriesnoppert. At the time of this post, more than 52.6k people have followed him on the respective platform.
From his IG account, Noppert mainly gives updates regarding his professional life, games, and events. Also, he shares some moments of his personal life. Besides that, Noppert does not have much presence on other social media platforms like Twitter and Facebook.
Noppert Is a Fitness Enthusiast
Noppert is a professional goalkeeper who has an incredible physique. The 6 feet 8 inches tall goalkeeper performs great in the field. So, to give his best, Noppert must keep his body in great shape.
Andries Noppert in one of his professional game
SOURCE: Instagram @andriesnoppert
Being a footballer, Noppert does exercises and workouts. His Instagram posts show that he is also a fitness lover who loves featuring the moments on social media. Many of his Instagram posts are related to workouts and training.
Likewise, Noppert loves cycling and has shared some clips of him going to different places.