Alfonzo McKinnie is an American professional Basketball player who played in the National Basketball Association (NBA). Alfonzo McKinnie played for the Golden State Warriors and several other teams as their Power Forward. Alfonzo McKinnie has played for other teams like East Side Pirates (2015-2016), Rayos de Hermosillo 2016, Windy City Bulls 2016-2017, Toronto Raptors 2017–2018, and Raptors 905 (2017-2018).
As a Power Forward, Alfonzo McKinnie reportedly earned around $1,349,383 as his yearly salary from Golden State Warriors. Scroll to gather more information regarding his life and career.
Alfonzo McKinnie's Net Worth and Salary
As of 2022, Alfonzo McKinnie has an estimated net worth of over $2 million. He reportedly signed a 2-year / $2,766,235 contract with Golden State Warriors in 2018. Further, the NBA player has an average salary of $1,349,383 annually.
Alfonzo shares a photo of his vacation
SOURCE: Instagram@alvo
Alfonzo McKinnie so far has made earnings of approximately $7,519,955 from his entire NBA career. Kept aside Alfonzo McKinnie's financial earnings, his assets include a Home in Chicago and cars. Further, the NBA Player Alfonzo McKinnie earns a good amount of money from various sponsorships.
Personal Life of Alfonzo McKinnie
Alfonzo McKinnie is single and hasn't revealed any information regarding his girlfriend, which means he doesn't want to gossip about him and keeps a fine line that divides his personal life and paparazzi.
After penning a contract with the Golden State Warriors, McKinnie bought a house in Chicago for his mother. He also introduced his parents to famous NBA stars like Kevin Durant, Draymond Green, Klay Thompson, and other team players in a team dining event.
Facts and stats of Alfonzo McKinnie
Alfonzo McKinnie is not only a world-class athlete but also a very attractive individual. The Famous NBA star is 6 feet 7 inches in height and weighs around 98 KG.
Besides being a famous NBA Power Forward, Alfonzo McKinnie is pretty famous on social media too. He has an official account on Twitter and Instagram with numerous people following him, and he lets his fans know what's going on with his life.
Early Life of Alfonzo McKinnie
Alfonzo McKinnie was born on September 17, 1992, in Chicago, Illinois, to parents Alfonzo McKinnie sr. and Elisa Bryant. As per his nationality, he is American and belongs to an African-American ethnic group. Further, his star sign is Virgo, and he reportedly doesn't have any siblings.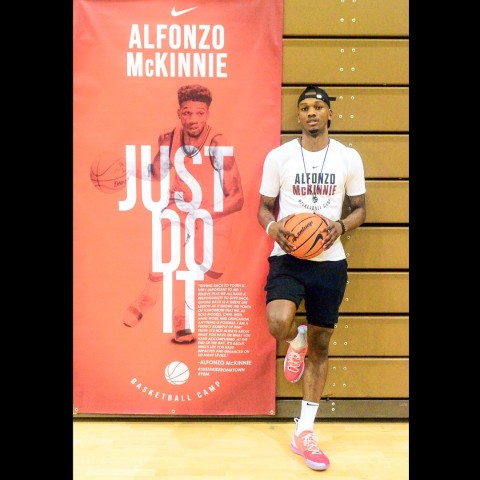 Alfonzo played in the NFL for more than a decade
SOURCE: Instagram@alvo
Alfonzo McKinnie attended Curie Metropolitan High School, where he played his first two years in a team and later his final season as a beginner at Marshall Metropolitan High School in Chicago, Illinois.
After completing high school, In 2010, Alfonzo McKinnie enrolled at Eastern Illinois University and played for his college team. After two years, he transferred to the University of Wisconsin-Green Bay. In his college career, he held an average of 10.2 points and 7.0 rebounds.
Professional Career of Alfonzo McKinnie
After going undrafted as a college graduate, he started his career in a Semi-professional team with East Side Pirates (2015–2016), Rayos de Hermosillo (2016) and Windy City Bulls (2016–2017). While playing for those teams, McKinnie scored impressive points throughout his whole season and became one of the strong players on the squad.
Alfonzo McKinnie made his professional NBA debut after signing a one-year contract with Toronto Raptors on July 9, 2017. During his rookie season, he received multiple assignments with raptors 905, Toronto's NBA G League affiliate.
McKinnie was traded to the golden state warriors for the 2018-19 season after being discovered by Stephen Curry's Security guard.
Check Out More Diversifying Things About Celebrities' Personal Life & Career Highlights At PlayersWiki