Over in the West, all people know about Yumiko Fukushima is that she's the wife of Baseball legend Ichiro Suzuki. But in Japan, Fukushima also holds a massive reputation. She counts as one of the most famous sports reporters in her country. But more on the family side, Ms. Fukushima is a traditional Japanese wife. However, that doesn't stop her from having a good sense of humor.
Suzuki and Fukushima remained married for over two decades now. And even today, this married couple shares a healthy relationship with their partners. Although it seemed like rainbows and sunshine in Yumiko's married life, it wasn't, as they faced many hurdles in the past. Nevertheless, Ichiro and his wife stayed married for a long time.
Yumiko Fukushima started dating Ichiro Suzuki while being engaged to another.
Allegedly, Yumiko Fukushima was to marry some other baseball player back in Japan. What's more, Fukushima was engaged when she started going out with Ichiro Suzuki. In the book Ichiro Suzuki: Baseball's Most Valuable Player, the author mentioned that Yumiko's ex-fiancé played in the Central League while Suzuki played in the Pacific League. However, the writer kept the name out of the book.
Yumiko Fukushima and her husband, Ichiro Suzuki, were in an interview.
SOURCE: bolsadenovidades
During Suzuki's career in Japan, the legendary baseball player was beloved by teenagers. Teenage girls especially adored Ichiro. However, the fan-worshipping wasn't what he wanted in a relationship. And then, just like in the movies, Fukushima, with her own fan following, walked into his life, and by 1997, Yumiko and the baseball player started dating.
After just a year of their relationship, Ichiro and Yumiko became sure about wanting to spend the rest of their lives together. And they engaged in 1998. But between 1998 and 1999, the couple would face the most significant hurdle they would have to endure.
Ichiro Suzuki cheated on Fukushima.
Yes, Ichiro Suzuki had an affair with a woman he had known since 1995, between their engagement and wedding. And the kicker was that the said woman was also cheating on her spouse. Yes, the mysterious adulterer was a married woman. But Ichiro didn't know at the time that his lover was married.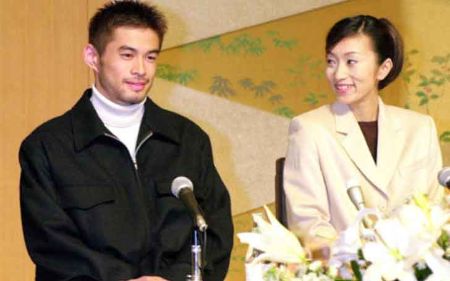 Yumiko Fukushima and her husband, Ichiro Suzuki, on a press meet.
SOURCE: playerswiki.com
Likewise, this whole scandal blew up after the woman's husband learned about the affair. And it wasn't until the husband confronted did Ichiro found out about the woman being married.
The woman claimed Suzuki paid 12.5 million yen ($83.6K) as consolation money to her. However, he later stated it was for a different reason, which Suzuki never revealed.
Ichiro then talked to his wife-to-be at the time. After talking things through, he and Yumiko Fukushima exchanged vows the following month. But, Ichiro and Yumiko decided to move away from the country.
Yumiko Fukushima and Ichiro Suzuki wedded a month after the scandal.
With all the news of the scandal circulating a month before their big day, Yumiko Fukushima and Ichiro Suzuki decided to exchange their vows in the United States. And on December 3rd, 1999, Fukushima and Suzuki married in an intimate ceremony. The duo wedded in Santa Monica, California.
Yumiko Fukushima and her husband Ichiro Suzuki in formal clothes.
SOURCE: playerswiki.com
Even with the affair a month before their big day, Yumiko and Ichiro remain married after more than two decades. However, the married couple never welcomed a child in their marital life. The couple would adopt a Shiba Inu ranging from $1400 to $2200.
After almost breaking his marriage before tying the knot, Suzuki avoided more affairs. Although the couple gained a massive spotlight thanks to Ichiro's career, Yumiko likes to stay out of the limelight.
As Ichiro's wife, Yumiko has supported him throughout their marriage. Especially as his translator, Fukushima was fluent in the English language. And the married couple lived most of their lives in Washington, Miami Beach, Greenwich, and Connecticut because of Ichiro's career.
Another fun fact about the married couple is Yumiko is seven years older than her husband. And it seems that Suzuki attracted the baseball player to someone mature. And luckily, he found a life partner in his wife, Yumiko.
AD Here (After Content)