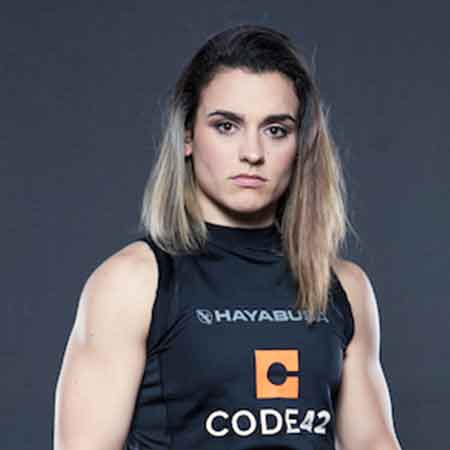 Personal Info
Date of Birth

Age

28 Years Old

Famous Name

Yaya

Country United States US
Facts
Birth Name

Shaianna Rincon

Birth Place

Vacaville, California

Famous Name

Yaya Rincon

Nationality

American

Ethnicity

White

Currently Working For

IFC

Tatto(s)

Yes
Shaianna Rincon famous as Yaya Rincon is new emerging talent in the Mixed Martial Arts (MMA) from the United States. Rincon already has a 6 straight winning streak under her belt with a black belt in judo she also has quick feet, versatile style, and strong punch to knock out her opponent.
Early Life of Shaianna
Shaianna Rincón famously known as Yaya inside the ring was born on 21 August 1993 at Vacaville, California. Rincón credits her mother for her constant drive and unceasing resolution to ply through a practice regimen that forces her mentally and physically. The early stages of this came as a 3-year-old on a nearby dojo in Vacaville.
Rincón went to California State University in Sacramento and completed her bachelor's degree in Psychology. She even had a job as security guard for a company called Target and after few jobs, she determined to focus her career on being a professional MMA fighter.
Rincón also started training as a cadet for the Vacaville Police Department and is passionate about reading, writing, weightlifting, and painting. She is interested in various sports as well and often mentions Anderson Silva, Mike Tyson, and Diego Maradona as her heroes.
Yaya Rincon's Income and Net Worth
Rincón is a struggling MMA fighter who is finding quite a lot of financial difficulties to accomplish her dreams. Having a personal gym trainer and training, also including various gears doesn't come cheap. So, she even created a website Gofundme that has been raising fund from her fans and people alike, to accomplish her dream.
Rincón said,"I'm not complaining at all. I love what I do, I just don't want to have to stop doing these things on account of not having enough funds. I assure you I am not a person that trains half-ass either".
Yaya is affiliated with MMA Gold Fight Team and her career disclosed amount is estimated to be only around $3000 USD. Thus there is no record of her net worth.
With all the accomplishments she has had achieved at such a young age, she is destined for fame and fortune.
Yaya's Career in MMA
Yaya began to coach with Jim West and trains in El Dorado Hills and is the 6th ranked of 170 active California women (pound for pound).
The 135-lbs Rincón dominated in her debut match at Central Coast Throwdown: Superbrawl 2014 on 2014.05.17 against Michelle Gama through submission on round one.
Yaya fought against Anntonette Bernal at Hoplights Fights in the flyweight division and won by unanimous decision, Rincón was a popular subject of discussion on that particular evening despite being the first fight of the night.
After two more wins over Brooke Mayo in 2014.10.11 and 2015.08.09 respectively, Yaya got her shot at Invicta FC 23: Bantamweight 135-lbs where she won the fight with a unanimous decision versus Brooksie Bayard on 2017.05.20.
On 2017, August 31, Rincon faced Courtney King at Invicta FC 25: Featherweight division, which she won via TKO. Her awaited match in 2018.05.04 against Lisa Spangler was canceled due to some undisclosed reasons but she is determined to return soon.
Personal Life of Shaianna Rincón
The 23 years old Yaya is not just famous for her fighting skills but also her beauty and charm. She has a huge number of followers on her Twitter and Instagram account, she even had far more likes on Invicta FC Instagram page than any other professional fighter.
CAPTION: Yaya Rincon
SOURCE: MMANews.com
Rincón is currently single and mostly her new fans are interested in her looks, particularly her backside. She even said that she doesn't mind people commenting about such things as she has come a long way and worked hard to be where she is and still wants to accomplish her dream of winning the biggest title in MMA.
She stands at the average height of 5 ft. 5 inches and her body weight is 135 lbs 61 kg.