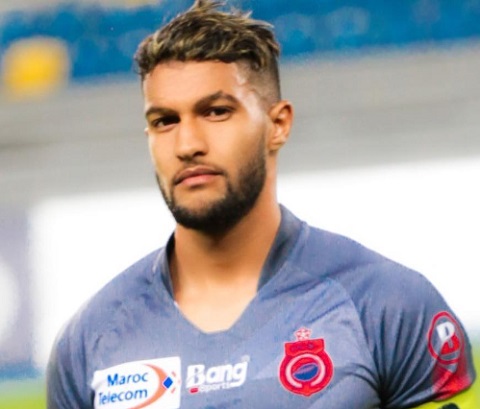 Personal Info
Date of Birth

Age

28 Years Old

Famous Name

Yahia Attiyat Allah

Country Morocco MA
Facts
Father

N/A

League Name

Relationship Status

N/A

Weekly wage

N/A

First Name

Yahia

Endorsment brands

Puma

No. of Instagram Followers

189k

Market Value

€1.00m

Mother

N/A

Last Name

Allah

Birth Name

Yahia Attiyat Allah

Net Worth

N/A

Birth Country

Morocco

Instagram

https://www.instagram.com/attia_tallah14/?hl=en

Famous Name

Yahia Attiyat Allah

Horoscope

Pisces

Position in Team

Left back, left winger

Nationality

Moroccan

Current team

Wydad AC

Profession

Football Player

Squad No

14

Started career as

Footballer

Currently Club

Wydad AC
Safi native Yahia Attiyat Allah is a professional football player who plays for the Moroccan club Wydad AC. Apart from being a part of the club, Allah also plays for the national football team of Morocco.
Meanwhile, the professional footballer plays as a Left back or left-winger wearing jersey number 14 in the squad. For your information, Allah is one of the most skilled players in his team who can also take the position of the Left Midfield.
Yahia Attiyat Allah's Deal With Wydad AC
Yahia Attiyat Allah is currently signed with the Moroccan club Wydad AC, and he may be taking home a fair salary from the squad. However, the squad has not given any hints regarding his deal, due to which we are unable to share information about his salary and net worth.
Yahia Attiyat Allah lives a quality life
SOURCE: Instagram @attia_tallah14
Not to mention, the average salary of a football player in Morocco is MAD 95,158 a year and MAD 46 an hour. As Allah is also a part of the national team, he may earn in the same range. Apart from making money from being a footballer, Allah also makes some profit from sponsorship and endorsement deals.
His social media posts show that Allah is currently associated with Puma. So, by working with Puma, Allah may receive fair cash.
Allah Is Private About His Love Life
Moving into his personal life, Allah appears to be a single man who is not engaged in any rumors or controversies regarding his love life. So, it can be said that the footballer has been leading a solitary life for a long time and is also prioritizing his career.
Yahia Attiyat Allah with his friend
SOURCE: Instagram @attia_tallah14
Just like Imran Louza and Amine Harit, Allah prefers to keep his personal matter far from the people's eyes as he is highly aware of his privacy. Due to this reason, Allah has not made a single post regarding his love affair on his Instagram handle.
From his account, Allah shares details about his day-to-day lifestyle where we can follow him as @attia_tallah14.
Football Career Beginning With Olympic Safi
Moving into his football career, Allah began playing football after signing a deal with Olympic Safi in 2014. With the Olympic Safi team, Allah appeared in 115 professional games and also netted 11 goals for the team playing until 2019.
In the year 2019, Allah made eight game appearances and also scored a goal for the Volos team. Later, Allah received an offer to play for Wydad AC, and with the respective team, he signed a deal on January 1, 2020. Since then, he has been a part of the team.
Yahia Attiyat Allah after winning a game
SOURCE: Instagram @attia_tallah14
Apart from that, Allah is also a national footballer who has already played for the national team. Also, Allah is on the list of the Moroccan team that is playing in the FIFA World Cup 2022.
Allah Is a Native of Safi
Yahia Attiyat Allah was born on March 2, 1995. He is a native of Safi, Morocco, and spent most of his early days there. Furthermore, Allah holds Moroccan nationality, and his birth sign is Pisces.
Regarding his physical appearance, Allah peaks at an average height of 5 feet 9 inches which is 1.76 m.